People
Email A Friend
More People
March 21, 2023
She wasn't looking. But through serendipity, Crystal Johnson has wound up a senior associate attorney at Pearlman, Brown & Wax.
January 23, 2023
Tracy Calhoun promoted to Vice President of Training and Compliance at Intercare.
December 16, 2022
Crystal Johnson Now Managing Attorney for SLT Law in Orange
February 26, 2020
Cheryl Scott, City Of Glendale Workers' Compensation Administrator, To Retire At End Of March 2020. She plans to work part-time and be in the audience at the Hollywood Bowl.
Patti Williams, veteran risk manager, now a manager at COSIPA


By Lonce Lamonte - February 24, 2023

Patti Williams, formerly with the City of Huntington Beach as the risk manager, and with that city for 27 years up until the year 2018, is now a manager with COSIPA.

COSIPA is an acronym for the Council of Self-Insured Public Agencies.

Patti has an extensive background in claims beginning with group medical benefits for Metropolitan Life Insurance. She, after Metropolitan, started working for the City of Huntington Beach in 1991 doing claims adjusting for their self-administered group medical program.

Soon, she realized that she had a strong interest in learning about the workers' compensation program and started taking classes at IEA (Insurance Education Association). She was then promoted to workers' compensation examiner, and progressively moved to supervisor and ultimately became the risk manager for the city in 2006. She remained in that position until her retirement in 2018.

After retiring, she knew she wasn't quite finished in risk management or workers' compensation due to her passion for both. She became an accreditation consultant for California Association of Joint Powers Authorities (CAJPA) and remains in that position currently.

She had also served as a volunteer for the Council of Self-Insured Public Agencies (COSIPA) from 2005 to 2021. In January of 2022, she accepted a position of co-manager for the group. COSIPA is an educational forum that has seminars in both northern and southern California.

Patti and the COSIPA team put together the COSIPA educational seminars to serve physicians, attorneys, adjusters, vendors, and ancillary providers. She works to give pertinent professionals the heads-up on current hot topics by providing knowledgeable speakers.

She has to reach out to get the speakers, manage the venues, as well as many other things. And therefore she's a real event planner.

On March 2nd 2023, in Concord, California, COSIPA will speak on changes in the law, SB 1127, and have nurse case managers presenting; plus Anne Hernandez, senior managing partner from Mullen & Filippi will speak on case law updates; and also Adam M. Ambrozy, an attorney partner at Lenahan, Slath, Pearce and Majernick LLP will address the group on subrogation.

An equivalent presentation will happen on March 16, 2023 in Costa Mesa, California.

cosipa.org Council of Self-Insured Public Agencies (COSIPA)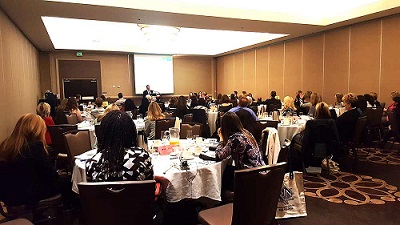 Patti Williams was born, raised, and grew up in Long Beach, California. She still loves her hometown. She moved to Huntington Beach in 1993 after she began working for the City of Huntington Beach. She enjoys walking on the beach and the surrounding area.

She has a BSBA, as well as the designations of ARM, WCCP, CPDM, CCMP, and is a self-insured administrator in California.

She has a daughter, son-in-law and two grandchildren, Cora age 4 and Kieran age 2. They now live in Tennessee. She and her husband love to go visit them as much as possible and sometimes visit Nashville to listen to great music when there.

She loves to cook and has taken numerous cooking classes through the years. Trying new recipes is one of her favorite things to do. In addition, she and her husband enjoy traveling to new places.

lonce@adjustercom.com, Lonce Lamonte, journalist and editor, adjustercom