People
Email A Friend
More People
October 31, 2023
Chuck Weissman just moved to Corvel as a senior claims specialist and he loves jalapeño peppers
March 21, 2023
She wasn't looking. But through serendipity, Crystal Johnson has wound up a senior associate attorney at Pearlman, Brown & Wax.
February 24, 2023
Patti Williams, veteran risk manager, now a manager at COSIPA
December 16, 2022
Crystal Johnson Now Managing Attorney for SLT Law in Orange
Tracy Calhoun promoted to Vice President of Training and Compliance at Intercare.


By Lonce Lamonte - January 23, 2023

Tracy Calhoun was recently promoted to Vice President of Training and Compliance at Intercare Holdings Insurance Services in Glendale from AVP of Training. Intercare handles workers' compensation claims throughout the state of California with the home office based in Rocklin.

"I have worked very hard and also had a lot of people mentor me along the way for which I am very grateful. It is very important for each of us to mentor and give back and helping others is something that I thoroughly enjoy"…Tracy wrote on January 20th 2023. "I love seeing the growth of others and the internal promotions that Intercare provides through our training program which makes this a very rewarding job! I too am a product of internal promotions and it's great to see others benefit from this as well."

Tracy's first claims job was in 1996 at Tristar. She started as a Secretary for the VP of Marketing in the Culver City office and was later invited to apply for a Claims Assistant position on the Workers' Compensation side of the office. From there, she was promoted to an Adjuster role.

After Tristar, she went to Cambridge Integrated Management Services as an Adjuster, left there and worked temporary assignments and then went back to Cambridge. By the year 2005, she went to AIMS (Acclamation Insurance Management Services) and was later promoted from Adjuster to Supervisor and from there to Claims Manager in 2011. She managed the Pomona office by 2013 and then in 2021 moved to Intercare.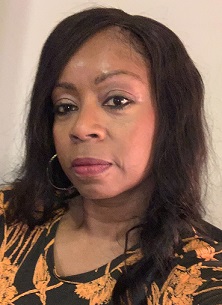 She was born and raised in Kansas City, Missouri, and loves the Kansas City Chiefs' football team. She moved to California in 1996 and states, "That is when my career in work comp began as I had no idea whatsoever what workers' compensation was until I moved to California".
Her passions are playing golf (on a very amateur level, she says), reading, watching movies, and going to church. She loves spending time with her family and has four children and three grandchildren.

At the end of the day, she likes to go home and relax with her grand-dog, Snowy.

Lonce Lamonte, journalist, lonce@adjustercom.com