I, Harold David Anderson, Am Retiring From The Claims And Sales World, But Not From Work. I'm Moving On To Become A Full-Time Writer.


By Harold Anderson - June 19, 2018

I'm affectionately known as HDA. Originally from Chicago, I studied at the University of Illinois in Champaign Urbana where I graduated with a Double Major: History and Political Science. I minored in English Literature which no doubt fueled my desire to write.

After college, in 1973, I came to Los Angeles, hoping for a career in acting, but alas, as so many others, I had to settle for a more stable occupation.

As luck would have it, I was recruited by Liberty Mutual and trained as a field adjuster in liability and workers' compensation investigation and settlements. After my Liberty stint, I moved to various jobs, including that of an independent field adjuster for Schifrin, Gagnon and Dickey. Didn't really like it, so I moved to ESIS as an adjuster and ultimately a claims examiner.

Fortunes shined on me as I met Leonard J. Russo, who was recruiting for the newly formed RTD (Southern California Rapid Transit District) Unit. After being hired, the Gods smiled on me (or was it my good work?) because I was quickly promoted to Supervisor and ultimately Vice President of the RTD Unit. When LJR Insurance Services acquired Adjustco, I was promoted to Area Vice President for the Western Region. This ill-fated acquisition caused a lot of grief to the many colleagues who carried Adjustco business cards. Downsized, I landed a job of Assistant Vice President at Gallaher Settlements promoting structured settlements. That lasted until I was re-recruited by Leonard Russo to return to the family and remained as Vice President of Claims until I joined Hertz Claims Management (HCM) as West Coast Director of Sales.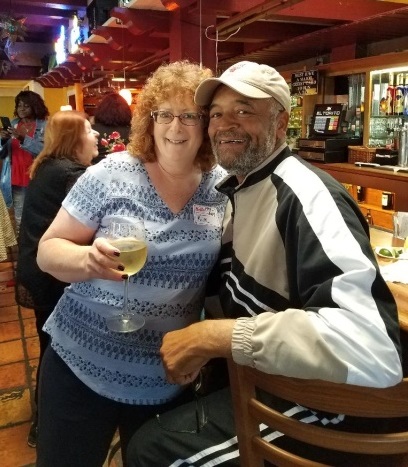 I reunited with Kim Michaels (left) here on June 1st 2018, at the Cambridge reunion at El Torito restaurant in Pasadena. Kim was the workers' compensation manager of the LAPD (Los Angeles Police Department) account when I was Senior Vice President of the Western Region. photo is copyrighted by Eddie Avilez, all rights reserved
In this capacity I enjoyed my greatest personal success by successfully writing TPA proposals for Hewlett-Packard and the City and County of Los Angeles. HCM was eventually purchased by Presidium and through my sales efforts, we were successful in obtaining accounts as large as Continental Airlines and renewals with both the City and County. My career veered back onto the Operations side of the company and when purchased by Cambridge Integrated Services Group, I was fortunate to be named Senior Vice President of the Western Region. At Cambridge I launched an internal training program that was very successful in training claims assistants into full workers' compensation examiners.
Seizing on the commercial possibilities, I left Cambridge and founded AdjusterAcademy, an independent training school for developing individuals into trained workers' compensation examiners. Cecilia Hernandez was our qualified instructor and was instrumental in our success. The business was sold in 2004 and I returned to the world of business development for GAB, that is, until Leonard J Russo again recruited me to join the newly named Acclamation Insurance Management Services (AIMS) as Senior Vice President of Business Development.
Having honed my skills as a writer of proposals, a burning desire took me back to my roots in English Literature and I took some time off to begin a writing career that has seen me publish two fictional novels, one a thriller involving insurance claims fraud, and the second one being a murder mystery.
After a brief stint as a lobbyist outside of the insurance world, I returned almost six years ago, joining IW Care Connection, as a Vice President for a nurse case management organization.
But now, I am tired of the daily grind and have decided to ride off into the sunset with my beautiful wife of nearly 40 years. We are re-locating to Las Vegas and hope to begin anew with our life which holds promise of an exciting next chapter in our journey.
I am going to resume my writing career, and plan on finishing my third novel sometime later this year. Leaving Los Angeles is a major step as my wife is a Los Angeles native and our two wonderful adult offspring will be without their devoted parents (although they promise to visit). As my son has said, to him Las Vegas is just a suburb of the Inland Empire!
A lover of hockey, maybe I'll develop a fondness for the Las Vegas Golden Knights to replace my beloved Chicago Blackhawks.
*
Harold Anderson, harold@iwcareconnection.com
This writing is copyrighted by adjustercom and Lonce Lamonte; all rights reserved. For reprint requests and applicable fees, please write to Lonce Lamonte at lonce@adjustercom.com. No replication is allowed without express written permission from the publisher.
*copyright by adjustercom and Lonce Lamonte, all rights reserved.