People
Email A Friend
More People
February 26, 2020
Cheryl Scott, City Of Glendale Workers' Compensation Administrator, To Retire At End Of March 2020. She plans to work part-time and be in the audience at the Hollywood Bowl.
November 17, 2019
Lynda House, Veteran Workers' Compensation Claims Adjuster, Enjoys Not Being Retired In Retirement.
August 21, 2018
Sheri Lawrence Joins Sempra Energy As Employee Care Services Manager After 29 Years Of Workers' Compensation Claims Experience
June 19, 2018
I, Harold David Anderson, Am Retiring From The Claims And Sales World, But Not From Work. I'm Moving On To Become A Full-Time Writer.
Michael McFadden, 25-Year-Veteran From The Zenith, Now The Leading Executive In The West Coast Development Of Monoline Work Comp Carrier Patriot National


By Lonce LaMon - October 1, 2012

Michael McFadden, a 27-year-veteran insurance claims executive, grown and groomed by Zenith Insurance Company in Woodland Hills, California, for 25 of those years, is now the Vice President of Operations for Patriot National Insurance Company in Woodland Hills. Patriot National is a monoline workers' compensation carrier that Michael joined in October of 2011.

"I was recruited to come over here because they were looking to expand their West Coast operations," Michael told adjustercom just this past Friday afternoon. "They wanted someone with a broad range of insurance background so I was more than happy to join them and build out their West Coast insurance market."

Michael McFadden has been married for 22 years to his wife, Renee. They live in La Crescenta and have two daughters: Ashley, who is 19 years old, and Amy who is 15. "In my free time, I like to continue to support their sports activities, whether it's soccer or valley ball, or whatever else they're doing."

In referring to himself, Michael says, "In my own personal time I like to do golf, and pretty much any kind of sport: football, basketball, softball, whatever… I really like to participate in any kind of competitive sport."

Kind of surprised, this writer asked, "You play basketball?"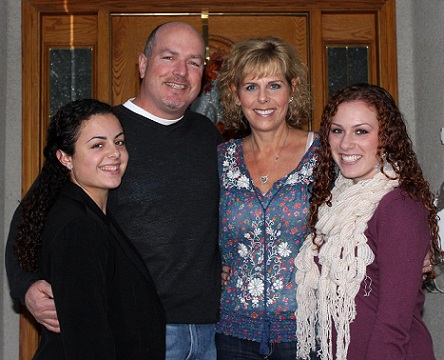 The McFadden family on Thanksgiving 2011. From left to right, daughter Amy, Michael, wife Renee, and then daughter Ashley on the right.
"Well, I had back surgery last year, so I've kind of winded down on that, but if anybody says, hey, let's play anything from golf to tennis, I'll play…"

McFadden is the Vice President of Operations for Patriot National for all aspects of the insurance practice. This includes oversight of loss control, auditing, underwriting, and anything involved in running an insurance company; but especially for claims, where everyone directly reports to him.
The company has been in existence for nine years now, but has been writing business in California for only three years. It also operates under a company name of Guaranteed Insurance.
"When I was hired," Michael said, "I was given the opportunity to choose basically anywhere within the Los Angeles area to open a claims operation and an insurance operation. I choose Warner Center because of its access to a lot of the key agents and brokers, and to the claims professionals and insurance professionals that live in and around this area. I learned from working at Zenith that it's not hard to attract talent in this particular area."
Patriot has created a culture like some of the high tech companies in the Silicon Valley, such as Google, where food is provided inside the company premises for employee dining. "We provide for the employees a free lunch every day," Michael explains. "It's just a perk for the position. The objective is not to keep people sequestered in the office and get more productivity out of them. It's more of a cost saving thing for them: 'We'll feed you so you don't have to worry about that in your day-to-day expenses.' It's become very popular, so far. We do a lot of things to make employees feel comfortable working for the company."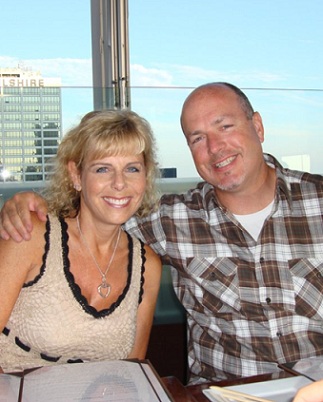 Renee and Michael at Takami Sushi & Robata Restaurant at 811 Wilshire Boulevard in Downtown LA where they went for their daughter Ashley's 18th birthday last year. In the background on the left is the One Wilshire Building. That's where California Casualty, a well known workers' compensation carrier, was housed on the 7th floor during the 1970s and 80s!

Presently, the brand new and permanent Woodland Hills Patriot National office has 17 people working in it, but it has space for up to 75 people. It was just opened on September 4th, but McFadden had a temporary office operating in another location from shortly after he started as the Southern California executive in October of 2011 until September 4th 2012.

"We've been hiring workers' comp adjusters, claims assistants, medical only assistants, and we just hired a couple of additional people for our Lien Company, Forza Liens, due to the volume and the scope of that area of the business. We're continuing to grow responsibly as needed. I think our next opportunity would be to bring out our underwriting practice into California to help better support the agents and brokers that we're working with.

"It's worked well so far dealing with Fort Lauderdale (where the full underwriting department is currently located), but relationships can work so much better when you're physically together in an area where people can come by and you can have those personal interactions."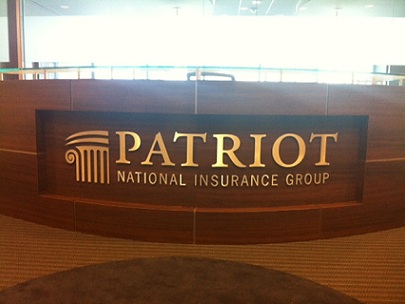 Here's the lobby of Patriot National Insurance Company at 21255 Burbank Boulevard, Suite 300, in Woodland Hills, California, with the sun bursting through the windows in the early afternoon.
Presently, on the whole, there are 43 claims people in California at Patriot. 18 of them are adjusters. The claims are separated between the North and the South of the state with the lion's share of claims being handled in Rancho Cordova, California. Carol Azzarito is the claims manager there, and she reports to Michael McFadden; that office is a dedicated claims office only. The Woodland Hills office is not a dedicated claims office but is a mix between claims and other departments, and it will grow with its myriad departments as Patriot grows-- especially as underwriting comes to Southern California.
... the industry is coming into a hard market and there's plenty of opportunity to write responsible business and to help build out our West Coast operations.
Michael McFadden, Vice President of Operations, Patriot National Insurance Company
Mike McFadden actually started his career at Lumberman's Mutual in 1985 right out of high school. He started as a clerical person in the file room. But he only worked there for a year, and then moved to The Zenith in 1986 where he continued in clerical work.

"I was sorting the mail that came in, putting it on the alphabetical wheel," McFadden reminisced. "I was indexing it. I was researching what the claim number was and then passing the mail out to the claims personnel."

But after Michael was married and had his first daughter, he went to the University of Phoenix at night and got a degree in business management by the year 2000. All during this time he was at The Zenith.
"… at Zenith… I did everything from a claims assistant position on up to the Vice President of Claims position for the Los Angeles Regional office. Between the period of time I participated in the leadership of what we call multi-discipline work teams, which included loss control and attorneys and those kinds of folks, I also ran SIU for a period of time and also had oversight over our Lien Unit, what we call Provider Dispute Resolution, and then heavily participated with the marketing and underwriting team in bringing in business to Zenith.

"So, all of that background that I participated in helped prepare me for a role with all these different disciplines."

Still, so far, Patriot National is writing on the paper of Zurich Insurance Company. "We're not a licensed carrier in California," Michael explained. "So we have to go through Zurich to write our policies. With that said, the industry is coming into a hard market and there's plenty of opportunity to write responsible business and to help build out our West Coast operations.
"We write all business right now in California through Zurich. We have a good relationship with them. But, as far as the future goes, we are diligently working right now on getting our own paper in California so we can be writing in our own company name. Hopefully we will accomplish that by the first quarter of next year."
McFadden just hired three new adjusters that haven't started yet. They will be starting sometime in October. Two new Lien Specialists will also be starting in October for Forza Liens, the separate Lien company owned by Patriot National which is led now by Lisa Meadows.
Since agents and brokers like to play golf, McFadden can get in his golf game as Patriot National grows and he fills out his 75 person capacity Woodland Hills office. "We're just building up our presence and building up our infrastructure," McFadden concedes. "We've done a lot in 10 months here in Woodland Hills."
lonce@adjuster.com
Copyright © Lonce LaMon and adjustercom. All rights reserved.