Lynda House, Veteran Workers' Compensation Claims Adjuster, Enjoys Not Being Retired In Retirement.


By Lonce Lamonte - November 17, 2019

Lynda House, a retired, veteran workers' compensation claims professional, just turned 66 years of age, as reported by Facebook last week.

However, from what she says about her life now, she doesn't sound so "retired".

"My life is now filled with volunteer services…" Lynda effuses.

Lynda is president of the Auxiliary at Riverside Community Hospital and Meals on Wheels.

"I am a member of the board of the Riverside County Board of Aging. Throw in book clubs, bunko, bingo and casinos and that is my life!"

Lynda House started as a file clerk at Firemen's Fund in Honolulu in 1975 when she was married to a service man. After divorcing, she moved back home and to Firemen's Fund in Santa Ana, California. There she met Ron House, who eventually became the claims manager and wound up with a 32-year career from Fireman's Fund.

She met Ron when she was 21 and he was 32. She married him and then went on to Fremont as a claims assistant and worked there 10 years while moving up to senior adjuster. Then she went to Home Insurance/Risk Enterprise Management in Brea for 16 years and ended there as a hearing rep.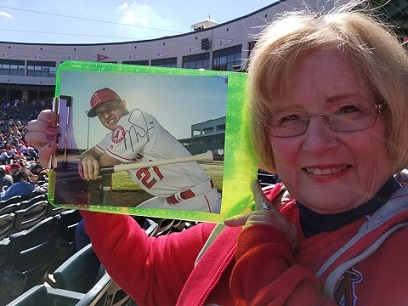 Lynda got Mike Trout's autograph. Right on! from Lynda's Facebook page
Finally, the legal department disbanded and she went to the defense law firm of Hanna Brophy in Riverside. She worked for Hanna Brophy six years as a law clerk/hearing representative until, for health reasons, she had to retire.
Today, Lynda's health, after 17 surgeries and several close calls, is sufficiently better. Those surgeries included three heart surgeries.

Her husband, Ron House, died four years ago in 2015 but they had divorced prior to that time. However, Lynda cared for Ron during his last days when he was suffering from Parkinson's disease. She remained a faithful loved one.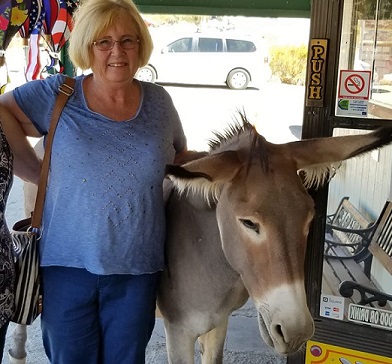 Lynda with a burro in Arizona. from her Facebook page
"One of the reasons I did this was I really knew him and knew he was never really happy. He had no one by then, and I was also close to his parents and could not just leave him," Lynda professes.
Although Lynda and Ron never had children of their own, Ron had a daughter from a prior marriage. That daughter is Amanda Bubb, who worked for Gallagher Bassett for years. So, Lynda today is close to Amanda's offspring whom she considers to be her grand- kids along with a great granddaughter.
Lynda today lives in Riverside.
lonce@adjustercom.com; Lonce Lamonte, journalist; copyright Lonce Lamonte and adjustercom; all rights reserved