Christine Harris Moves To AIMs In Sacramento. She embarks on handling the claims for the judicial branch of the California workers' compensation program.


By Lonce LaMon - June 1, 2017

Last month Christine Harris joined AIMs in Sacramento, California as a senior workers' compensation claims examiner. So, she has just set out handling the claims for the judicial branch of the California workers' compensation program.

She just left working for Broadspire in Rancho Cordova after almost seven years. She was handling various clients at Broadspire, adjusting the new losses, but earlier in her years there she was handling the California Insurance Guarantee Association (CIGA) claims.

Christine has handled the CIGA account a few times. She was an examiner for Xchanging from 2009 to 2010 working CIGA files, and as well at the beginning of the millennium from 2001 to 2003 she previously at Broadspire handled the CIGA claims.

Christine Harris grew up in Roseville, California in a Mormon family. She graduated from Oakmont High School. She was trained on the piano and began her lessons at the age of seven. Since then she has played for the church, at weddings, and for seven years as an adult she played on the weekends at the Vineyard House, a haunted house, in Coloma, California. Coloma is historically known for Sutter's Mill and as the town-site where James W. Marshall found gold in 1848.

The Vineyard house was eventually turned into a Bed and Breakfast, and when it closed, Christine drove home "crying all the way… I really loved working there," she writes. She also throws out, "I got married once at the age of 18, like many LDS Mormon girls, but that didn't last long… and swore I would never get married again."

However, Christine started working right at the age of 18 in 1980 at the Placer County District Attorney's office as a Misdemeanor Clerk. One day the District Attorney himself told her she was too young for her job. "At the time I didn't know he could not age discriminate," she quips. So she moved on to jobs in Sacramento.

She worked for applicants' attorneys for eleven years from 1983 to 1994. Then she worked for defense law firm Gray & Prouty until 1998. One day a work comp claims adjuster called and started asking her questions. "What is an RU-105," the examiner asked. Christine thought, "I know more than this person and she is supposed to be doing claims?" So, she took all the IEA classes and jumped into the claims world. She obtained her WCCP from Insurance Education Association (IEA) and obtained her Self Insurance Plans certificate in June of 2005.

She embarked on her career as a workers' compensation claims examiner at Broadspire. Then at Frank Gates she handled the Walmart account; and then she went to Sedgwick CMS and handled the San Francisco Muni account.

Then it came time to battle cancer. She took time off and then underwent a left breast mastectomy on April 29th 2009. She started working again at Exchanging on May 19th 2009. She had radiation every day after work. "I got through it," she sighs.

"So, I do know a little about medical procedures and what a person can go through—tests, surgery, five year visit with an oncologist, bone scan, blood work, and a full body scan, I have had all those," Christine pours out.

She then goes on with something else, "Now, there are a few fraud claims…" This is where she uses her Facebook page. She uses a variation on her name so she's not readily found. "I look for them, I don't want them looking for me," she says about the fraudsters. "I do not disclose where I work or what I do – rarely have pictures of me on Facebook."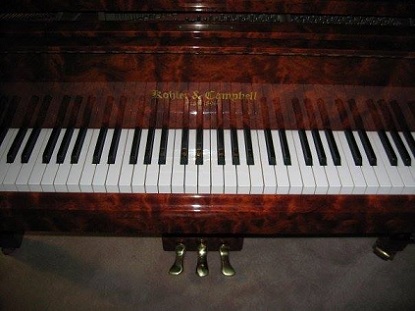 Instead, Christine has a big picture of her Kohler & Campbell piano spread across the top—like a marquee—of her Facebook page. Then she shows a slot machine and some poker hands. And a picture of musician Gregg Allman, the ex-husband of Cher, who passed away just days ago.
Christine says she stays up on current events and follows every story. She also feels like she's made a perfect circle for her career—by starting out at the Placer County District Attorney's office and now coming around to handling the claims for the courts in California workers' compensation.
"I'm so happy that I know my job."
Christine Harris currently resides in Auburn, California.
Christine Harris is on adjustercom in Resumes.
Article by journalist Lonce LaMon, lonce@adjustercom.com; copyright adjustercom and Lonce LaMon, all rights reserved
Correction made June 1st 2017 at 8:52 am. "Sacramento county courts" changed to "judicial branch of California workers' compensation program."