People
Email A Friend
More People
February 26, 2020
Cheryl Scott, City Of Glendale Workers' Compensation Administrator, To Retire At End Of March 2020. She plans to work part-time and be in the audience at the Hollywood Bowl.
November 17, 2019
Lynda House, Veteran Workers' Compensation Claims Adjuster, Enjoys Not Being Retired In Retirement.
August 21, 2018
Sheri Lawrence Joins Sempra Energy As Employee Care Services Manager After 29 Years Of Workers' Compensation Claims Experience
June 19, 2018
I, Harold David Anderson, Am Retiring From The Claims And Sales World, But Not From Work. I'm Moving On To Become A Full-Time Writer.
Oscar Flores Hired As Workers' Compensation Manager of Cedars Sinai In Los Angeles


By Lonce LaMon - July 26, 2013

Oscar Flores was just hired as the Workers' Compensation Manager of the Risk Management Department of Cedars Sinai Medical Center on Beverly Boulevard just near the Beverly Center in the West Hollywood area of Los Angeles.

Oscar wrote last week, "This is quite a difference from retail. After working at the 99 Cents Only Stores for over five years, I now call Cedars my new home and I love it!!"

Oscar lives in Monterey Park, was born and educated in Mexico, and is married to Chika Isono, from Tokyo, Japan. He has been a musician since he was a boy, has played multiple instruments, but has specialized in lead guitar for the most part. Before his career in Workers' Comp, he traveled throughout the Western Hemisphere from Canada to South America, and also in the East to Japan, China, South Korea, and the Philippines playing Latin music.

He went to school to learn the culinary arts and wound up becoming a pastry chef. He worked for an applicants' oriented medical practice called Franklin Medical Group in Canoga Park, California starting in 1991. He acted as their hearing representative for liens and handled all their collections. The Department of Insurance investigated the medical practice and even raided it. Oscar said late last year, "I got so sick of that, believe me."

In 2002, he got hired by Berkett Insurance Agency located in the same area as Cedars Sinai Medical Center. Berkett asked him during the interview process why he was coming from the applicants' side. He told them, "I am very very tired of lying." He expressed he wanted to use what he knew to engage in injury prevention and to stop claimants from going to attorneys. Thus, "sure enough, they hired me."

The Berkett Insurance Agency specialized in religious institutions and many Jewish organizations. They handled Forest Lawn, Mount Sinai, and various Jewish centers. Many of the claimants were drivers and grave diggers. "I would have to talk to them. Many of them didn't speak English. So, it helped that I speak Spanish."

Oscar was very successful with that agency and he left only because the 99 Cents Only Stores invited him with a better offer. "I went to the owner, and said I got this invitation. He said 'take it'. He was not planning on expanding. He was in his nineties. Did not want to deal with any more work."

At the 99 Cents Only Stores, Oscar worked on his evaluation of what was causing the 99's injuries, as they were in a pattern of simply processing claims. He asked, "Where are the injuries happening the most? What body parts are the most claimed? What is the rate of litigation versus non-litigation? The indemnity claims versus the medical only claims?" He made a general evaluation to see where he needed to stop the flow of losses. He evaluated by location, by body part, by frequency.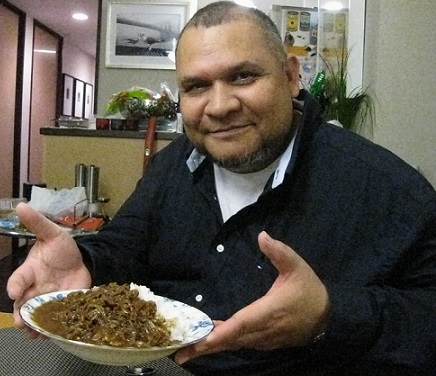 Oscar went to culinary arts school and today he loves to cook for his family.

"What are our resources?" he asked the appropriate executives at the 99. "What is the communication with Human Resources? Loss prevention? Other departments can be used. District managers can be trained in safety, to treat their employees properly. Who's getting injured? Why? Is it the shopping carts outside? Are our customers getting hit by shopping carts? Is it the employees getting hit by carts or cars? Are they not wearing the Orange Vests?

"Are there no lines where the customers should be crossing with their shopping carts? Is it obvious where the drivers need to stop?"
Oscar expressed that unless all the aforementioned issues of concern were addressed at the 99 Cents Only Stores, the situation was going to continue as nothing more than "processing, processing, processing claims…. And all the time you'll have high dollars in reserves."

But the 99 Cents Only Stores just wanted to process. "So they went from one TPA to another TPA to another… just processing…" he recalled. And things just got worse.

From 2003 to 2012, the 99 went from third-party-administrators ICA to Claims Quest to SCRMA to Sedgwick to Broadspire... That's five TPAs in nine years. Prior to 2003, the 99 was self-insured, self-administered, and for the last year of that phase, under the direction of John Riggs, who is now presently the claims manager of Disneyland Resorts based in Anaheim, California.

"There are so many plans out there," Oscar said last December 2012. "Like the one by John Riggs. A beautiful program. And look at the people who work at Disneyland. Most of them are high school graduates. Most of them understand English."

Oscar Flores' point is that any workers' compensation program has to focus on the general culture of the company employees. "And the communication has to be what communicates to them."

At the In-and-Out Burger company, there is "one of the best workers' compensation programs. The people they hire—80 percent—including the store manager, don't speak English. So, even if you give them the plan, sometimes they can't even read it. Sometimes they can't even read it in Spanish."

Thus, Oscar's point is that "You have to get it (the communication) to the workers at their level or else the insurance company 300 page plan will not do anything. It will be 'good luck'."
Oscar heavily emphasizes communication. "Employees freak out. Where there's an injury there's fear and confusion. You have to help employees know who's going to pay them and how they're going to take care of their families. You must answer those questions, because if you don't, a lawyer will. If you don't tell them anything, they go to lawyers."
Back at Berkett agency, one of Oscar's first tasks was to figure out how the applicants' attorneys were getting a hold on the injured workers. He went to work immediately on building a communication system.
"The words that you use may also be what's killing your reserves. For example, I took away the word 'case'. Because when you translate that in Spanish, it translates into law suit. So, I use claim, not case. Demanda, means case. Use claim—reclamo."
Today Oscar loves to cook for his family and he owns a recording studio. His past time is watching sports and hanging out with his two dogs, Mimi & Toro. And he loves the L.A. Dodgers!
Oscar expected to stay in retail after he left the 99 Cents Only Stores, where he worked for five years until April of 2013. But, fate had a different plan. Obviously, his experience with Berkett Insurance Agency with the Jewish based clients proved beneficial in well connecting him with Cedars Sinai Medical Center in that cultural Fairfax to Robertson district of Los Angeles.
He knows how to communicate, and he knows how to fit in with that culture. So, with that he'll now create and build upon his workers' compensation plan at Cedars Sinai Medical Center.