Features
Email A Friend
More Features
August 9, 2021
The Property Claims Investigation
July 29, 2021
The Examination Under Oath as a Tool to Defeat Insurance Fraud
July 28, 2021
Liability Insurance Is
January 16, 2021
Insurance HR Manager Who Participated in U.S. Capitol's Duck Dynasty Insurrection Loses His Job
To A Veteran I Knew And Remember On Memorial Day


By Jorge Alexandria - May 27, 2019

On this Memorial Day weekend in May of 2019, while we all gather to enjoy our barbecues, families, and our precious liberty, I will remember with fondness and deep respect my former claims assistant, Timothy Patric Archer, who served in the Vietnam War.

Tim was not only an efficient workers' compensation claims assistant but also one of the finest men I have ever known. And I am positive I am only one of many who would say that. He was killed, not on the battlefield, but rather from battlefield stress, post-Vietnam, of a massive stroke on the night of February 24, 1999 at the age of 50.

Tim was inducted in the United States Army straight out of high school in 1968. As an inductee he had absolutely no say in the matter, no choice, and he was sent where Uncle Sam needed him. That was it then-- no questions asked. At the time he was one of 2.2 million American men out of an eligible pool of 27 million that were drafted. Unlike the hippies of his day, Tim never questioned his patriotic duty or legal obligation, (Was the Vietnan conflict necessary or not?), and served, along with 536,100 other Americans, in Vietnam from 1968 through 1971.

I befriended Tim at FIRM Solutions in the late 1990s (on the City of Los Angeles Police Department account). As a veteran myself, albeit during peacetime, I was fascinated by his war-time service, and I was sure he had seen its horrors and was certain he had many stories to tell that were both fascinating and scary. I, thus, made the mistake that many people I'm sure make- and I asked if he had ever killed anyone. I was never in a war and I can't even imagine for a second what it would be to kill someone and that made me curious. Truth is I had no right to make painful memories come back. Tim, however, was a real gentleman and he did recall for me the comrades and friends he lost in South Vietnam. I will always be thankful for their sacrifice and for the freedoms that have been paid for with life and blood by those whose families got that knock on the door, or the telegram, or phone call. Those are the ones we honor and remember on Memorial Day.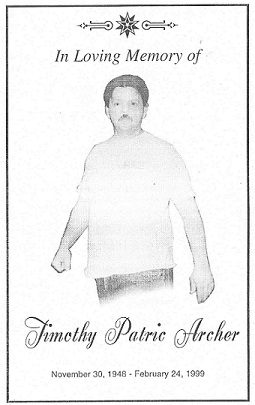 On Monday, I will also salute Timothy Patric as well as his widow, Marsha Eaton. At the time of his death he left behind four beautiful daughters: Violet, age 22; Joleen, age 16; Pamela, age 12; and Patricia, age 10. That he left such youthful daughters reminds me that life is short and that the time we have to enjoy activities with our loved ones is fleeting. Tim was laid to rest at Memory Garden Memorial Park in Brea, CA. with full military honors. Some 100 people came to the service. At the conclusion the rifle squad fired three sharp volleys, and the bugler played "Taps". Later a bagpipe played as well.
In Tim's passing we lost a fantastic example of duty, of service, and a great claims professional who strove to do his best and was bound by duty. I can think of no better epitaph, and I'm sure Tim would be very pleased, when I say boldly-- Tim is one of the finest men I have ever known.
On Memorial Day, let us pause to pay tribute to those heroes who came from all walks of life to defend the freedoms we all enjoy. How do we accomplish such a sacred task? We reflect. We practice gratitude. Most importantly, we respect our nation's war dead by remembering the living. We support surviving spouses, children, and family members. There would be no freedom without those willing to fight.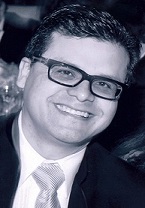 Jorge Alexandría is a former U.S. Government official (Labor Dept.) and an Army veteran who received his B.A. in Political Science from Cal State Los Angeles. He also graduated from Cal Poly Pomona with a Master's Degree in Public Administration. He has more than 20 years of experience in claims handling, supervision, and risk management. He can be reached at Riskletter@mail.com. Any views and knowledge expressed in this article belong to Jorge Alexandria alone and do not represent any other organization or person.
Published by adjustercom and Lonce Lamonte (lonce@adjustercom.com), all rights reserved. www.adjustercom.com.