Insurance HR Manager Who Participated in U.S. Capitol's Duck Dynasty Insurrection Loses His Job


By Jorge Alexandria - January 16, 2021

"Few know it, but the Devil rewards insurrection. After all, rebellion is the original sin, and he did conceive it."

― Tanya Thompson

None of this is opinion. The Republicans like to tar Democrats as radical extremists. However, last week's insurrection at the US Capitol was led by MAGA thugs who refused to accept what the rest of American voters decided-- a Joe Biden presidential victory in the most closely inspected election in U.S. history.

Juiced by President Trump, a sore loser, who in four years lost the House of Representatives, the Senate, and his presidency, MAGA rioters seemed ready to burn down the capitol building with many intent on killing or harming members of Congress. A literal mob chanted "Hang Mike Pence!" and "Where is Nancy Pelosi?" In full MAGA gear, camo garb, Confederate flags and other racist and anti-Semitic symbols, they revealed in no uncertain terms who they are-- white supremacists. They had weapons to break down doors and windows. They scaled the Capitol's walls, shattered windows and threw punches at cops; and bludgeoned to death a policeman with a fire extinguisher by bashing his skull. A Duck Dynasty insurrection of sorts indeed.

By the way, the Confederacy was defeated 156 years ago, and yet that flag was waived casually by the insurgents without fear of chokeholds or knees to the neck. What an undeniable sense of comfort and privilege in contrast with the treatment Black Americans received for a mere traffic infraction.

But what type of a person would participate in such an overt attack against our beloved America and legislative institution? More importantly, why? A foreign nation, like Russia, North Korea, or China? Antifa? Jihadist? The disenfranchised poor? No. Meet Paul Davis. He's a member of the Texas bar, and until recently associate general counsel and director of human resources at Goosehead Insurance. Now he can proudly add radical extremist to his accolades.

Now to the why?

Paul Davis is a privileged white American who earned a modest six figure income. However, like most MAGA persons I've come to know they believe their white ranks are shrinking and they fear losing their dominance and privilege in a nation they believed was built for them, (a misguided version of Manifest Destiny). They wish to take their country back, turn back the clock to the pre-civil rights era and make it great again. From who? People like me, I suppose. They feel desperation and are threatened now that their great white hope nears his presidential term.

I hate to rain on their parade but the U.S.A. will never ever look like the nineteen fifties again. Never. You only need to look at integrated schools, employment diversity, interracial marriage, immigration, and the faces we see in movies, sports and music. America today is what it was destined to be, a melting pot.

Full Disclosure: While the rally and attack were attended by a broad cross section of Trump Supporters, including white supremacists and other extremists, not every Trump follower is a bigot. But it does appear every bigot is a MAGA supporter.

In his Instagram video Paul Davis, wearing the 'Make America Great Again' cap and standing in front of the Capitol, says, "Got tear-gassed today. That was quite an experience." Further, he stated the need for auditing the ballots, reiterating like a broken tape recorder about how the results have been fraudulent in nature, "You don't hide evidence unless you are guilty. Pretty simple. We will not let this go." He added, "All we're doing is demanding that our public officials audit the Dominon machines, audit the ballots. There's a way to do it, we can solve this in two days," He continued. "If this was a legitimate election, then let us inspect it and if Biden won let's all go on with our lives. But you know what? I don't think that happened."

Video address: https://twitter.com/i/status/1346982504088154113

His employer, Texas-based personal lines insurance agency Goosehead Insurance, got word of his posted coup exploits on Instagram and quickly fired him.CEO Mark Jones confirmed the firing was due to the former executive's alleged participation in the violence at the Capitol. He said in an email, "While we support our employees' rights to vote and express themselves politically, we do not condone violent or illegal acts. This one former employee's actions are not reflective of our company culture or values, and we are disappointed with his behavior."In an email to staffers on Thursday seen by The Wall Street Journal, Jones said the company was "surprised and dismayed to learn that one of our employees, without our knowledge or support, participated in a violent demonstration at our nation's capital yesterday."

Even though he was fired from Goosehead, Davis is still eligible to practice law in Texas, as confirmed by the State Bar of Texas. In any event, I doubt Goosehead Insurance is losing sleep over this or of their decision to rid themselves of Mr. Davis.

It used to be, not that long ago, that white supremacists wore KKK hoods while they trampled on someone's civil rights. Now, like "pendejos" (the Spanish term for a blockhead), even in a pandemic, they forego the mask and hood enabling easier identification by the authorities. And, making it easier too for their employers to suspend, place on leave, or fire them from their jobs.

Non-unionized workers in the United States – about 90% of all workers - are employed at-will. That means one can be terminated at any time, without notice, for any reason. It doesn't even have to be a good reason. Unless the company has guaranteed one's job in writing, or there is a specific law that protects one's conduct – such as laws protecting union organizing or whistleblowing – one's fate is up to them.

The law is more protective when it comes to unionized workers and government employees. These workers might get a hearing process prior to being disciplined. Government workers are also protected by the First Amendment, particularly when it comes to free speech in their capacity as American citizens than speech related to the workplace.

That's why off-duty police officers spotted at the Capitol riots have only been suspended pending investigations. For these workers, their fate may depend on whether they were peacefully participating in the day's earlier rally – an activity that would be considered protected speech – as opposed to engaging in violence or joining the capitol invasion, which would be unprotected illegal conduct.

A word of caution to unlikely claims professionals who participated in the Capitol's riot and snapped selfies – or ended up in someone else's – expect to get a knock on the door from the FBI or from your HR department. Nowadays, everything is recorded on social media. The President's message of "go home, we love you" is not going to help you. I hope you played it safe. Played it nice.

As to tour Commander and Chief who tried to steal the election he lost and incited the mob to intimidate Congress, he will now be the first president in this country to face impeachment twice. His fate is now in the hands of American historians who will no doubt rank him among the likes of Benedict Arnold and Jefferson Davis. Forget Mount Rushmore Mr. President, it's more like Stone Mountain for you. The next four years promise to be a respite from lies, vulgarity and hate.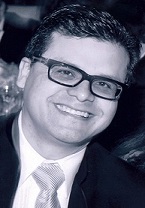 Jorge Alexandría is a former U.S. Government official (Labor Dept.) and an Army veteran who received his B.A. in Political Science from Cal State Los Angeles. He also graduated from Cal Poly Pomona with a Master's Degree in Public Administration. He has more than 20 years of experience in claims handling, supervision, and risk management. He can be reached at Riskletter@mail.com. Any views and knowledge expressed in this article belong to Jorge Alexandria alone and do not represent any other organization or person.
Published by adjustercom and Lonce Lamonte (lonce@adjustercom.com), all rights reserved. www.adjustercom.com.