News
Email A Friend
More News
April 16, 2018
Sedgwick Completes Acquisition of Cunningham Lindsey
April 13, 2018
California Division of Workers' Compensation (DWC) Posts Additional Adjustments to Official Medical Fee Schedule. (Hospital Outpatient Departments/Ambulatory Surgical Centers)
April 12, 2018
Betty Johnson, A Retired, Veteran Workers' Compensation Claims Professional Of The Los Angeles Area, Dies On April 3rd After An Illness
April 11, 2018
Former San Diego Sheriff's Deputy Gets Probation And Work Furlough For Work Comp Fraud
Kelly Soo Park Will Get Her Cash, Cameras, and Computer Returned By December 12th.


By Lonce LaMon - November 15, 2011

Kelly Soo Park will get her $20,700 in cash back from the Los Angeles District Attorney and also her video cameras before December 12th. Eric Harmon, the deputy district attorney assigned to Park's case, and Stephen Bernard, Kelly Soo's defense attorney, have worked out an arrangement.

$20,700 was confiscated from a safe in Park's home back in June of 2010 at the time of her arrest for the March 2008 murder of aspiring actress and model Juliana Redding. Police investigators also took her video cameras and a computer. But, now all these items will be returned to her, as the judge expressed in court last Thursday, November 10th, that there's no further justification for holding onto those items since they are now considered tied to the workers' compensation fraud case involving Kelly Soo's relationship with Dr. Munir Uwaydah and Frontline Medical.

The defense has also won the argument that there is no justification in holding on to her personal records that have no relationship to the murder or the fraud, plus the cash on its face could have come from the Sushi restaurant Kelly Soo Park now owns. It's not absolute that the cash was part of the "fruits of the crime" as the D.A. argued. She owns several businesses which don't appear on the surface to be closely related to one another.

Since Kelly Soo has not been charged with anything connected to that alleged fraud, and neither has Dr. Uwaydah, for that matter, the cash and the cameras can no longer be justified for being held. They are believed to be part of the fruits of the fraud scams by the D.A., but time has run out. The judge said on Thursday in so many words, charge her with something or give her her stuff back.

The parties met in court again this morning, November 15th, in Department 109 at Clara Shortridge Foltz Criminal Justice Center in Downtown Los Angeles. Kelly Soo sat in the same spot where she sat last Thursday, at the end of the middle bench closest to the front door. She wore an elegant shawl with an avant guard bamboo-like pattern.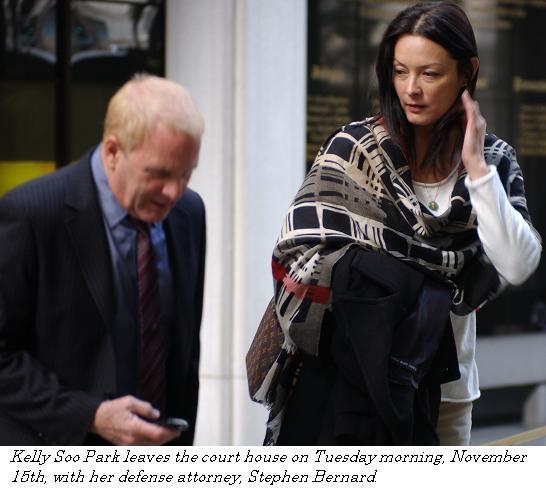 The bail bondsman, Josh Herman, was there as a formidable presence, looking like Hercules and wearing a dark suit. The judge called him forward to answer to her, as he is responsible for supervising Kelly Soo with respect to the removal of her ankle bracelet so she can have her MRI done. A doctor has seen her in an orthopedic consultation, and Judge Kennedy expressed that she doesn't see this as any kind of maneuver or manipulative play.
Ronnie Wayne Case was in the court room seated to the right of Kelly Soo Park on the middle bench before court was called to session. He was wearing his hoop earrings up the side of his left ear and in his left eye brow. He likes to wear a lot of thin, gold hoop earrings from his ear lobe to the top of his ear, and even into his eye brows. He is a well known race car driver in Ventura County, California. It is understood that he and Kelly Soo live together in Camarillo.
Case was arrested at first along with Park in June of 2010. But soon he was released and no charges were set against him. Presently, Kelly Soo Park alone is charged with the March 15th 2008 murder in Santa Monica, California, of aspiring actress and model Juliana Redding.
This case will continue to be heard on January 19th 2012 in the same court room, Department 109, at Clara Shortridge Foltz Criminal Justice Center in Downtown Los Angeles.