News
Email A Friend
More News
December 7, 2023
California Division of Workers' Compensation Posts Adjustment to Official Medical Fee Schedule (Ambulance Services)
December 7, 2023
California Divison of Workers' Compensation Announces Move of Stockton Office to Lodi
December 4, 2023
California Division of Workers' Compensation (DWC) Opens Registration for 31st Annual Educational Conference
November 30, 2023
Japan plans to expand their workers' compensation system to protect all freelance workers and professionals. Soon, all types of freelancers will be able to buy the insurance and make claims.
Noguchi & Associates lends support in Maui wildfire aftermath


By Georgette Meyer - November 13, 2023

On August 8, 2023, one of the oldest cities in Hawaii, Lahaina, was on fire. Lives were lost, visitors were stranded, businesses and people lost everything. The magnitude of the devastation was enormous. Despite the enormity of the situation, Noguchi & Associates (Ori-gen), immediately sprang into action.

By 5:00 a.m. the next morning, we arranged to have field adjusters from Engle Martin ready to help our clients, even as insurance carriers only just learned of the fires and began to mobilize their catastrophe and disaster response teams.

Our agency's quick response and collaboration with insurance carriers occurred when our IT Manager, Mike Hiramoto, pulled our agents' client lists based on zip codes to immediately contact clients and provide them with assistance and guidance. One carrier, DTRIC, did the same giving us the option to contact insureds or they would assist with contact.

Carriers, such as Seneca, were able to get a claim paid within one day. In this instance of immediate claim payment, our insured had shipped new equipment to their Lahaina location the week before. Their building was burned to the ground and without delay, Seneca immediately paid the Personal Property Limit.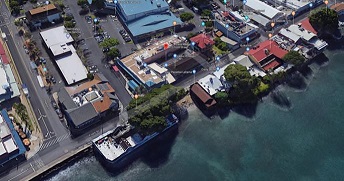 (Before - Insured Building)

Quick action on the part of our agency and collaboration with the insurance companies continued when we offered and designated our Maui Agent's office as a safe place for our insureds to pick up their claim payments when they no longer had homes or mailboxes to receive their mail. In one instance, insurance agent Cheri Pico, during off duty hours, one Sunday after church, went to check our Maui office mail for an insured's check that the carrier said they mailed out several days prior.

Our Maui office also offered and opened for the field adjusters to work out of where they could have a place to sit with electricity, air conditioning, internet, and water – luxuries to have in lieu of working out of their cars to adjust claims.

We had frequent communication with carriers to get the latest news on claims from our insurers. One carrier, First Insurance, had a 4-hour initial contact goal utilizing multiple areas within their Claims Department and staff from other departments to contact our clients. Several carriers, within days of the fire, paid $20,000 Loss of Use and $10,000 Personal Property to put much needed money in our insured's hands.

In another example of our quick action, an adjuster from New Jersey questioned our insured's claim of loss of business income because they were in Kaanapali, which remained open. As the Claims Manager and Advocate at Noguchi, I provided news articles showing that the National Guard blocked access to Lahaina and explained to the New Jersey adjuster that to get to Kaanapali, you had to go through Lahaina, because there is only one road. With the insured's extended internet outage coverage, the carrier paid the Business Income loss limit without further issue.

(After - Carrier paid Building, Personal Property and Business Income limits.)

In another advocacy situation, a client with multiple retail locations was anxious to inspect their Lahaina store, hearing rumors that their building was still standing. I warned the insured to have their employees wear masks, gloves, and covered shoes due to air quality concerns. I also referred this to our Senior Risk Consultant, Kathy Kauahi. She recommended the insured contact an Emergency Response official to give clearance into the area and follow all State and County guidelines. She provided further guidance once they were given clearance into the area. Without our involvement, our insured would have exposed themselves to potentially toxic or dangerous conditions and would have been prohibited from entering the area altogether.

Businesses affected by the fire were awaiting access to their property with limited guidance on how, where, or whom to obtain access from. Cheri was instrumental in obtaining, from her client, the name of a pivotal official, a Deputy Police Chief, his phone number and email address, who then provided steps to gain access to properties. I shared this information with other agents whose clients had been affected by the catastrophe and this allowed reliable access way. In Hawaii we call this the "Coconut Wireless" way to communicate (i.e., "Word of Mouth").

Our assistance was not limited to helping with insurance matters. My own family assisted with firefighting efforts. My daughter's property in Kula, Maui was provided to the Fire Department as a staging area for them.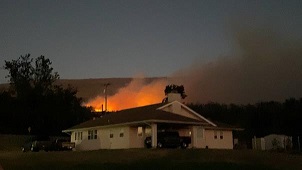 We are deeply involved in our communities. The devastation caused by the inferno left so many people homeless that when the local shelters and community centers ran out of room to house them, offices still standing were used by them as temporary shelters. Members of our team Cheri and Leola Waikiki- Lovell and others, volunteered daily after work and weekends at the shelters.

Besides shelter, food (that is, the lack of it; the inability to cook or buy it), was also a major concern. The Noguchi team and Ori-gen mainland partners (J. Morey Co., Alliance, Aihara, etc.) partnered with Chef Hui Maui Hospitality Relief Fund through donations and volunteers. Together they produced, cooked, and distributed food on-site to feed the Maui community. Chef Hui was founded by Chef Mark Noguchi and Amanda Corby Noguchi, Mitch Noguchi's brother and sister-in-law.

Overcoming the devastation in Maui and rebuilding not only the properties, but also the people and the community continues to be an ongoing effort. Thank you everyone at our Ori-gen family who have reached out to express your concern and willingness to help. The support we have received is helping to make restoration of our buildings, homes, community, and our lives possible.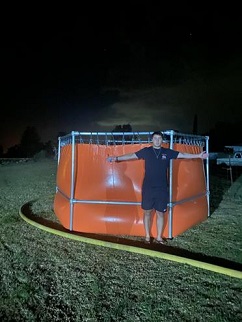 (Georgette's 6'1" grandson standing in front of the "Pumpkin" where helicopters refilled their buckets to make water drops).


Georgette Meyer is a Claims Manager at one of the largest and most respected insurance agencies in Hawaii, Noguchi & Associates (an Ori-gen family of companies).