Veteran, senior workers' compensation claims examiner, Christine Harris, of Roseville, California, dies at age 59 years. It happened over complications due to cancer.


By Lonce Lamonte - September 4, 2021

Christine Harris, a veteran, senior, California workers' compensation claims adjuster who last worked at AIMS (Acclamation Insurance Management Services) in Sacramento, has died. She passed away on August 21st 2021 peacefully at her home in Auburn, California, from complications due to cancer. She was 59 years old.

Christine was born on May 18th 1962 in Roseville, California. She grew up in the Roseville area and was educated at and graduated from Oakmont High School. She also received education from Sierra College in Rocklin and Sacramento State University in Administration to Justice, Law, and Music.

She started working at the Placer County District Attorney's office at the age of 18 years. She got married at that same age. She wrote, "I got married once at the age of 18 (like many LDS Mormon girls)." But then three years later she was unmarried.

She worked at the Placer County District Attorney for three years and then moved on to jobs in Sacramento. She worked for applicants' attorney Dale E. Ordas from 1983 to 1985, and then for another applicants' attorney, Green & Azevedo, from 1986 to 1994.

From 1994 to 1998 she worked at Gray & Prouty, a defense law firm. She wrote in 2017 that one day she got a call from a claims examiner who asked, "What's an RU-105?" She stated she gulped and then thought to herself, "She is supposed to be doing claims…" Thus, she took all the IEA (Insurance Education Association) classes and started in the claims world. She got her SIP Certificate from Self Insurance Plans of the State of California in June 2005.

In 2001 up until 2003, Christine worked at Broadspire adjusting CIGA (California Insurance Guarantee Association) claims. In 2003, she went to Frank Gates and adjusted the claims on the Wal-Mart account. In 2004, she went to Sedgwick CMS to handle the San Francisco Municipal Railway account. Then in 2009, she went to Xchanging to again work CIGA claims.
In 2010, Christine went to Broadspire, handling new claims for various clients. In May of 2017, she went to AIMS. She wrote, "I am now at AIMS (Acclamation Insurance Management Services). As you can see, I began my career at the Placer County District Attorney's office in Auburn, California to now working at AIMS for the Courts (such as judges, court reporters, etc.) What a perfect circle for my career. I am so happy that I know my job and I know theirs."
Not only was Christine highly competent as a senior claims examiner but she was also an accomplished pianist. She was multi-talented and had a breadth of abilities.
Her sister, Lorie Steel, wrote on September 1st 2021, "She played the piano beautifully and collected vintage sheet music (a LOT of sheet music). She would play at any vacant piano she saw and once she started, no one thought to stop her. I remember being in the Mall where she just went up to an empty piano and played a few songs and watched a crowd gather."
Christine had a weekend job some years back as a pianist at the Vineyard House. The piano was in the parlor.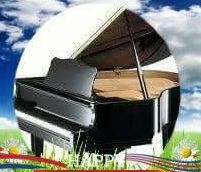 "I did that for about seven years. Yep, I would leave my day job on Friday afternoon and work on Friday, Saturday, and Sunday at the Vineyard House. I really enjoyed working there. It's a renowned Haunted House in Coloma, California, turned into a Bed & Breakfast serving dinner and brunch in the morning. The day they closed I drove home crying all the way. I really really loved working there. (So many stories there, too.)"
Christine was amused and shocked by fraudsters and outrageous claims. She wrote about how she had settled several bogus claims by C&R (Compromise & Release) just because of the nuisance factor.
"The most recent one is a claim that started with a cut to the right pinky finger. The applicant's attorney kept adding body parts, and after 10 years of litigation and padding the claim, it settled last week. And GET THIS, for over half a million dollars. That one just made me scream.
"I could write a book… Our system is just out of whack…"
Another claim she tripped on was from a woman who claimed she had immense trouble breathing. She alleged she was suffering from a work environment that was water damaged and laden with mold and mildew. The doctor backed up her claim that she had a severe respiratory break down and had to be off work for at least a month. Five days after she alleged this respiratory break down started, she gave birth. She sent her hospital bill to Christine's office and it was for $500,000.
Christine quipped, "This is just an example of what people try to pull. Yes, I'm putting this in my book of Oh, Really?!"
Christine's sister, Lorie Steel, wrote to this writer stating that Christine's final wishes were that no service be held in her honor. "While difficult for the family, we are respecting her wishes," Lorie wrote.
Perhaps Christine didn't want attention brought to herself. She didn't want to "sound a trumpet" as Jesus of Nazareth said as quoted in the Bible. When this writer wrote a People column about Christine in 2017, she never answered when twice asked if she had a significant other. So, she in some ways didn't want a spotlight on herself, however, she was complicated because in other ways she did want the spotlight.
"I would like you to know that in 2009 I underwent a left mastectomy (breast cancer)," she wrote. (I) had the surgery on April 29, 2009 and then started working again at Xchanging on May 19, 2009. (I had) radiation every day after work. I got through it. So, I do know a little about medical procedures and what a person can go through—tests, surgery, 5 year visits with an oncologist, bone scan, blood work, and a full body CT scan. I have had all those."
It seems Christine wanted to express that she knew what it was like to be a patient and go through grueling exams and procedures. She felt empathy for her most injured and sick patients through her own experience and knowledge.
Alas… she was a cancer survivor for over 12 years.
She used social media to check out her not-so-legitimate claimants. She had a Facebook account that used a little different twist on her name. That account was Chrisxena Haris. She published a picture of her piano and her dog, but little to no information about herself and her work. She wrote, "I want to find them. I don't want them to find me."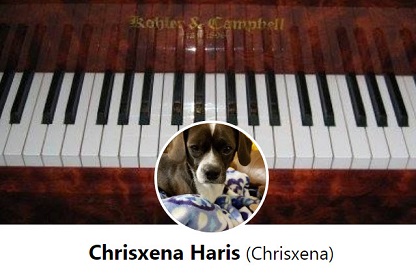 Her beloved dog Gino was a rescue dog she got from the Placer County SPCA. Gino was one of her passions and it has been requested by her sister, Lorie Steel, that anyone who would like to honor Christine to please consider a donation to the Placer County SPCA: https://placerspca.org/support/donate.
Christine loved following stories on the news. She attested to following each one closely. So, anyone wanting to know what was going on in the world could tap into Christine.
She also loved to garden, go fishing, and antiquing. She was a well-rounded person who was competent and well-accomplished.
Christine will be well remembered. She is preceded in death by her father, James L. Harris and her mother, Loretta Darlene Harris. She is survived by her siblings, in order of age: Vern Harris, Don Meinen Harris, Judy Black, James Harris, Bruce Harris, Joe Harris, and Lorie Steel.
Lonce Lamonte, journalist; all rights reserved. Republishing in full or in part with permission. lonce@loncelamonte.com.