Telemedicine Reaching For Normal In Workers' Compensation Patient Treatment.


By Lonce Lamonte - May 6, 2020

Telemedicine is becoming a norm in treating workers' compensation patients. Although it's been in existence and utilized with the past few to several years, it has exploded exponentially within the past two months because of the threat of the coronavirus.

What was once novel has quickly become the usual.

State regulators in all states are at work to eliminate barriers in telemedicine. Providers and their patients are growing more comfortable with the technology.

The industry has been ready for a long time to implement a telemedicine approach to conducting follow-up appointments and providing rehabilitation services. Many providers and programs that serve to coordinate care over the Internet have entered the market.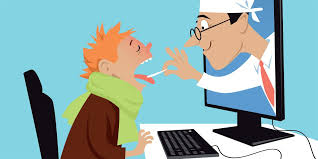 Experts are now saying that the spread of the coronavirus causing government mandated shut-downs is now making telemedicine more of a requirement than just an option. April 15th was the first day California doctors were able to use a new fee schedule for telehealth.
The overall workers' compensation system in California seems to be functioning. George Woolverton, managing attorney of the Los Angeles office of Stockwell Harris Woolverton and Helphrey, stated by email, "The board is doing its best and has ramped up the telephone call-ins to include actual hearings; claim operations are proceeding normally."
Now many states have written in their regulations a requirement for a telemedicine solution. Also, some states are not requiring that a doctor be licensed in the state he-she is practicing. One can qualify with a license from another state.
Some states are allowing platforms such as Skype, WhatsApp, and Facetime for medical care and not demanding encrypted software programs. But, certainly, not all workers' comp care can be conducted via telecommunications. Severe injuries, such as falls from roofs, naturally cannot.
One needs to use common sense when drawing the line for telemedicine. Sprains and strains, abrasions, and dermatitis are some of many workers' comp injuries that can be seen over telemedicine.
lonce@adjustercom.com, Lonce Lamonte, journalist; copyright by adjustercom and Lonce Lamonte. All rights reserved.