Prosecution Accuses Defense Of Leaking Protected Document When They Were Actually The Leakers In Criminal Organization Munir Uwaydah Case


By Lonce Lamonte - August 5, 2019

It was just after 10 am on Friday, July 12, 2019 in Department 106 on the ninth floor of the downtown LA criminal court house. It's a small courtroom of only four long wooden benches in the center audience area with three short ones closest to the door. This morning, none of the defendants in the Criminal Organization Munir Uwaydah case were there. Only the attorneys were milling around and seated inside the judge's bench area with a few also seated in the jury box on this mid-morning.

Jeffrey Isaacs, criminal defense attorney, brown haired in a vibrant blue suit with fine lines weaved into a refined cloth, spoke my name as I entered and was about to sit down in the front row close to the jury box. He motioned for me to meet him outside in the hallway. So, I followed him out.

Jeffrey Isaacs represents defendant Tony Folgar, who was allegedly a capper for Dr. Uwaydah. Outside the court room door, Mr. Isaacs asked me about the article I wrote and published in March of 2018 with quotes pulled out of Marisa Schermbeck Nelson's 2017 proffer to the Los Angeles District Attorney's office. He asked me how I got the document; if I simply got it from the records department on the second floor.

I replied to Mr. Isaacs stating I got it from the Los Angeles District Attorney's media relations coordinator. I did not get it through the second floor documents department. I avoid that venue anyway I can. It's a last resort, as the process is non-electronic; it often takes days to get documents, and it's truly a system right out of the 1950s.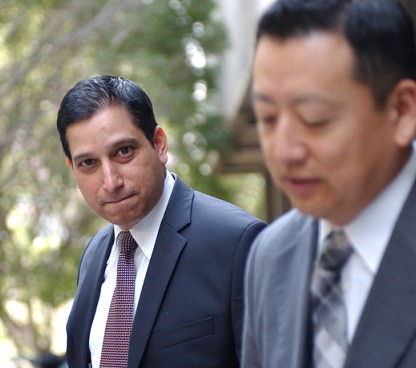 Lead prosecutor Dayan Mathai, left, leaves the court house with prosecutor Kennes Ma, right, on April 11, 2016. photo by Lonce Lamonte, all rights reserved.


I am always grateful to get prosecution documents straight from the prosecutors themselves in the form of PDF files via email or a CD. It saves an enormous amount of time plus it saves money. Documents are $.50 a page. An 80 page document such as prosecutor Dayan Mathai's August 2, 2017 Petition For A Court Inquiry Into Potential Or Actual Conflicts Of Interest would cost forty bucks.
So, in the Fall of 2017, when I received a copy of the document People's Motion To Disqualify Defendant Counsel's Law Firm At Evidentiary Hearing Re: Conflict Of Interest Related To People's Witness Marisa Nelson, dated October 6th 2017, I noticed Marisa Schermbeck Nelson's entire proffer was attached to it. I was stunned! I was delighted at the very same time that I was shocked. Now I could read the Marisa proffer, which was under a protective order sealed from the court.
What journalist would complain over being leaked such a potent document? I didn't have to hack into any database like Julian Assange of Wikileaks to get it. It was metaphorically handed to me on a silver platter.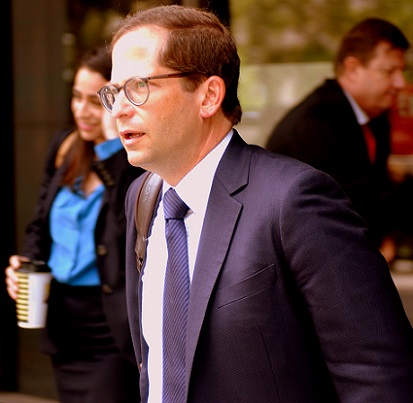 Attorney Benjamin Gluck leaves Clara Shortridge Foltz Criminal Justice Center in Downtown LA on June 4, 2018. The prosecution wanted to get him disqualified from cross-examining witness Marisa Schermbeck Nelson. Today, Gluck is no longer Dr. Uwaydah's or Paul Turley's lawyer. photo by Lonce Lamonte, all rights reserved
So, I told this to defense lawyer Jeffrey Isaacs. He and the entire defense team had just been served with the People's Request For An Order To Show Cause Hearing For A Violation Of Protective Order. The prosecution was not only accusing the defense of violating the protective order but accusing someone amongst them of contempt!
The prosecution wanted the court thereby to conduct an inquiry into which defense lawyer or lawyers should be held in contempt. The Marisa proffer had made its way, unfortunately, to Dr. Uwaydah; but at the same time it made its way to me.
The prosecution found out that Dr. Uwaydah again sued their witness, Marisa Schermbeck Nelson, and her husband Peter Nelson on January 15, 2019. Uwaydah found out from reading Marisa's proffer that she had sold her house for ~$1,100,000 and got more profit out of it than was shown on the documentation. Irate that Marisa, according to his perception, had cheated him, Uwaydah sued her and Peter for the fifth time since 2010.
Marisa confessed through her proffer to the Los Angeles District Attorney's office that she got an ostensible broker, Nick Peters, to stand in and kick back his commission and fees to her. She confessed she did this as a means to show a minimal amount of income earned, so that Uwaydah would not know how much money she truly made on the sale.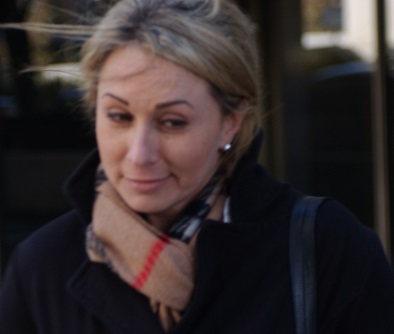 Marisa Schermbeck Nelson leaves Downtown Los Angeles' Clara Shortridge Foltz Criminal Justice Center after court proceedings on a chilly day of December 2, 2016. Marisa entered into a plea deal with the Los Angeles District Attorney in the Summer of 2017. She gave several proffer sessions which the DAs wanted to keep out of the hands of Dr. Uwaydah. However, the prosecution messed up when they made the proffers an attachment to an October 6, 2017 motion. That put the proffers into the public record. Photo by Lonce Lamonte, all rights reserved.

Marisa had a payment agreement obligation with Uwaydah. What she earned determined what she had to pay. It was written in the complaint that a representative of the "creditor entities", which is a euphemism for shell companies controlled by Uwaydah, had received a copy of the Marisa proffer in November of 2017.
Marisa's "MOU" or Memorandum of Understanding, through which she was committed to pay back Dr. Uwaydah nearly one million dollars that she had converted from accounts she had once controlled of the "creditor entities", was entered into by Marisa as orchestrated by defense attorney Benjamin Gluck. This was during the year after Dr. Uwaydah fled the country in June of 2010. His flight coincided with the arrest of defendant Kelly Soo Park for the murder of aspiring model and actress Juliana Redding. Juliana had been one of Uwaydah's girlfriends.
This money left in shell accounts fully under Marisa's control was "all part of the greater fraud" as Marisa's criminal defense lawyer, Robert Bernstein, testified in a deposition quoting Benjamin Gluck. Gluck was Uwaydah's lawyer from 2010 to 2018.
However, back in the court room, proceedings got underway with the prosecution asserting they needed to move boxes of sealed documents. They were moving to a new storage facility. Objections were raised which the judge denied. But Judge Fidler stated he would look for the ledgers done by his research attorneys in order to give the defense a documentation of the inventory.
Former defendant and now prosecution witness Paul Turley's waiving of privilege was challenged by the now Frontline Medical--Dr. Uwaydah attorney, Patrick Maloney. This big man Maloney asserted that Dr. Turley had the right to waive his own privilege but not that of Frontline. So, Maloney was there to claim Frontline Medical's privilege and not to allow Dr. Turley to speak for Frontline.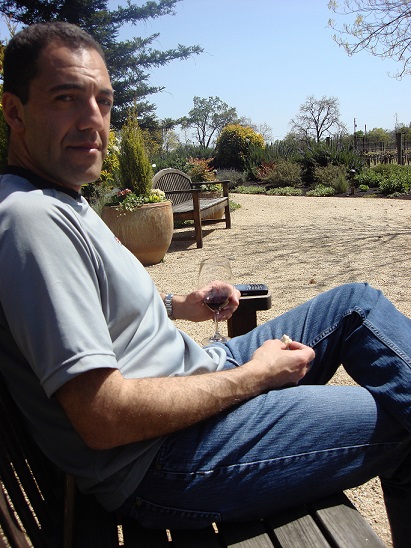 Dr. Munir Uwaydah eating cheese and sipping wine on April 5th 2008. photo copyrighted by Lonce Lamonte

Now the Order To Show Cause was ready to be argued.
Jeffrey Isaacs: And I think that I can put an end to this quickly. I did not, nor did anybody with my office, leak Ms. Nelson's proffers, nor did any of the other defense counsel. The leakers are actually the prosecutors. And if I could take a couple of minutes…
Judge Larry Fidler: Go ahead.
Mr. Isaacs: I can walk the court through why that's clearly the case.
Jeffrey Isaacs explained to the court that it started with the October 6, 2017 filing by the prosecution of a Motion To Disqualify Defendant Paul Turley's Counsel At Evidentiary Hearing Re: Conflict Of Interest Related To People's Witness: Marisa Nelson.
Paul Turley's defense counsel at the time of that October 6, 2017 filing was Benjamin Gluck. Gluck had counseled Marisa Schermbeck Nelson while she and her husband were going through bankruptcy, thanks to Dr. Uwaydah. What's amazing is that Gluck first sued Marisa and Peter while acting as Dr. Uwaydah's lawyer after Marisa refused to turn over money that was left in Criminal Organization Munir Uwaydah accounts. The prosecution had warned her in 2010 when she first proffered that if she paid Uwaydah any money, she would be held criminally liable and go to jail.
So, after she got sued and then faced bankruptcy, Benjamin Gluck representing Uwaydah filed a non-dischargable debt filing against her bankruptcy case. He then saw Marisa without an attorney and broke at her bankruptcy hearing. He took his cue and poured on the charm.
From there he started helping her, giving her legal advice, writing documents for her, extending some serious legal counsel all the while that he was Uwaydah's attorney! Gluck can really bat on both sides of the plate and play multiple positions. He's like Kike Hernandez, the LA Dodgers' utility player. Put him in any position and he will excel.
So, the prosecution wanted Benjamin Gluck disqualified from questioning Marisa on the stand during the Evidentiary Hearing. They claim Gluck has a serious conflict of interest when it comes to Marisa Schermbeck Nelson.
Jeffrey Isaacs: (Quoting directly from the end of the October 6th 2017 People's Motion To Disqualify) "Based on the facts and arguments cited herein, along with the anticipated testimony of Marisa Nelson, the People's petition and the attached 2017 proffer transcripts," and that refers to the proffer at issue here.
So, by citing statements by Marisa from her proffer about how Benjamin Gluck gave her so much legal advice, how he wrote language for her to insert into her filing, how he had coffee, lunch, and dinner with her, prosecutor Kennes Ma backed up his pleading by attaching the entire proffer as Exhibit 1. And by doing this he made it a public document!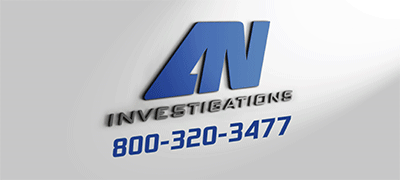 Prosecutor Catherine Chon opened up her Order To Show Cause Hearing writing of July 3, 2019 with a reference to the protective order signed by Judge Kathleen Kennedy on September 25th 2015. This was only 10 days after the case was opened. Then, on December 8, 2015, the prosecution presented another modified protective order to prevent the defense from removing a protective water mark.
The defense complained vociferously about the prominent water marks placed on the discovery by the prosecution. They couldn't search the documents with those water marks. They couldn't use the discovery documents as trial exhibits because the water marks were so obstructive and prominent. The defense attorneys railed on and on about the water marks.
So, with such obsession going into the protection of discovery documents, it was clearly an ironic brain fade by the prosecution to place the Marisa proffers as an exhibit in the October 6, 2017 Motion To Disqualify document. Here they went all out preparing and requesting multiple court orders to restrict the distribution of discovery, using obstructive water marks, then finally requesting of the court that discovery only be shown under the supervision of the defense attorneys, and then they go and carelessly place the Marisa proffer in the public record.
Such a Herculean labor just got blown off. The prosecution really made a to-do about sealing the discovery under a protective order—especially the Marisa proffer—because they were afraid of Dr. Uwaydah getting his hands on it; but then they handed it to Uwaydah almost on a silver platter and then blamed the leak on the defense. That was an embarrassment.
In the prosecution's zeal to disqualify Benjamin Gluck from cross-examining Marisa Schermbeck Nelson in the Evidentiary Hearing, they put on their blindfolds and placed the Marisa proffer into the public record. It was blindness like Oedipus not realizing he was marrying his mother. It's like that scene on the ancient Greek stage where Oedipus asks who is causing this pestilence and failings of the crops. Then, at the end of the drama, finally, "Oh, my God, it's me!" he realizes.
They, the prosecutors, didn't even know that they were the ones who leaked the protected document. Because if they had known, they would never have filed their July 3, 2019 Order To Show Cause.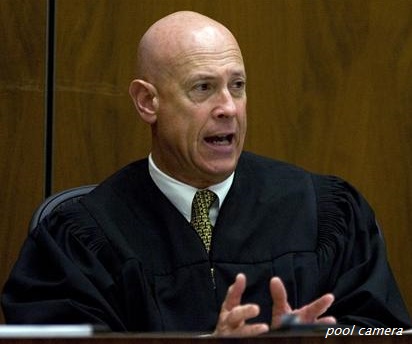 The Honorable Judge Larry Fidler is shown here during the Phil Spector trial on May 23, 2007. pool camera
Judge Larry Fidler: You know what, we've got enough going on in this case. I'm not going to do another inquiry. It's just not necessary. Even if somebody did violate the court's order, which would make me very unhappy, the bottom line, you then put it in the public record. Inadvertently perhaps, but you did. So it would have been there any way. So, I'm not going to do another – we have one that's taking months to do right now and we've already resolved part of it, but I'm just not going to spend the time doing it. It's just not worth my time.
Dayan Mathai: Very well, your honor.
Judge Larry Fidler: I'm going to dismiss it.
Jeffrey Isaacs:Thank you, your honor.
End of story.
The next court proceedings for this Criminal Organization Munir Uwaydah case in downtown Los Angeles will be on Friday, August 16th 2019, at 10 am in Department 106 of Clara Shortridge Foltz Criminal Justice Center at 210 West Temple Street.
lonce@adjustercom.com, journalist Lonce Lamonte; copyright adjustercom and Lonce Lamonte, all rights reserved.