Paul Turley, D.C. To Testify In Dr. Uwaydah Criminal Organization Case In L.A. Judge Concerned With Turley's Proffer Stating Uwaydah Controls Everything From Lebanon.


By Lonce Lamonte - June 13, 2019

The Criminal Organization Munir Uwaydah case, being heard in downtown Los Angeles, is set for further proceedings in Department 106 in Clara Shortridge Foltz Criminal Justice Center on Friday, June 28th 2019.

Paul Turley, D.C., who worked for Dr. Uwaydah for over a decade ostensibly as his second-in-command but had no power in the criminal company, pleaded guilty on December 3, 2018. He is scheduled for the witness stand to give testimony on June 28th.

Dr. Turley proffered to the Los Angeles District Attorney in a protected, currently sealed statement which has been said to be over 1,200 pages. However, some of the contents of Turley's proffer have been openly discussed in open court proceedings during 2019 since the proffer was filed. All attorneys involved in this case were given copies but the document is not available to the public, which includes the media.

Now, finally, Judge Larry Fidler is concerned. He is concerned with statements Turley made in his proffer stating that Dr. Uwaydah is paying all the defense attorneys and is essentially controlling the case. He is controlling everything from Lebanon, where he is on the lam. He has a long reach.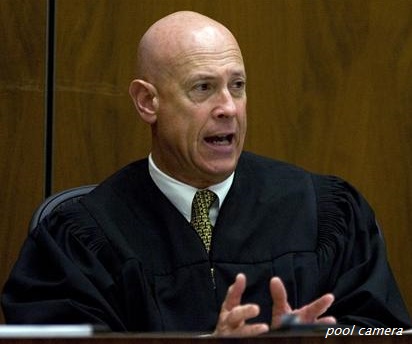 Judge Larry Fidler, during the Phil Specter trial (Pool camera, May 23, 2007)

Judge Fidler said during proceedings on March 15, 2019 that there is potentially a serious ethical dilemma in this case. That's why he wants to put Turley on the stand. Thus, Dr. Turley will be a court witness.
Judge Larry Fidler (stated March 15, 2019): Because in Dr. Turley's proffers, he alleged some things that are pretty—cause great concern to the court which would be conflicts, whether that's true, individual representation in this case, things that I'm gonna have to resolve before we go forward because if indeed, as he alleges, Dr. Uwaydah is controlling this entire case and each and every defendant therein, we have a problem. We have a problem. Ethical problem. We have a conflict problem. So, we are gonna need to hear from Dr. Turley, and we can set up a hearing to that degree.
It is a touch astonishing to see that Judge Fidler is finally waking up to the fact that Dr. Uwaydah has been paying most of the defense attorneys since this case started in September of 2015. He has continued to allow conflicted representation of the majority of the defendants even after lead prosecutor, Dayan Mathai, in a brilliant document filed on August 2, 2017 called: People's Petition For A Court Inquiry Regarding Potential And/Or Actual Conflicts Of Interest And Appointment Of Separate Advisory Counsel, spelled it all out beautifully to the court.
Prosecutor Dayan Mathai wrote eighty pages of masterful rhetoric that laid out how the defendants are in egregious conflicts with their legal representations. Uwaydah is paying for their defenses when he is also one of the defendants in the case. The defense attorneys are first and foremost loyal to him, protecting his interests, because he's paying them, while these lawyers are forced to shove their primary and identified clients' interests behind the master's interests. The master pays the piper.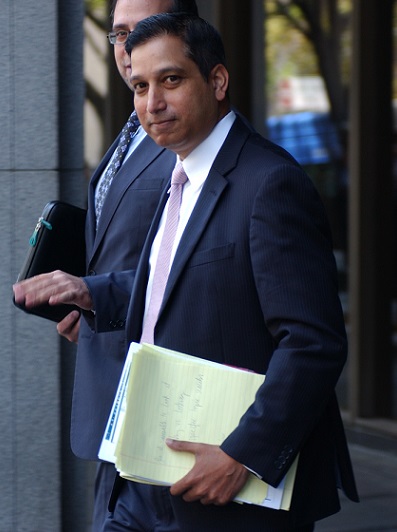 Dayan Mathai, lead prosecutor in the Criminal Organization Munir Uwaydah case, leaves Los Angeles Superior Court after court proceedings on August 19th 2016. photo by Lonce Lamonte, all rights reserved

Dayan Mathai put out a herculean labor to lay this all out to the court. However, the court blithely allowed Paul Turley, before Turley fired Benjamin Gluck and retained Louis Sepe, to file a waiver giving up his right to conflict-free counsel. Gluck had been Uwaydah's lawyer since 2010, so there was a big conflict with respect to where Gluck's loyalties lie.
Why did Judge Fidler accept Paul Turley's waiver? Paul's waiver was filed well after prosecutor Dayan Mathai filed his August 2, 2017 Petition. So, did Judge Fidler even read Dayan's Petition? He went ahead and allowed and heard Benjamin Gluck's Evidentiary Hearing against the prosecution on Paul Turley's motion of alleged attorney-client privilege violations, but Fidler seemed somewhat oblivious to the potential violations to the defendants' 6th amendment rights to effective and conflict-free counsel.
Now Fidler is reacting. After prosecutor Dayan Mathai almost two years earlier told him so.
Dayan advised the judge in his Petition that Benjamin Gluck at one time or another had represented nearly all the Uwaydah members of the crime ring, both charged and uncharged. Gluck had been the village bicycle. Everybody had ridden him. So, Gluck was conflicted every which way. However, Judge Fidler must have had his attention completely consumed by the attorney-client privilege evidentiary hearing, because he now in 2019 is expressing himself like he's just waking up to the fact.
Judge Larry Fidler (from the March 15th 2019 hearing): Because what he (Paul Turley) has alleged – and I understand they are just allegations, but they are troubling allegations—about who was controlling this case and who has independence and who does not. And I have to sort that out before I do anything else, or it's gonna—if his allegations are correct and prove to be true, everybody here has some ethical problems.
It's a good thing Dr. Turley proferred and copped a plea, because now Judge Larry Fidler is reading and hearing salient information that he didn't seem to embrace when it was written out brilliantly by the lead prosecutor.
Hopefully, Dr. Turley will testify on Friday, June 28th 2019 unless that schedule changes.
Lonce Lamonte, journalist, lonce@adjustercom.com; copyright by adjustercom and Lonce Lamonte, all rights reserved