No Trial Date Yet For Dr. Sim Hoffman. His Eyes Are Bloodshot As He Sits In The Court Room In Santa Ana After Eight Years Of Being Prosecuted.


By Lonce Lamonte - June 3, 2019

Dr. Sim Hoffman, the radiologist who practiced predominantly in Buena Park back when he was indicted for workers' compensation billing fraud by the Orange County District Attorney in May of 2011, sat in the very back row leaning against the wall on Friday morning, May 31st 2019.

He was in court room C-45 on the 11th floor in Orange County Superior Court in Santa Ana. His eyes were bloodshot. As this writer walked closely past and greeted him with "Good morning, Doctor," he did not reply. He was stone silent. Like a catatonic person. Or like an individual who is profoundly depressed.

He used to speak back in September of 2015 during his preliminary hearing. Now he speaks no longer; however he was finely dressed in a royal blue suit with a red tie sporting diagonal, blue stripes. Mute after eight precise years of prosecution, he still dresses like a dandy.

There's no more workers' compensation billing fraud in which Dr. Hoffman can any longer indulge. The laws slammed shut starting in 2017 a gap which had been previously exploited by unscrupulous medical providers. Now, any indicted or charged provider cannot collect on liens within the Workers' Compensation Appeals Board court until a resolution is decided in the provider's favor. Also, no provider can participate in the workers' compensation system in California until a decision is made in the provider's favor.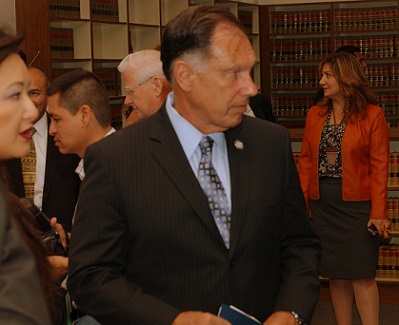 Prosecutor Shaddi Kamiabipour is shown in the right-side background here in the orange jacket, behind district attorney Tony Rackaucas, center, on June 13th 2011. This was the News Conference held in the Orange County District Attorney library announcing the Sim Hoffman, M.D. indictment. A few dozen media professionals were there. Today, Ms. Kamiabipour is still prosecuting the case but the media attention has dried up, with the exception of adjustercom. Photo copyright by Lonce Lamonte, all rights reserved.

Thus, if a decision is made by a jury or a plea deal is accepted by a provider indicating fraud, no monies can be paid at all; and the possibility of that provider ever treating or evaluating workers' compensation patients is a door shut into perpetuity.
Intelligent speculation indicates that Dr. Hoffman completely lost his job. That's why he has blood shot eyes; he looks like a person who drinks until late at night and in the morning has a hang-over. Now, he cannot fully practice medicine because he does not know how to go about it honestly. Also, the thought occurs that scrupulous medical groups shun him. He's on his own. He has to own his own practice and figure it out without being fraudulent. That's tough for a person with a track record of fraud.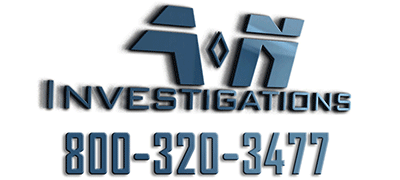 The worst offenders in any kind of fraud are the narcissists who don't take plea deals. They dig in their heels and insist they did nothing wrong. They litigate until seemingly forever until they finally get to trial.
A trial date was planned to be set this past Friday. However, after spending some time in judge's chambers with defense counsel, Bill Fleming, prosecutor Shaddi Kamiabipour then stood before the court in an elegant, long black shirt with white prints of lilies and no trial date. She has been on this case for exactly eight years—from May of 2011 to May of 2019. After nearing a decade, she looks just the same except that her hair looks fuller with stronger highlights.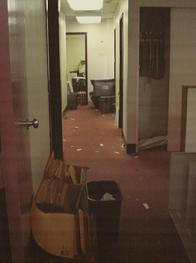 This photo of the interior of Dr. Hoffman's Better Sleeping Medical Center, complete with numerous scraps of paper on the floor, was shown at the June 13th 2011 News Conference in the Orange County DA's library announcing the indictment of Dr. Hoffman. Photo by Lonce Lamonte, all rights reserved.

Judge Richard King: The record should reflect that we've discussed a trial date. I've told parties to pick a date. We'll pick that date with the understanding that if I'm in trial… (Hoffman's trial will merely be postponed 30 days.)
The court is not going to continue this case unless there's a showing of good cause. We'll come back in September (2019). Let's pick a date that is firm.
Judge King decided that the parties would come back on September 6th. No trial date was openly stated. The judge then mentioned that any last minutes issues could be litigated before then. Oh my God… no further litigation seems even possible. He also said that bail status is to remain.
The indictment on this case came in May of 2011. Then, a successful 995 motion filed by the defense saw all 884 counts of this indictment dismissed due to Johnson error. Johnson error occurs when a prosecutor fails to disclose disculpatory evidence to the grand jury. What won the dismissal here was a ruling by Judge William Froeberg in favor of the defense allegation that Shaddi Kamiabipour did not disclose the ~$75,000 reimbursed by Hoffman to State Compensation Insurance Fund.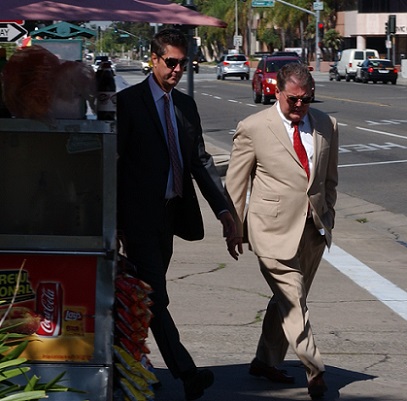 Dr. Sim Hoffman, right, in beige suit with red tie, with his attorney, Bill Fleming, left, with blue shirt and purple tie, rounds the corner near the hot dog stand in front of Orange County Superior Court in Santa Ana on September 11th 2014. Bill Fleming has been a passionate advocate in Dr. Hoffman's defense throughout several years with 995 motions, demurrers, a writ of mandate to the Appeals Court, and dramatic arguments in the court room. Now, Hoffman's trial is drawing near. Photo by Lonce Lamonte, all rights reserved.
Hoffman did not exactly willingly and apologetically reimburse this money to SCIF. He was aggressively confronted by SCIF with the fraudulent billings for single fiber EMGs, and Hoffman, backed into a corner, repaid the money. So, the judge ruled that action by Hoffman as "disculpatory". But, also, the opinion could be expressed that the case was just so cumbersome, the number of counts enormous, and the Hoffman bills so overwhelming, that the judge just could not handle the explosive paperwork. He expressed his dismay on this matter many times during court proceedings. Then, one also could opine that he wanted to ditch the case because he wanted to retire. But that's not such a good argument because, when it comes to judges' retirements or reassignments to other courts, the case simply gets reassigned.
From there, Shaddi refiled the case as a complaint in early 2014. The dismissed indictment was a huge blow to her, but she endured. From there, the new complaint underwent a few amendments as a result of a few demurrers filed by the defense. It even survived a writ of mandate to the Appeals Court in Santa Ana, which the prosecution won in late 2017. Then, it survived a 995 motion to dismiss based on alleged insufficient evidence. In February of this present year 2019, that 995 motion was denied in full by the court.
So, it's to be set for trial next up. The crowding of the court calendar seems to be the reason for the delay until September. Due process and the jamming of the courts with excessive cases keep cases not settled in long lines.
It seems incredible that any more litigation could take place in this case. It has, for eight long years, been litigated to death.
But we'll see what happens in September…
Lonce Lamonte, journalist, lonce@adjustercom.com; copyright by adjustercom and Lonce Lamonte, all rights reserved