Carlos Arguello Sentenced To Four Years In California State Prison. Jon Woods To Face New Trial In Orange County.


By Lonce Lamonte - May 2, 2019

Carlos Arguello, owner of Centro Legal and Justicia Legal, and other named entities he did business as, was sentenced on Tuesday, April 30th 2019, to four years in Federal Prison. Arguello's sentencing hearing took place at the U.S. District Court of the Southern District of California, at 221 West Broadway in San Diego.

According to Richard Wynn, defense attorney for Jon Woods, an applicants' attorney and a charged defendant in the collective take-down by prosecutors in both the state of California and the federal government in this estimated 300 million dollar fraud, Carlos Arguello appeared in court with his family. With Arguello were his wife, his three children, his sister Tania Arguello, who is also a charged defendant who took a plea deal, his parents, and some other unidentified family members. Thus, in front of his whole family, Arguello agreed to self-surrender by July 17th 2019 at 12:00 noon.

Carlos Arguello recruited clients for workers' compensation and personal injury attorneys for over a decade in Southern California by running a Call Center in Tijuana and spoon-feeding the callers responding to his advertisements to applicants' attorneys. Ten attorneys have been charged by the Orange County District Attorney with counts of conspiracy and violating California Labor Code Section 3215. Arguello and his side-kick, Fermin Iglesias, have also been charged in Orange County by the District Attorney on similar charges to the charges against them from the federal government. Both have accepted plea deals.

Carlos Arguello with Edgar Gonzales ran records subpoenaing copy services through which they procured applicants' attorneys as clients by incentives and tying those services in through the capping of clients.

Arguello was arrested in February 2016 and made his plea deal with the feds by July of that same year. He signed a forfeiture order for $1,194,425 on May 4th 2018 and that forfeiture was confirmed at the sentencing hearing on Tuesday. His appeal rights were waived. He will be supervised for three years after he is released. He was charged with no restitution.

A Bond Exoneration Hearing was set for July 22nd 2019 at 9:00 am in the same court room, 4B, with the same judge, the Honorable Cynthia Bashant.

Dan Horowitz, defense attorney for charged applicants' attorney Rony Barsoum in the Orange County state of California case, wrote in an email on May 1st that Arguello's attorney, Marc Geller, said Arguello "spoke to the feds ten or eleven times and NEVER spoke of the attorneys in our state case."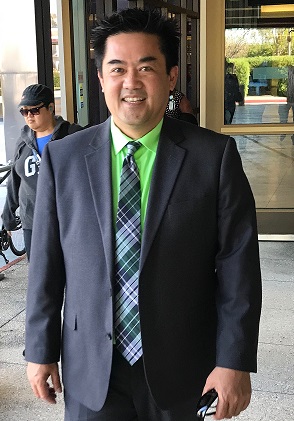 Richard Wynn, defense counsel for applicants' attorney defendant Jon Woods, leaves Orange County Superior Court on April 10th 2019. Richard was waiting for his client's jury verdict during this time. One week later, on April 17th 2019, the jury announced it was hung. Photo by Lonce Lamonte, copyright with all rights reserved.

Richard Wynn, defense attorney for Jon Woods, stated in an email on May 2nd 2019 that Marc Geller represented to Judge Cynthia Bashant that his client was just taking direction from Fermin Iglesias, who is the real ring leader. But "the federal prosecutor argued that Arguello was partner with Iglesias and Geller argued that Arguello was not a partner of Iglesias but rather a mule taking order(s) from Iglesias."
This is the same argument that narcotics trafficker Chapo Guzman's lawyer made to the federal prosecutors in New York back in January 2019. It was argued that "El Chapo" was just a mule and a pawn to other more powerful dealers.
Wynn pointed out that this argument contradicted Carlos Arguello's testimony that he gave during Jon Woods' trial in March of 2019. It also contradicted the Orange County District Attorney's position.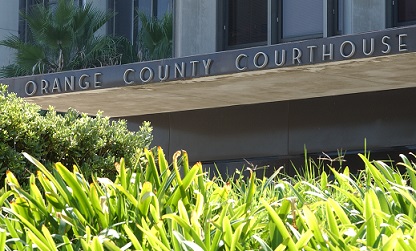 Photo by Lonce Lamonte, copyright with all rights reserved.
Jon Woods' trial ended in a mistrial in Orange County Superior Court on April 17th 2019. The prosecution, led by deputy district attorney Noorul Hasan, has stated her office will retry the case. "We were disappointed with the result, but we are confident that the retrial will go our way," Ms. Hasan wrote in an email on May 1st.
Currently a pre-trial hearing is set for Jon Woods in court room C-40 for May 24th 2019. Noorul Hasan has stated the prosecution will set a trial date during that hearing. The next trial will be heard by the same judge, the Honorable Patrick Donahue, in this same court room on the 10th floor.
lonce@adjustercom.com, Lonce Lamonte, journalist; copyright adjustercom and Lonce Lamonte, all rights reserved