Judge Rules Against Case Dismissal And Recusal Of DA's Office In Landmark Medical Fraud Case In Orange County. But Does Impose Sanctions.


By Lonce Lamonte - February 11, 2019

Orange County Superior Court Judge Sheila Hanson ruled on Friday afternoon, February 8th 2019, in the Landmark Medical workers' compensation fraud case that the case would not be dismissed and the prosecution would not be recused. However, she would impose sanctions.

Her ruling was in response to the defense's motions, filed over a year ago, alleging that the prosecution, led by senior deputy district attorney Shaddi Kamiabipour, read and reviewed attorney-client privileged communications and work product. The defense, led by Benjamin Gluck, Landmark CEO Kareem Ahmed's defense counsel, demanded the full dismissal of the case, or as a lesser remedy, the full recusal of the Orange County District Attorney's office.

Judge Sheila Hanson: The motion to dismiss for violation for 5th or 6th amendment will be denied.

Judge Hanson expressed she would have preferred better care in how the evidence was seized and handled. She said the mechanism employed by the District Attorney's office to protect attorney-client privileged communications and work product was wholly inadequate. She acknowledged the defense was alleging outrageous government misconduct. But she didn't believe the prosecution's violations of attorney-client privilege were designed to be deliberate.

Judge Sheila Hanson: I found Ms. Kamiabipour to be credible. I did not find her to be dishonest, deceptive. I think that is important…

Judge Hanson also expressed when it came to the demand from the defense to recuse the DA's office that the prosecution's misconduct did not rise to the level of recusal.

Judge Sheila Hanson: The court will not order recusal of the prosecution. The court is going to impose sanctions.

Prosecutor Shaddi Kamiabipour, left, and defense attorney Benjamin Gluck, right, have been slugging it out in the Landmark case since just before this picture was taken in Judge Thomas Goethals' court room on September 12, 2014. On this day Scott Dekraai, the mass murderer who killed several people in 2011 inside a Seal Beach beauty salon, had his case called just before Landmark was called. photo by Lonce Lamonte, all rights reserved

She ruled that the violations alleged by the defense did take place. Her ruling meant that all 800 plus documents the defense alleged to be privileged that wound up in the prosecution's files were indeed privileged and now had to be returned to the defense and erased from all the prosecution's devices.
Kareem Ahmed is the CEO of Landmark Medical Management, based in Ontario. The charges against Landmark heavily include the illegal manufacturing and distribution of compound pain creams. The 12 defendants include Kareem Ahmed, Yvette Charbonnet, and Bruce Curnick, who are Landmark employees, and nine doctors and chiropractors who distributed the compounded creams for kick-backs.
The amount fraudulently charged to the insurance payers by Landmark Medical has been estimated by the Orange County DA's office to be roughly 200 million dollars. Also included is a manslaughter charge for the death of an infant.
Judge Hanson explained the sanctions in open court.
Judge Hanson: Investigator (Fred) Nichols. He is not to communicate (with anyone on the prosecution team.) All evidence must be removed from the DA's server. Must be returned to Mr. Ahmed.
She expatiated on about if there were still items in the database, the prosecution was to seek removal, seek withdrawal of those items.
Judge Hanson: The court is also going to order exclusion. The People will be required to show evidence was derived from an independent source.
Thus, any evidence introduced has have an independent source basis separate from attorney-client privileged documents. It can't come from any of the 800 documents ruled privileged and seized from Landmark's office or Kareem Ahmed's home. That burden to prove the independent source is on The People.
Judge Sheila Hanson, with her shoulder-length brown hair and dark brown, slender-framed glasses, spoke deliberately from the bench with her light-hearted, ebullient personality.
Judge Sheila Hanson: I have ruled there was a violation of the attorney-client privilege. I have ruled it was unintentional. It's a heavy burden for the prosecution. What is the best way to impose that remedy post-indictment?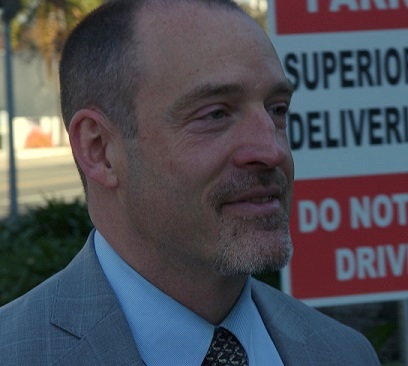 David Willingham, defense counsel for defendant Bruce Curnick, will argue Thursday, February 14th 2019, on remedies for sanctions post-indictment. His client is the only defendant left in the indictment. photo copyright Lonce Lamonte, all rights reserved

She was referring to defendant Bruce Curnick, former vice president of Landmark Medical. He's the only defendant left in the original indictment from 2014. The other defendants are split up in various complaints, which were refiled charges done in 2016 after Benjamin Gluck prevailed on a writ of mandate on his demurrer that had been denied by the previous Superior Court Judge, Thomas Goethals. He got every count for every defendant, except for Bruce Curnick, wiped out.
Bruce Curnick was in the court room on the end of a row in a black jacket with his four-footed cane. He sat with a white-haired woman in grey boots with sun glasses resting on top of her head. His attorney, David Willingham, asked for everyone to come back on Thursday. The judge had more questions for Bruce Curnick and wanted to hear further arguments from the lawyers on remedies which could be imposed post-indictment.
Attorney David Willingham: What we think we should do is come back Thursday.
Judge Hanson: Everyone wants to come back on Valentine's Day.
Some attorney in the court room: No better place I'd rather be.
Judge Hanson: Excuse me?
Laughter erupted.
Thus, the court is adjourned until Valentine's Day, Thursday, February 14th 2019 at 11 am.
lonce@adjustercom.com
February 13, 2019 -- correction made to the explanation of the ruling that the "independent basis" of evidence required for the prosecution has to come outside of evidence ruled to be privileged, not outside of all evidence seized from Landmark's office site, Kareem Ahmed's home, and the emails subpoenaed from email services.