Judge King Takes Sim Hoffman, M.D.'s 995 Motion To Dismiss Under Submission. Promises To Issue Written Response By February 1st.


By Lonce Lamonte - January 31, 2019

Sim Hoffman, M.D., a radiologist who has practiced in Buena Park, sat in a center seat of a middle row in the section closest to the door. The proceedings in court room C-45 of the Honorable Richard King had not opened yet last Friday afternoon, January 25th 2019, in Orange County Superior Court.

Hoffman, almost eight years after being indicted on 884 counts of workers' compensation fraud, has still not gotten to trial. Now he was down to his last afternoon of arguments in his 995 motion, which is a motion to dismiss.

If he fails on a complete dismissal with this 995 motion, he will be immediately set for trial. His lawyer, William Fleming, has been arguing for a year that there's insufficient evidence to charge Dr. Hoffman on all counts. And Fleming argues so well and with such an air of credibility, that if this writer hadn't sat through the entire Preliminary Hearing in September of 2015, I would believe him.

Dr. Hoffman had a Preliminary Hearing in 2015 because the case was refiled as a complaint in early 2014. Then after the Preliminary Hearing, it became an information. Hoffman's defense team then went through a few demurrers and finally even filed a writ that reached the California Supreme Court. The case was referred back by the Supreme Court to the Appeals Court to be heard in August of 2017. They lost.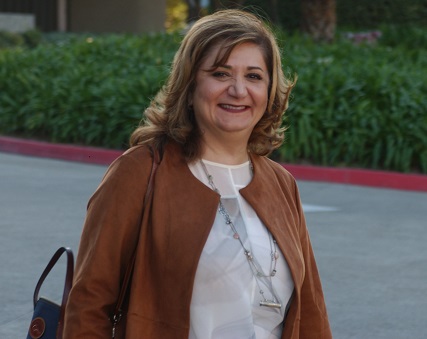 Shaddi Kamiabipour has been the lead prosecutor on this Sim Hoffman, M.D. workers' compensation fraud case since the indictment against the doctor in May of 2011. She has endured enormous opposition from a formidable defense. Here, above, she leaves court at the end of a long day on Friday afternoon, January 25th 2019. photo by Lonce Lamonte, all rights reserved
Then, defense counsel Bill Fleming filed a 995 motion to dismiss all the counts in the information based upon his assertion of lack of sufficient evidence. It's been a long, hard battle. This defense has done everything conceivable to keep Dr. Hoffman out of trial.
Fleming had stepped out of the court room while Dr. Hoffman sat there alone wearing one of his classic red ties: this one was a deep, dark, crimson color. His suit was a fine weave of black, dark green, and white threads. He wore black oxford shoes with black laces. His feet are very long.
Dr. Hoffman appeared very depressed, withdrawn, and sullen. He has looked this way since at least November 5th 2018, when the judge asked both the prosecution and the defense for supplemental briefs. But perhaps Dr. Hoffman has appeared in this state for much longer.
During the Preliminary Hearing in September of 2015, Dr. Hoffman would occasionally speak to me. I commented to him one day about a young woman, a former employee of his, who testified with statements to his benefit. He replied to me. Then he even gave me his email address.
But this past Friday, I called over to him in the nearly empty court audience area, "Hello Dr. Hoffman, I'm praying for you." He did not respond. Then, I spoke something else which I do not remember. I got in his face just enough so that he couldn't avoid a reply. "I don't want to talk," he said sternly.
"Okay," I said. I accepted defeat. I immediately thought about how the Preliminary Hearing took place in September of 2015 and SB 1160 did not take effect until January 1, 2017.
SB 1160 requires that all liens be stayed for any provider charged with fraud pending the outcome of the case. So, all of Dr. Hoffman's liens are frozen. He can't collect on anything.
His whole world as he knew it for most likely two decades has been shut down. This is a doctor who bribed his former office manager, Beverly Mitchell, with a $1,000,000 hush money payment engineered to shut her up and convince her to lie for him. This all came out through Beverly Mitchell's testimony at the Preliminary Hearing.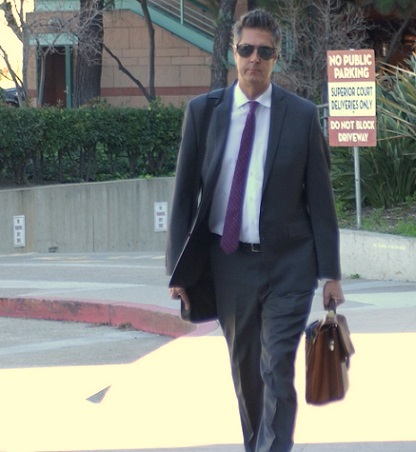 Bill Fleming, Dr. Sim Hoffman's defense attorney, arrives at Orange County Superior Court in the early afternoon on Friday, January 25th 2019. He is artful at delivering a defense in the court room, and makes even testimonies taken out of context sound quite compelling. If Hoffman goes to trial, it's not because his lawyers (Richard Moss, too) weren't brilliant. It's because prosecutor Shaddi Kamiabipour perservered relentlessly and presented the case to the court in all of its egregious fraudulence backed by the law. photo copyright Lonce Lamonte, all rights reserved
Dr. Hoffman indulged in many scams. The short list includes running a sham sleep center, charging for Single Fiber EMGs which were never performed, charging for patient interpretation services when the interpreter wasn't present and had no idea his license number was being used to bill for interpreting services, and for 3-D MRIs when he didn't even have the software installed.
Hoffman's bills were all identical. He ran a mill. Every patient served him to charge for the exact same diagnostics. There was absolutely no individuality between patients.
Judge King has struggled a great deal with the sheer volume alone. The invoices and the exhibits are overwhelmingly voluminous. The transcript of the Preliminary Hearing is 2,200 pages.
Not only that, but back in 2011, prosecutor Shaddi Kamiabipour told this writer that when she went through Hoffman's invoices to the workers' compensation payers back in the grand jury days, there were such huge quantities of them that she had to take every third claim. She had to make the numbers at least manageable, and that was even near impossible by taking every third claim. The first indictment wound up with 884 counts!
What Judge King has been expressing since November 2, 2018, is he can't grasp the prosecutions' charges of "not medically necessary" under LC 550 (a) (6).
On January 18, 2019, he said:
Judge Richard King: You don't do the procedure and you bill for it. I have no issue with that being fraud. You do a procedure but you tell the insurance company it was a different procedure because you know the insurance company perhaps is not going to pay for the procedure that you actually did so you bill for another procedure. I have no issue with that. That's fraud.
The concern I had was you do a procedure, you submit a claim to the insurance company, the insurance company sees that you did the procedure, and then it wasn't medically necessary; and to me, I needed to know: Does the contract that exists between the defendant and the insured have that as a requirement?
Court opened last Friday, eventually, and the Hoffman case was called after an in-pro-per defendant, in custody, defended himself pretty impressively. Judge King took the Hoffman case last, and the court room audience was empty with the exception of this writer.
Judge King: We have come back to the arguments that weren't discussed last time.
The arguments then went on, very tediously. Bill Fleming insisted that even DA investigator Jennifer Friedl saw the 3D MRIs and testified that a witness she interviewed stated in 2009 a 3-D sequence was added. I don't remember her testifying to that.
But this judge's biggest stumbling block is he doesn't think the prosecution can charge criminal fraud for lack of medical necessity under LC 550 (a) (6). The code reads "…willfully and unlawfully knowingly make and cause to be made a false and fraudulent claim for payment of a health care benefit." He keeps asking, "Where's the false claim?"
He tentatively earmarked 16 counts that he could dismiss. But the information is 110 counts. Thus, even if Judge King dismisses those counts, the prosecution has 94 left. It wouldn't be a wipe out.
The arguments went on until after 4:30 pm last Friday. Then, finally, the judge called it quits.
Judge Richard King: We are at a point where the court needs to rule.
He took the arguments under submission. He promised to have a written ruling by February 1st 2019.
Will Sim Hoffman, M.D. finally get to trial? Will a date finally be set? Or will the 995 be granted in its entirety?
I would be shocked to death if the 995 were granted in its entirety. Beyond shocked. But we'll know in a day or two.