Closing Arguments In Preliminary Hearing For Janek Hunt, Munir Uwaydah, M.D.'s Brother-In-Law, To Be Heard February 1st In Murrieta


By Lonce Lamonte - January 6, 2019

On February 1st 2019, Friday, 9:00 am, court room 304 in the Murrieta Southwest Justice Center in the County of Riverside, closing arguments in the preliminary hearing for Janek Hunt will be heard.

Hunt was ostensibly running Blue Oak Medical Group at multiple California locations and allegedly engaging in major pharmaceutical fraud against workers' compensation carriers up until he was arrested on November 25th 2018. As of today, he's through the longest part of the preliminary hearing and on the threshold of closing arguments.

"We're not waiving time," his lawyer, Winston McKesson, said yesterday, Saturday, by phone.

Janek Hunt is the brother-in-law of Dr. Munir Uwaydah, the notorious workers' compensation fraudster who is on the lam, a fugitive of the law, and believed to be continually hiding out in Lebanon. Uwaydah has an arrest warrant against him that has been active since September of 2015 when he was indicted by the Los Angeles District Attorney. It is on file with Interpol throughout Europe and parts of the world in countries with extradition agreements with the United States. Lebanon has no agreement with the U.S.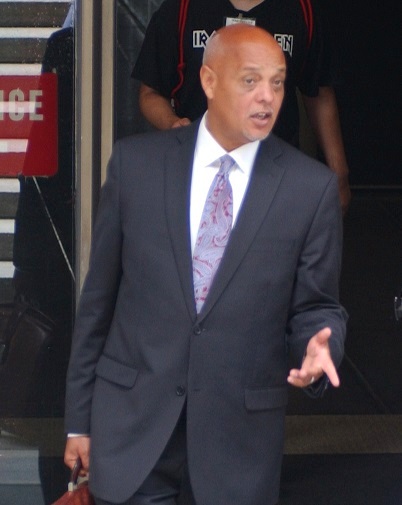 Winston McKesson, defense counsel for Janek Hunt, leaves Clara Shortridge Foltz Criminal Justice Center in downtown LA on June 4th 2018. In DTLA he is currently representing Dr. Uwaydah's former physician assistant, Peter Nelson. In Murrieta on February 1st 2019, McKesson will deliver closing arguments in Janek Hunt's preliminary hearing. Photo by Lonce Lamonte, all rights reserved.
Janek Hunt was tracked via his passport by the customs agency when he came into the U.S. on a flight into Chicago. He is an Estonian national. He was booked into custody in Cook County on November 25th 2018.
He was transferred to Riverside County on December 8th 2018 and is now incarcerated in Murrieta in the Southwest Detention Center. He has been charged with nine counts of PC 550 (a) (6) which is health care fraud involving the filing of false and fraudulent claims. He is also charged with one enhancement for white collar crime.
His bail is set at $2,664,007.
Blue Oak Medical Group has been under investigation by numerous investigators working for workers' compensation payers for over three years. Blue Oak is the offspring of Frontline Medical Group, Firstline Medical Group, and U.S. Health and Orthopedics. It came into fruition after David Johnson, M.D., who was an officer and treating physician for U.S. Health and Orthopedics, was indicted along with fourteen other individuals in Los Angeles County. One of those individuals indicted was Dr. Munir Uwaydah.
Noelani Mars, from Argus West Investigations, told Riverside County DA investigator David Jones that Blue Oak Medical was prescribing and billing for some uncommon medications like Tabradol (a muscle relaxant), Fanatrex (a seizure control drug), Dicopanol (an antihistamine), and Wellbutrin (an antidepressant). These uncommon drugs were being billed in copious quantities which did not align with the much lesser quantities the patients described and provided evidence for when interviewed.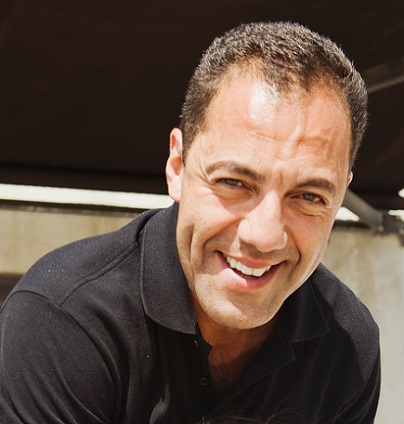 Munir Uwaydah, M.D., in 2010. copyright Lonce Lamonte, all rights reserved

According to the bills sent to ICW Group from Blue Oak Medical Group, 86% of patients were prescribed Wellbutrin, 88% Tabradol Cyclobenzaprine, 86% Diphenhydramine Hydrochloride, and 88% Fantrex Gabopentin.
The bills sent to Berkshire Hathaway from Blue Oak Medical Group had 67% of patients prescribed Wellbutrin, 74% Tabradol Cyclobenzaprine, 73% Diphenhydramine Hydrochloride, and 74% Fantrex Gabapentin.
To Zenith from Blue Oak Medical Group, 88% of patients were prescribed Wellbutrin, 88% Tabradol Cyclobenzaprine, 88% Diphenhydramine Hydrochloride, and 88% Fantrex Gabapentin.
At Liberty Mutual, the percentage spread was 78% of patients were prescribed Wellbutrin, 79% Tabradol Cyclobenzaprine, 78% Diphenhydramine, and 78% Fantrex Gabapentin.
So, there was a pattern of sending the exact same combinations of drugs to hundreds of patients. It was all just a mass factory without any consideration to the individuality of the patient and the patients' specific needs.
This has been a Dr. Uwaydah pattern in California for nearly 15 years.
DA investigator Dave Jones met with lead investigator Gordon Oard of Berkshire Hathaway in May of 2017. Oard told Jones that Blue Oak, Firstline Health, and Golden State Pharmaceuticals are the only companies nationwide to ever bill Berkshire Hathaway for Dicopanol. Blue Oak, Frontline, and Firstline are the only ones to ever bill Berkshire Hathaway for Fantrex. Blue Oak, Firstline, Golden State Pharmaceuticals, and United Services Plus dba Ronco (two bills) are the only ones to ever bill Berkshire Hathaway for Tabradol.

Thus, the conclusion from investigator Gordon Oard's findings can be deduced that Uwaydah looked for drugs with the highest financial yield and prescribed them to patients. He took into account the profit only, not whether the medications had any positive benefit or any dangerous potential for the patients. Uwaydah did not take the health of the patients into any consideration.
Uwaydah also completely controls the pharmaceutical company. The latest one is Talca Pharmaceuticals, located at 768 Calle Plano, Suite B, Camarillo. Previous names of pharmaceutical companies used were Golden State Pharmaceuticals, Fusion Pharmaceuticals, and California Pharmaceuticals which were all using that same Camarillo address.
Uwaydah controls the pharmacy and egregiously inflates the prices. He uses other individuals' names as owners of the pharmacies. That's how he works around the law that a physician cannot own a pharmacy.
One such name that was used back in 2010 and a few years prior was Marisa Schermbeck Nelson. Marisa left when Kelly Soo Park was arrested in June of 2010 for the murder of Juliana Redding, which happened on March 15, 2008. When Marisa would not surrender the check book, the bills for Golden State Pharmaceuticals were paid by Frontline Medical. This made the pharmacy board suspicious, and consequently, Golden State had trouble answering the board's questions. Thus, Golden State had to surrender its license.
However, the pharmacist who has consistently been shown as the licensed pharmacist on California Secretary of State documents for all the pharmacy names controlled by Dr. Uwaydah is Kenneth Amadeo.

Janek Hunt's present case in Riverside County at the Murrieta Court location is being prosecuted by Deputy District Attorney (DDA) Matthew Murray. Hunt's defense attorney is Winston McKesson, who is also defense counsel for defendant Peter Nelson, Dr. Uwaydah's former physician assistant, who is currently being prosecuted in downtown Los Angeles by the Los Angeles District Attorney's office.
McKesson spoke to this writer on Saturday, January 5th 2019.
Defense Counsel Winston McKesson: I don't think my client is guilty. I don't think there is any evidence that he was involved in any conspiracy to defraud any insurance company.
McKesson doesn't believe the Riverside court has jurisdiction. He doesn't think the prosecution put forth sufficient evidence to show that the Riverside court has jurisdiction.
Winston McKesson: So, I think my guy was duped. And let me just say this… one of the things that they (the Riverside County DA) attempted to do at the preliminary hearing is introduce the 2015 indictments (from the Los Angeles County DA) against Uwaydah. They tried to introduce that to show… this is Uwaydah's brother-in-law so the fact that this 2015 indictment was filed should put him on notice that there was (were) things that were going on inappropriately with these companies. And based upon that he should not have been involved.
Well, the thing is that argument could be turned around. Because if he knows that there's excessive fraud going on, presumably, he also knew there was an on-going grand jury presentation. Then he wouldn't have showed up in the United States.
So, I think they have the wrong guy. So, I expect him to be exonerated fully.
Janek Hunt_ Incarceration In Riverside Record - Jan 4th 2019
Lonce Lamonte, journalist, lonce@adjustercom.com. Copyright adjustercom; all rights reserved.