Criminal Organization Munir Uwaydah Case In Downtown L.A. Continued To November 26th 2018. Judge Wants To Personally Review New Discovery.


By Lonce Lamonte - November 17, 2018

Proceedings took place for the Criminal Organization Munir Uwaydah case in downtown Los Angeles on Monday morning, November 5th 2018.

This case of prodigious workers' compensation fraud, which began to be prosecuted in September of 2015, is still in the midst of an Evidentiary Hearing in the court room of Judge Larry Fidler, on the ninth floor of Clara Shortridge Foltz Criminal Justice Center on Temple Street. Defense attorney, Benjamin Gluck and his Bird-Marella law firm team, who represent defendant Paul Turley, a chiropractor, and also lead the collective defense, have been grilling witnesses since April 4th 2018 over Gluck's allegation that the prosecution committed egregious attorney-client privilege violations when reviewing evidence.

This morning, Gluck was not happy. The prosecution had just filed a motion to continue and Judge Fidler was ready to confer with the prosecution and the defense in his chambers.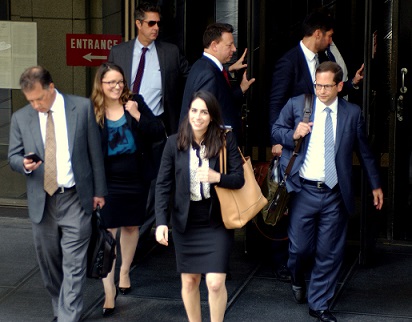 Benjamin Gluck, far right, with his coterie of defense lawyers on the Uwaydah case, leaves the Clara Shortridge Foltz Criminal Justice Center in downtown L.A. on April 25th 2018. From left to right are James Spertus, Nicole Van Dyk, Bill Fleming, Gabriela Rivera, Jeffrey Isaacs, and Sam Josephs. copyright Lonce Lamonte, all rights reserved

Judge Larry Fidler: I've received the People's request for an in-camera.
So, Fidler was ready to go and invited counsel to join him in his chambers, but Benjamin Gluck wanted to further rant.
Benjamin Gluck: The People failed to comply with the 1050. The court is required to take notice of the failure. We do object to the continuance.
A 1050 motion from the Penal Code is a motion to continue. It must be filed at least two days before any hearing with the supporting affidavits and documents. Thus, Gluck was clearly accusing the prosecution of failing to meet some criteria.
The parties went into chambers. The court room fell silent. In the second row of the audience seats sat Tatiana Arnold, who is an attorney defendant, Dr. Uwaydah's former lawyer, in her usual spot down the row. She was wearing a casual black shirt with thin horizontal white stripes. Usually, defendant Kelly Soo Park is seated to her right, but this day Ms. Park was conspicuously absent. Instead, defendant Leticia Lemus Alvarez was seated to Ms. Arnold's right wearing a jeans jacket and green pants. Then Ronnie Case was next to Leticia Alvarez with his usual shaved head wearing a blue grey shirt with light blue stripes. This line up looked unusual without Kelly Soo Park and her elegant, long dark hair. She had now just passed five and a half years since being found not-guilty of the murder of Juliana Redding.

Kelly Soo Park's mother, Irene, is shown here leaving the Clara Shortridge Foltz Criminal Justice Center in downtown L.A.on May 24th 2013. This date was near the end of her daughter's trial for the murder of Juliana Redding, of which Kelly Soo was found not-guilty by a jury on June 4, 2013. photo by Lonce Lamonte, all rights reserved.

Then, after months of being absent from the court room, Kelly Soo's mother, Irene, walked in with her sister, Valle. She stepped into the same row next to Ronnie Case as Valle, Kelly Soo's aunt, sat down on the end. They obstructed this writer's view.
It could be guessed that Kelly Soo couldn't make it to court this day, so her mother and aunt attended in order to be her eyes and ears.
Irene used to talk to this writer with just usual pleasantries and simple exchanges. She expressed during her daughter's pretrial for the murder of aspiring actress and model, Juliana Redding, that she coped through prayer. But her sister, Valle, put an end to all exchanges. Neither will now even answer a "good morning".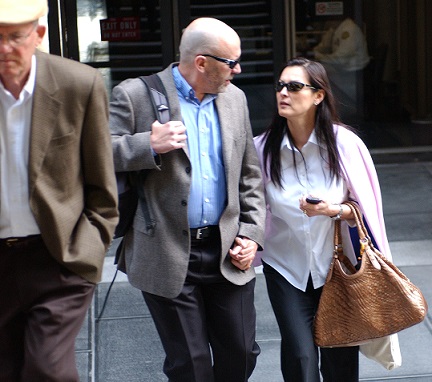 Kelly Soo Park looks up at her new husband, Tom Chronister, as she leaves her trial for the day on May 23rd 2013. Chronister is an ex-cop from the City of Oxnard who married Kelly Soo the year before she was found not-guilty of the murder of aspiring actress, Juliana Redding. Ms. Redding had been a girlfriend of Dr. Uwaydah. Chronister's relationship with Park caused him to fall out of favor with the City of Oxnard. Certain retirement benefits were then denied to him. Photo copyright Lonce Lamonte, all rights reserved.
When I said to them this day, "Haven't seen you two in a while. How have you been?" I was met with a stony silence as their backs turned. It was that primitive family loyalty, led by Valle, the ferocious one, that gripped them. Guilty or not-guilty, nobody opposes the innocence of anybody in my family, has been Valle's attitude since her niece's pretrial proceedings and murder trial from 2010 to 2013. That's how clans have operated for perhaps millions of years.
The parties emerged from the judge's chambers. Judge Fidler stated that the People had dropped off some discovery. There is good cause for the continuance, he expressed. So, he granted the continuance.
Benjamin Gluck further opposed. He pushed back with his objections until he backed-down in realization that his argument was mute. He'd lost, so he turned to his usual quips of humor.
Benjamin Gluck: I'm impressed that six showed up today.
He meant six members of the prosecution team. There appeared the head of the organized crime unit, John Nantroup, along with Craig Hom and then the original four members of Catherine Chon, Dayan Mathai, Karen Nishita, and Kennes Ma.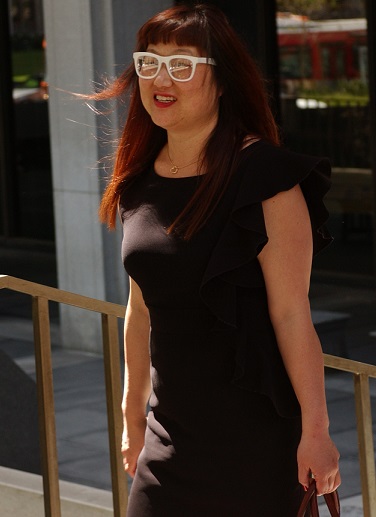 Catherine Chon, a Uwaydah case prosecutor, leaves the courthouse on April 15th 2016. She wears assorted designer eye glasses to court and dresses in a lovely style which is court-unconventional. She has a unique style of beauty. Photo by Lonce Lamonte, all rights reserved.

Catherine Chon was wearing a sleeveless, fashion-model cut black dress that fell to the knees in court-appropriate modesty. Her hair was pulled up in a simple bun at the back of the crown of her head. She looked stunning.
Again, there is new discovery. Discovery keeps coming and coming as if it just continues to come out of the woodwork.
Judge Fidler told the court room he could not put the new discovery off onto the research assistants. He would be reviewing it himself.
Judge Larry Fidler: Hoping to get it done this week.
He stated he has a couple of documents he has to discuss with the People. Then he addressed the defense.
Judge Fidler: How many more witnesses do you intend to call?
Benjamin Gluck: We intend to call Mr. Nantroup. Ms. Chon… Depending on Nantroup's testimony, we may call Mr. Mathai, Ms. Nishita, Ms. Nakao.
So, now, the court calendar for this case has been reset to Monday, November 26th 2018 at 10 am. That's Monday after Thanksgiving weekend.
lonce@adjustercom.com, Lonce Lamonte, journalist