News
Email A Friend
More News
June 19, 2019
California Workers' Compensation Appeals Board Posts Proposed Updated Rules of Practice and Procedure for Public Comment
June 18, 2019
California's Division of Workers' Compensation to Revise Independent Medical Reviews (IMR), Independent Bill Reviews (IBR) Requests for Proposal
June 13, 2019
Paul Turley, D.C. To Testify In Dr. Uwaydah Criminal Organization Case In L.A. Judge Concerned With Turley's Proffer Stating Uwaydah Controls Everything From Lebanon.
June 13, 2019
California Division of Workers' Compensation Posts Adjustments to Official Medical Fee Schedule (Physician Services / Non-Physician Practitioner Services)
Sam Solakyan, Owner of Vital Imaging, Released From Federal Prison On 1.5 Million Dollars Bond


By Lonce Lamonte - October 11, 2018

Sam Sarkis Solakyan, the owner of Vital Imaging, who also ran businesses under Global Holdings, Empire Radiology, and other monikers, was released from custody by the Federal Bureau of Prisons on Tuesday, October 9th 2018.

Solakyan was indicted on 12 felony counts by a federal grand jury on September 25th 2018. He was charged by the United States District Court of the Southern District of California, a district covering the greater San Diego area. The indictment was originally sealed, but was unsealed just two days later on September 27th 2018. The charges are for conspiracy to commit honest services mail fraud and health care fraud, honest services mail fraud, and aiding and abetting.

Solakyan was arrested on September 26th 2018; thus, he spent two weeks incarcerated. His bail was set for 1.5 million dollars, which he secured with a 1.4 million dollar lien on his real property plus $100,000 in cash together in a bond.

The court vacated the detention hearing that was set for October 2, 2018.

The conditions for his release include GPS (Global Positioning System) tracking for twenty-four hours each day (which he must pay for), travel restricted to the southern and central districts of California, psychological testing, drug testing at the discretion of the Pretrial Services Officer up to eight times per month, the lawful transfer or disposal of any firearms in his possession during the pendency of this case, the deposit of a DNA sample, and the observance of a curfew. Solakyan must remain at his residence between the hours of 10 pm and 6 am daily.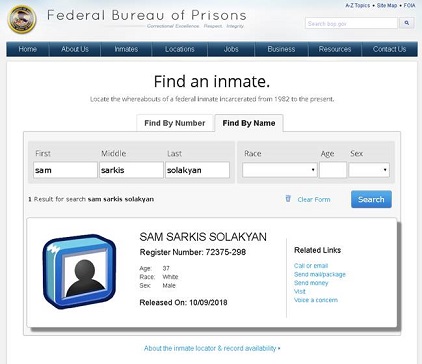 Sam Solakyan must complete and provide a financial disclosure statement listing all assets, financial interests, real property, personal property valued at more than $1,000 including marital and community property.
Solakyan has been infamous for years for abusing the workers' compensation system in California. His name is a household name with every workers' compensation adjuster, manager, and investigator in California.
He paid over 8.8 million dollars in kick-backs to Medex Solutions, one of the firms owned and operated by Fermin Iglesias and Carlos Arguello, who have been previously charged by the feds and the Orange County District Attorney. He paid them for patient referrals to his imaging centers which he had all over the state of California. The cities included Richmond, Hayward, San Jose, Garden Grove, Anaheim, Burbank, and San Diego.
Solakyan, who is only 37 years of age, was an owner of a medical transportation service back in 2002. That same year he sought the new seat for the east San Fernando Valley district for the city council. He told a journalist at that time, who wrote an article about this new seat, that he believed, because of his young age of only 21, he could inspire mentorship for young people to work with business leaders and stay away from criminal activity.
Sam Solakyan has worked overtime leading the dog off the scent of his insurance fraud with his prolific philanthropic activities. He has donated resources to Police Departments. He has the former District Attorney for the City of Los Angeles, Steve Cooley, on as the corporate council for his Global Holdings, Inc. He is quoted as praising Steve Cooley and being praised in return by Steve Cooley in written articles published on the Internet. He appeared at an event promoting Jackie Lacey as the successor to Steve Cooley for the position of Los Angeles District Attorney.