Judge Has Questions for Prosecution in Sim Hoffman, M.D. Case in Orange County. Still No Ruling on Defense's 995 Motion.


By Lonce Lamonte - October 7, 2018

Just when it seemed the Sim Hoffman, M.D. workers' compensation billing fraud case in Orange County couldn't possibly undergo another delay, it has undergone another delay.

The case will now be back in Orange County Superior Court, Department 45, the court room of the Honorable Richard King, on November 2nd. The judge has some questions for the prosecution, ostensibly regarding the prosecution's answers to the defense's 995 motion, according to Dr. Hoffman's defense attorney, Bill Fleming. Therefore, Judge King wants the parties to return to court on that date before making any ruling. Lead prosecutor, Shaddi Kamiabipour, was not available for comment as she is on vacation until October 15th.

This is the longest drag-out of a case after a bind-over to trial ruled by a Preliminary Hearing judge that this writer has witnessed since beginning to report from court rooms in 2007. Judge Margaret Anderson ruled in November of 2015, a month after the end of testimony in the Sim Hoffman, M.D. and Thomas Heric, M.D. preliminary hearing, that she was holding the two defendants to answer to the charges. Usually, once that happens, a case moves right away to trial. A trial date is scheduled and put on the calendar. And the trial then begins.

But not in this case. The defense has since the 2015 prelim filed three demurrers (which they won in part, giving the prosecution leave to amend), then filed a writ with the court of appeals (which they lost), and now has filed a 995 motion to dismiss. The parties are now waiting for the judge's ruling on the 995.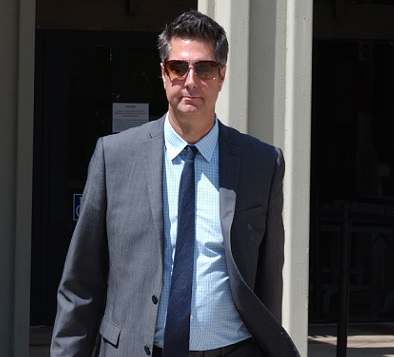 Bill Fleming, one of Dr. Sim Hoffman's defense attorneys, leaves the Westminster courthouse during the Preliminary Hearing on September 11th 2015. photo by Lonce Lamonte, all rights reserved


Dr. Heric is no longer a defendant in this case. He died in July of this year. Therefore, now it's just Dr. Hoffman by himself.
It's a lot of legal gymnastics. It's draining and demanding on the courts; that makes it expensive for the tax payers. It's already expensive for the insurance payers. They've lost millions of dollars through Dr. Hoffman's frauds. They've fortunately not paid all the 25 million plus billed from Hoffman's fraudulent billing practice. But, consequently, it's expensive for the businesses paying for workers' compensation insurance.
And all that expense trickles down to the consumers buying our state's products and services. We pay.
During the preliminary hearing, Dr. Hoffman's lawyer, Bill Fleming, grilled Hoffman's ex-office manager, Beverly Mitchell, on the witness stand. Fleming had well studied all of her past testimonies from an arbitration and a couple of depositions. Her testimonies contradicted. As Bill asked her questions, her answers did not match what she had previously testified. Bill pointed out her contradictions. Beverly cried on the witness stand when cornered by her perjuries. She had lied to cover up for Dr. Hoffman.
She admitted to having accepted one million dollars from Hoffman as a pay-off just after she resigned. After her residence was searched via a search warrant in 2006, Ms. Mitchell became further unhinged. That's when she had a nervous breakdown and told Hoffman she had to quit.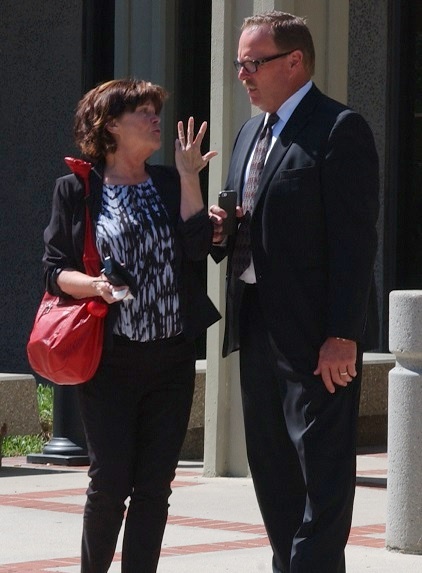 Beverly Mitchell talks to her attorney, Marlon Stapleton, after testifying at the Preliminary Hearing on October 1, 2015. photo by Lonce Lamonte, all rights reserved

From the witness stand that September of 2015, she told the court that yes, Dr. Hoffman really gave her the one million dollars he promised. She said, "I deserved it." Later, on re-direct, Shaddi Kamiabipour asked Mitchell why she said that, why she would say she "deserved it" when receiving a million dollars in what was clearly hush money. She replied, "I worked hard." No one in the court room was convinced.
The defense 995 motion now awaiting Judge King's answer claims that Dr. Hoffman did not know about the multitudes of phony single fiber EMG billings. It claims that Hoffman's collector and hearing representative, Louis Santillan, came up with the idea of billing for single fiber EMGs, which were never performed, and never communicated to Hoffman. But this idea doesn't hold water.
Beverly Mitchell knew about the never-performed single fiber EMGs. She told Dr. Hoffman about them and communicated that Dr. Silvia De La Lana, who was named on the billings as the doctor performing the tests, told Louis Santillan she never performed any single fiber EMGs. Beverly Mitchell also told Hoffman that the biller, Stefanie Alcosett, knew the single fibers had not been done.

Louis Santillan, shown here after testifying at the preliminary hearing in September 2015, was Dr. Hoffman's collector. He sued Hoffman for wrongful termination. photo by Lonce Lamonte, all rights reserved

Thus, Dr. Hoffman arranged for Dr. De La Lana and the biller, Stefanie Alcosett, to be fired. So, Hoffman was in the loop on all that was going on. This was revealed in the testimonies of witnesses.
And why else would he pay one million dollars to Beverly Mitchell to shut her up? He also told Louis Santillan to order the biller to stop billing State Compensation Insurance Fund for single fiber EMGs because they had complained, threatened to sue, and demanded a refund. But he insisted they continue to bill other payers who hadn't complained, because, as he reasoned, he would lose too much money if he stopped billing for the single fibers. They were a cash machine for him. Again, this was revealed in the testimonies.
Beverly Mitchell knew everything. That's why she was paid a million dollars as she lied for Sim Hoffman when Louis Santillan sued Hoffman for wrongful termination. Louis Santillan, if one reads well the testimony, believed he had Dr. Hoffman trapped.
Hoffman was trying to get rid of Santillan for some time. That's why Hoffman was trying to convert Santillan from an employee into an independent contractor. Santillan was blackmailing Hoffman, changing notes in the computer to increase his commissions on collections, and cheating with felt impunity because he sensed he had Hoffman behind the 8 ball.
In 2006, Louis Santillan made over $400,000 in salary plus commissions. It was clear to Hoffman, based on the testimony, that if he could make Santillan an independent contractor, he could terminate him after a safe amount of time post employee status. But that didn't happen because Santillan fought Hoffman into a bitter dispute, which resulted in his termination as an employee. Santillan then sued, his case went to arbitration, and that's when Beverly Mitchell protected Hoffman with her perjuries.
Henceforth, the blame game on Louis Santillan with the assertion of Dr. Hoffman's innocence over the fake Single Fiber EMGs is just as unbelievable as Hoffman's interpreter bills for patients with Spanish last names not being able to understand and speak English. Hoffman used the license of an interpreter who had no idea his name and license number were being used for billings. The interpreter testified that he did not perform the interpretations in question plus did not give his consent to have his license number used for the invoices in question.
Another matter of false billings had to do with 3 Dimensional MRIs. Hoffman billed for 3-D MRIs and eventually admitted to both Louis Santillan and Beverly Mitchell that, indeed, he did not have the 3-D MRI software installed. He, eventually, told one or the other, that he had it at home and would bring it into the facility.
All of this falsehood and fraudulence came out in the testimonies at the preliminary hearing. The judge, Margaret Anderson, didn't miss a beat. She found a preponderance of evidence in favor of the crimes most likely having been committed. It was in late November of 2015 that she bound the case for trial.
That was nearly three years ago.
Reporting on this case should continue on or soon after November 2, 2018.