Judge King Takes 995 Motion Under Submission From The Defense in Sim Hoffman, M.D. Billing Fraud Case in Orange County. If Prosecution Prevails, Case Will Be Set For Trial Within 30 Days Of September 28, 2018.


By Lonce Lamonte - September 12, 2018

The seemingly interminable workers' compensation fraud case of radiologist Sim Hoffman, M.D. was heard in Orange County Superior Court last Friday morning, September 7th 2018.

The honorable Richard King took the defense 995 motion to set aside all 121 counts of the information under submission. Prosecutor Shaddi Kamiabipour also submitted her answer to the 995 motion. But neither Shaddi nor Bill Fleming, Sim Hoffman's lawyer, gave any oral arguments.

The defense is claiming insufficient evidence presented at the Preliminary Hearing, which took place September 1st through October 3rd in 2015 at the Westminster court, as the basis of their motion to set aside all the counts in the information. But the defense will need more than their well written 995 motion, a plethora of prayers, and a hundred Hail Marys, to convince any judge that there was insufficient evidence at the Preliminary Hearing. The evidence presented against Hoffman and his co-defendant, Dr. Thomas Heric, was prodigious.

Dr. Thomas Heric, a neurologist, who lived in Santa Monica, California, and had been a co-defendant with Dr. Hoffman since May of 2011, died on Sunday, July 22nd 2018. He was 81 years old.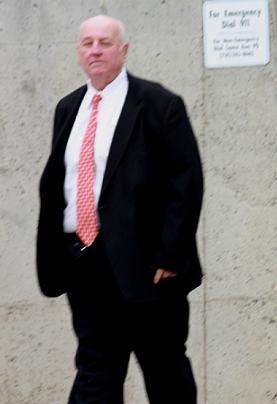 Dr. Thomas Heric is shown here leaving the Superior Court in Santa Ana via the back exit on August 19th 2011, just three months after the indictment was issued by the grand jury in May of 2011. Dr. Heric walked in and out of hearings until his strokes and cardiac event of September 2015. He just died on July 22, 2018. photo by Lonce Lamonte, all rights reserved.
He had been in ill health since he suffered a series of strokes and cardiac events which happened in September of 2015. He had been at home when his wife found him on the floor on a day he was due to be in court during the testimony of the Preliminary Hearing. He was confined to a wheel chair since then. He never walked again and was wheeled into court by his wife, Paris, and sometimes was also accompanied by his son.
A writer who merely gave his name as "Louis" and described himself as "just a friend" of Dr. Heric, wrote to adjustercom on July 24, 2018:
"He was a brilliant scientist. He was a good author, one of the founders of the Magic Castle, and a rather famous researcher. He worked at some of the highest ranks of medicine."
Louis went on to also express: "It was so sad to see him in his old age getting into trouble. He was a really good guy. Kind, gentle, and very, very smart. He was one of the best."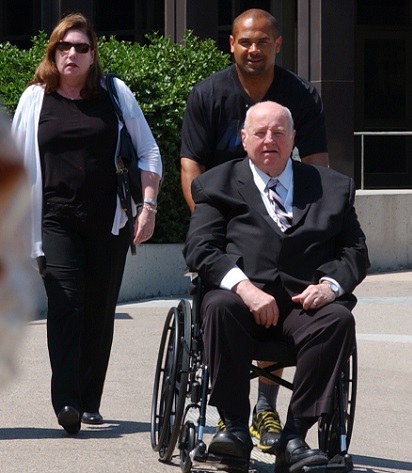 Dr. Thomas Heric left the Orange County Superior Court in Santa Ana in his wheel chair after a hearing on July 28th 2016. After his strokes and cardiac event, which occurred in September of 2015, he no longer walked. He was accompanied this day by his faithful wife, Paris, (left) who attended every hearing, and his son (behind). photo by Lonce Lamonte, all rights reserved

On August 16, 2018, workcompcentral ran an article by writer Greg Jones about an indictment against Peyman Heidary in Riverside. A Writ was sent on that indictment, to The Fourth District Court of Appeal, which decided to favor the prosecution in allowing multiple acts for the same offense cited within the same count, just as that same court, the Third Division specifically, had allowed the Orange County District Attorney to aggregate numerous acts of the same offense into the same count in the Sim Hoffman case pleading. This Sim Hoffman case decision was published in November 2017.
Writer Greg Jones then stated that Sim Hoffman died in July 2018 at the age of 81. This was misreporting. It was Dr. Thomas Heric who died at the age of 81 on July 22, 2018. Heric was never a part of the Writ that was sent to the Court of Appeals. Dr. Heric waited in the wings for a year for this Writ of Dr. Hoffman's to be reviewed and heard. Then, the case came back to the Superior Court and Dr. Heric reconnected.
Sim Hoffman is alive and is only 66 years old, born in 1952.
Hoffman appeared in court on Friday in one of his signature red ties, a white shirt, and a shiny blue suit. He looked subdued, spiritless, worn down in emotion. There was a listlessness to his countenance.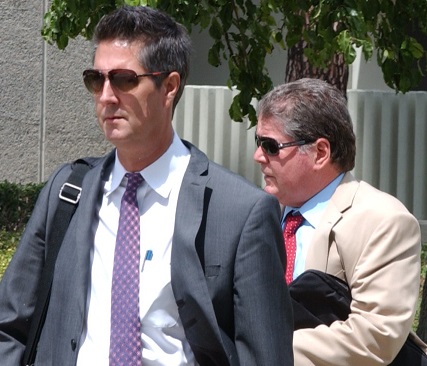 Bill Fleming leaves the Westminster court house on the second day of the Preliminary Hearing on September 2nd 2015 with his client, Sim Hoffman, following behind. photo by Lonce Lamonte, all rights reserved.

He sat in an aisle seat in the row along the windows behind his lawyer, Bill Fleming, who also wore a vibrant blue suit. Shaddi Kamiabipour sat in an end seat too in front of Bill in a plum colored and white flecked jacket. There they all sat waiting for a murder case hearing to wrap up so they could be heard by Judge King. They all individually got impatient, walked out at different times, and returned to the court room. Thomas Heric's lawyer, Robert Moest, appeared in the court room too, sat in the center aisle, but did not address the judge. He left before the case got before the bench.
While the Hoffman case was being heard, Judge King stated the court would give a ruling within a couple of days. But a couple of days has passed, and no word. He said if the case is dismissed, there's no need to come back.
Judge Richard King: I'm not giving any indications.
I got the feeling the judge hadn't read the defense 995 motion, or Shaddi's response, and didn't really remember the case. I was expecting him to make a ruling on the spot, not to take the motion under submission.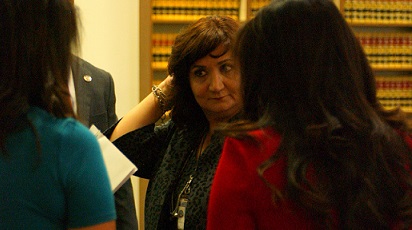 Prosecutor Shaddi Kamiabipour talks to reporters at a News Conference in the Orange County District Attorney's library on April 20th 2017. photo by Lonce Lamonte, all rights reserved

But the parties decided to come back on September 28th, that is, if any counts survive. That's how the judge put it.
Judge Richard King: Let's see if some counts survive.
Some counts will definitely survive, and that's got to be a British understatement. Judge Margaret Anderson, who presided over the Preliminary Hearing, bound the defendants, Hoffman and Heric, over for trial on November 23, 2015. She heard testimony about how Dr. Hoffman was billing for 3-D MRIs when he didn't even have the software installed for 3-D MRIs. She also heard testimony about how Hoffman was billing for Single Fiber EMGs when the doctors performing the nerve tests all testified they never performed any Single Fiber EMGS.
The defense made the argument in their 995 motion that Hoffman was ignorant of the billings for Single Fiber EMGs. They were being billed under the instructions of Hoffman's employee and collector, Louis Santillan, who ordered the billers to bill for them without Hoffman's knowledge. But this argument is hardly credible when witnesses at the Prelim testified that after State Compensation Insurance Fund and The Zenith complained about the billings and threatened to sue, Hoffman told Santillan to reimburse those two companies, stop billing them for Single Fibers, but to continue to bill all the other companies who hadn't complained, because he would lose too much money if he stopped billing for Single Fibers. That Single Fiber billing was his cash cow.
And Hoffman never performed even one Single Fiber EMG. It was 100% a billing for a service never rendered.
An information can be set aside and dismissed only if there is a total absence of probable cause. Shaddi Kamiabipour wrote on the second page of her answer: "Probable cause exists if a person of ordinary caution or prudence would be led to believe and conscientiously entertain a strong suspicion of the guilt of the accused."
Any person of normal prudence would definitely be led to believe based on the evidence presented that Dr. Hoffman was guilty. Shaddi also wrote, "In short, an information should not be set aside pursuant to Penal Code section 995 if there is some rational ground for assuming the possibility that an offense has been committed and the accused is guilty of it."
So, now waiting for the ruling. Dr. Hoffman's trial will start within 30 days of September 28th 2018 if Judge King rules in favor of the prosecution and denies the defense's 995 motion.
lonce@adjustercom.com, Lonce Lamonte, journalist