Prosecution In Uwaydah Case Calls Defense Demands For Deputy DAs On The Stand A Fishing Expedition. Judge Concedes Court Could Not Afford A Special Master.


By Lonce Lamonte - June 12, 2018

Cesar Chavez Avenue was jammed with grid lock in downtown Los Angeles as this writer tried to navigate to the continuation of the Evidentiary Hearing for the defense's alleged attorney-client privilege violation motion against the prosecution in the Criminal Organization Munir Uwaydah case. In Department 106 of Judge Larry Fidler, in Clara Shortridge Foltz Criminal Justice Center, on Monday morning, June 11th 2018, more proceedings took place.

Arriving ten minutes after ten AM, at the door I encountered Los Angeles District Attorney investigator Tim McCrillis all alone standing outside the court room. What was he doing there? He was supposed to be back on the witness stand.

Looking like his usual self, wholesome and all-American, I asked him why he wasn't on the witness stand. He said he was told he wasn't to continue testifying right away because the parties had other matters to attend to first. Tim expressed that he was worn out from testifying and wanted to be done with it. That sounded entirely reasonable. Tim has been on the witness stand for days on end, and he is obviously cooked. He wants to move on with his job.

As I entered the court room, Deputy District Attorney Craig Hum was addressing the court. Craig has sat in the court room with the regular prosecutors for many days of court, but I had not yet heard him ever speak before the court. Three of the regular prosecutors, Catherine Chon, Kennes Ma, and Karen Nishita, have been absent from the last three days of court proceedings. Lead prosecutor, Dayan Mathai, has been alone.

Craig Hum: It's clearly just a fishing expedition! They shouldn't be allowed the depositions of the prosecution.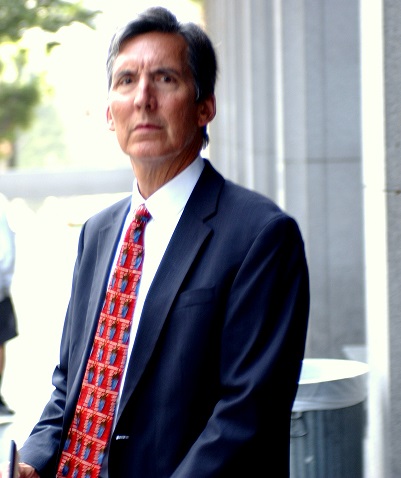 Deputy District Attorney Craig Hum is shown here leaving the court house on April 25th 2018. In the evidentiary hearing proceedings on June 11th 2018, he called the defense's demand to put the deputy district attorneys on the witness stand a "fishing expedition". photo by Lonce Lamonte, all rights reserved
That's a favorite lawyer expression: a "fishing expedition". At least it's been a pet expression bandied about in this case. Here, Craig Hum was clearly accusing the defense of manipulating the case to put the prosecution on the stand just to see what they could hook and pull out of them.
But, naturally, defense lawyer Benjamin Gluck had a ready response.
Benjamin Gluck: (This is…) contrary to what an evidentiary hearing is. We've been listening to witnesses for the last several weeks. We want to know the who, what, where of what happened.
Benjamin is hell bent in his belief that the prosecution read umpteen correspondences of attorney-client privileged material, and that the invasion of this privilege is egregious enough to warrant the recusal of the entire prosecution team from the case. But Judge Fidler, infinitely polite in his patient listening to Gluck's arguments, also pervasively expresses his independent thoughts.
Judge Fidler: (With respect to the prosecution touching privileged correspondence) Was it negligent, was it intentional, was it reckless?
Those are the questions Judge Fidler will use to seek answers, and determine if any remedy of punishment shall be levied against the prosecution. If there are any "yes" answers, remedies from light to heavy will obviously be ruled.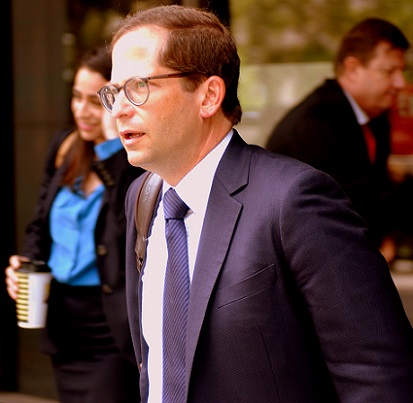 Benjamin Gluck leaves by the front door of the criminal court house on June 4th 2018. He told Judge Fidler on June 11th 2018 that he can't be required, according to California law, to reveal the privileged material. He won the argument. Court proceedings will continue on June 13th 2018 in Department 106. His co-counsel, Gabriela Rivera, appears behind his right shoulder. Photo by Lonce Lamonte. All rights reserved.

Benjamin Gluck: Let me show the court a document.
Gluck showed a few documents in succession, and one was a list description of several documents found in Uwaydah's storage locker. One description stated that Bo Thoreen, a Dr. Uwaydah lawyer, had discussed in a letter to Dr. Uwaydah the fact that his medical billings were alleged as fraudulent. Gluck harangued that this letter should have never been read, let alone described in a list by the prosecution.
While this discussion was going on, George Buehler, Kelly Soo Park's defense attorney—the very attorney who represented her when she was found not guilty of murder charges on June 4th 2013-- walked into the court room, sat down in the first row center in front of Kelly Soo and Ronnie Wayne Case, stayed for ten minutes, and then walked out. No other defendant was here this day sitting with Kelly Soo and Ronnie. They were all alone with just one another. Kelly Soo was dressed all in black and white: white pants with a black shirt. Very classic.
Benjamin Gluck was on his game this day. He spoke fluidly like a gushing river with few hems and haws or stammers. He can really talk impressively and dominate a court room; this was one of his "on" days.
Benjamin Gluck: On September 24, 2014, Ms. (Karen) Nishita met with (Tim) McCrillis about direction on the case. They are working together to decide the charges. Mr. Nantroup (the head of the Organized Crime unit) sits in on meetings like that. Let's not fool ourselves. Mr. McCrillis doesn't remember any more about it.
Gluck is pointing out that Tim McCrillis was on the "dirty team". Tim was going through box after box looking for documents of evidentiary value, while at the same time reviewing privileged documents that he was separating out, putting into envelopes, then sealing the envelopes. He would then put those sealed envelopes back into the boxes where he found them.
Then, he was subsequently supposed to never mix with anybody on the "clean team". But, against this universal rule, he rubbed elbows with many clean-team deputy DAs in meetings. McCrillis doesn't remember any details of what was spoken at the meetings, according to his testimony.
Benjamin Gluck: There is no rule that says we can't call DAs. It took us a long time to get to this point. Some people up there have no memory whatsoever.
They should be like any other witness. They should be called to the stand. At least these witnesses… Ms. (Cynthia) Nakao (a deputy DA). She's our next witness. I don't know about Ms. (Catherine) Chon. I haven't mapped that out yet.
Now the DA is trying to prevent us from finding out.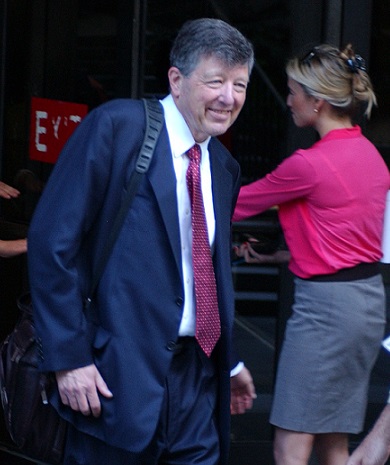 George Buehler, Kelly Soo Park's defense attorney, is shown here leaving the downtown L.A. criminal court house on June 3rd 2013, the day Park was found not guilty of first degree murder. The next day she was found not guilty of second degree murder. She was acquitted of all charges. photo by Lonce Lamonte, all rights reserved

Judge Fidler ruled against the prosecution's Motion to Quash and in favor of the defense's right to call DAs to the stand. He stated the prosecution is the reason "we are here".
Benjamin Gluck: (to the prosecution) We're here because of you!
Why didn't the prosecution just use a special master in the first place? Why didn't they just get an independent counsel to review the evidence and take out all the privileged material? That would have kept the prosecution team away from it.
This question has loomed for more than a year, since Gluck came up with his campaign to attack the prosecution for invasion of attorney-client privilege. Now finally, Judge Fidler broke open the question.
Judge Fidler: Let me give some random thoughts. I have cases that need to go to trial.
This judge needs to get on with it. He has other cases pressing in hard on him. He can't let Gluck expatiate to high heaven forever. Judge Fidler has shown his frustration with Gluck's co-counsels Nicole Van Dyk and Gabriela Rivera, and with Gluck himself, beating around the bush and not getting directly to the issues with their questioning. He cut in on them numerous times during their examinations of past witnesses.
Judge Fidler: (to the prosecution) After you got the capping warrants, you didn't want to stop an ongoing investigation. We really had a problem. The court had no money.
Fidler explained that someone high up in the court didn't want anything to do with hiring a special master. That was it. The court had no money. There were not the resources to hire any special master or masters to go through 195 boxes of evidence.
Judge Fidler: I wanted to get an assigned judge. Couldn't get that. Judge Wesley said, "Get two research attorneys."
Judge Fidler spoke to the prosecution saying that he understood they were trying to do an investigation. They were antsy to get the reviews done. And the case was huge.
The research attorneys gave some descriptions. And with the Location 13 search (Dr. Uwaydah's Santa Monica storage locker) the only ones who now know what was in there in terms of the attorney-client privileged materials are the defense.
Judge Fidler: There are irrelevant documents that couldn't have played a hand.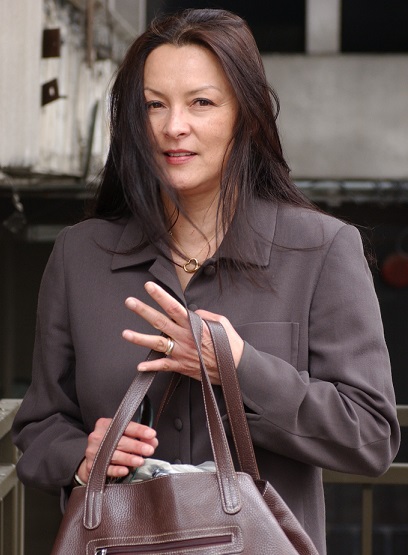 Kelly Soo Park returns to court after lunch on May 2nd 2018. After being found by a jury not-guilty on June 3rd and 4th 2013 of first and second degree murder, she was charged with conspiracy and insurance fraud in September of 2015. She shows up to court faithfully for each proceeding and sits with her co-defendant and former lover, Ronnie Wayne Case. photo by Lonce Lamonte, all rights reserved.

Boiling it all down, this case of workers' compensation fraud by Dr. Munir Uwaydah and his criminal organization was so vast, gigantic, and overwhelming that the prosecution from the get-go was in very deep water. A year after Kelly Soo Park's June 2010 arrest for the murder of Juliana Redding, which was simultaneous with the flight from the U.S. of Dr. Uwaydah to Beirut, Lebanon, the 195 boxes from the "Location 13" were still sitting unsearched. A DA supervisor, Jan Maurizi, expressed frustration at the one-year-mark and urged the deputy DAs to get a move on and search the boxes. Some DDAs who were not on the case were assigned to just look through the boxes for documents of evidentiary value. Two of those DDAs were Samer Hathout and Angela Brunson.
It was Angela who first ran into what she perceived as attorney-client privileged material, and alerted the Head of the Healthcare Fraud Unit, John Morris, of her find. John then put a protocol in place to separate out potential attorney-client privileged documents.
But, Uwaydah's obsession with litigation was all consuming. It is still all consuming. Most recently, Uwaydah sued and bankrupted a Lebanese antiquities dealer. Uwaydah came up with his next fraud scam in Lebanon after he fled California in 2010, and that was apparently fraud in paintings and antiquities. If it's not one fraud, it's another. Uwaydah has been through real estate, pharmaceutical, tax, diagnostic equipment, workers' compensation, and then moved into antiquities/art fraud once back in Lebanon. And that's not an exhaustive list!
Thus, the challenge that faces this case is how to work around all the copious correspondences with so many lawyers. Two of his former attorneys testified in this Evidentiary Hearing that they both were sued by Uwaydah after they stopped working for him! So, Uwaydah even sues his own lawyers.
How does the DA then file charges against Uwaydah and his clan when they struggle for years to get through the boxes of evidence that are jam-packed with attorney-client privileged documents on a cosmic scale? The numbers are overwhelming, and the court can't even pay for a special master. Charging this criminal organization has been costly. Formidable road blocks went up because of Uwaydah's obsession with litigation.
Then, there's the issue of the crime-fraud exception. If the case is about fraud, this is the exception: attorney-client privilege is waived. But… and here's the BUT… Judge Kathleen Kennedy, the judge down the hall who was presiding over this case from 2015 to 2017, ruled that the invasion can't take place and then crime-fraud exception claimed later. The crime fraud exception has to be put before the court a priori and receive a ruling before any prosecution can look at privileged communications with impunity. And the defense argues that the prosecution certainly didn't do that. The fact is, without even arguing it, the prosecution didn't.
Judge Fidler: Is the DA bad? Yes. But…
Fidler expressed, in his opinion, that the DAs didn't do well enough. But, he surely implicitly implied that doesn't mean he's going to recuse them.
Benjamin Gluck: For purposes of any remedy… that (looking at privileged material) gave them insight into something they then pursued.
Judge Fidler: You're going to have your viewpoint. The DAs have their viewpoint. I have my viewpoint…
The judge then explained he's going to use his research attorneys to review more documents.
Judge Fidler: I am going to protect legitimate work product.
Fidler then told Gluck that before any more witnesses take the stand he, Gluck, has to show him the privileged documents in camera. Gluck protested the judge's ruling here by arguing California law does not allow a court to review privileged documents. He said, according to law, he can't be required to reveal the privileged material.
Gluck won the argument.
Benjamin then brought up the watermarks the People put on the discovery documents.
Benjamin Gluck: It's impossible to do any search…
He brought up the estimate that was argued in Judge Kathleen Kennedy's court room that to review those watermarked documents would exceed $200,000. Another cost prohibitive project. He expressed with some repetition that the privileged material also can't be reviewed because the defendants have a right to a fair trial.
Dayan Mathai then rejected Benjamin Gluck's claims about the watermarks. He brought up how the prohibitive cost claim by the defense was litigated in Judge Kennedy's court room, and how Kennedy ruled they were not correct in their assertions. He claimed also the defense was talking about documents he had never heard of.
DDA Dayan Mathai: That document has no meaning to me. I've never heard of the Avery Law Group. Dr. Uwaydah had an army of lawyers doing all kinds of things for him.
The judge stated court would proceed on Wednesday at 10 am. He told the lawyers to feel free to submit pocket briefs, anything they'd like him to review.
Judge Fidler: I'm not preventing anybody from saying "that's a misapplication". I'm willing to listen.
DA investigator Tim McCrillis will be back on the stand on Wednesday morning, June 13th 2018. Benjamin Gluck wanted to suspend him and go to the next witness, Cynthia Nakao. But the judge said no, the People have the right to cross examine McCrillis.
Judge Fidler: He's the lynchpin in this. Let's finish with him.
Subject to revision.
Made corrections on Judge Fidler's legal ruling in response to Benjamin Gluck's argument about California's law on privileged communications, plus Judge Fidler's ruling denying prosecution motion to quash. 9:30 pm, July 12th 2018
Copyright Lonce Lamonte, all rights reserved. For permission to reprint in part or in full, contact lonce@adjustercom.com