Defense Lawyer Benjamin Gluck Grills Investigator Tim McCrillis On The Stand In Criminal Organization Munir Uwaydah Case In DTLA


By Lonce Lamonte - June 7, 2018

Tim McCrillis, a Los Angeles District Attorney Investigator, is still on the witness stand in the midst of the Evidentiary Hearing for the Defense's Attorney-Client Privilege Violation Motion in the Criminal Organization Munir Uwaydah case in downtown L.A. He's been there since Monday and was still on the stand being grilled by defense attorney Benjamin Gluck by the time Department 106, of the Honorable Larry Fidler, went into recess today at 3:30 pm.

McCrillis hopped right back up on the stand the minute court opened this morning in his fine greyish- blue suit, red patterned tie, and white shirt. He looked pretty much the same on previous days with his short brown hair parted on the left, simple glasses, and cleanly shaven face. He has the wholesome look of a man in his young middle years reminiscent of the nineteen sixties. He is exquisitely respectful, says a lot of "yes sirs", and never gets rattled by his interrogator. He has grace under fire.

Gluck is grilling McCrillis as he paces up and down just behind the attorneys' table in front of the judge's bench. McCrillis has been holding it together all week, just like he did when he was previously called to the stand last month.

Benjamin Gluck: I'm going to put up on the Elmo (the overhead monitor) exhibit 48…0. You thought these items were potentially privileged?
Tim McCrillis: Potentially.
Benjamin Gluck: Were you instructed… that the contents were privileged?
Tim McCrillis: I don't recall that sort of instruction, no.
Tim has been on the Dr. Uwaydah case of massive workers' compensation fraud since the beginning, 2010. He was one of the first to touch the evidence. There was a locker left behind by Dr. Uwaydah after he fled to Beirut, Lebanon, in June of 2010, which came to be known as Location 13. Tim checked out boxes from that inventory and dug in. There were 195 boxes in all.
He was looking for capping lists. He was preparing his search warrant, which would be served upon certain applicants' attorneys. So that was his focus. He wanted the cappers. So, going after attorney-client privileged correspondence doesn't seem to have been of much interest to McCrillis, based upon his testimony.
At one point, a deputy district attorney, Angela Brunson, in January of 2012, ran into what she perceived as starkly identifiable attorney-client privileged correspondence in one of the evidence boxes. She alerted her boss, John Morris, the Head of the Healthcare Fraud Unit of her find. John Morris reacted by setting up a protocol, which went something like this.
If you find a document you perceive to be attorney-client privileged and confidential, stop reading it immediately.
Pull it out of the box and stick it in a manila envelope. Label the enveloped "Privileged"
Then seal the envelope and put it back in the box where you found the document.
So, Tim McCrillis began following the protocol, and by this time he was clearly on the "dirty team". This meant he was "tainted". He'd been exposed to privileged material and that meant he was infected. He needed to be cordoned off with other dirty members and not associated with clean team members.
Tony Collanino was the lead prosecutor of this case at that time, 2012, and he was on the clean team. He did not review boxes and he was not to associate with and intermix with dirty team members. John Morris gave instructions to the dirty team not to communicate with him.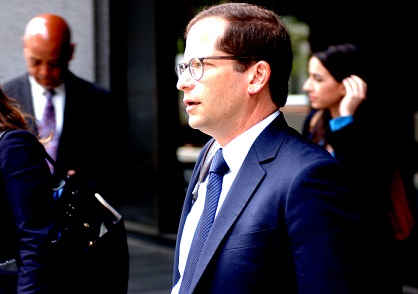 Benjamin Gluck, center, leaves court on Monday, June 4th 2018, after grilling DA Investigator Tim McCrillis on the witness stand. Behind his left shoulder is another Bird Marella lawyer, Gabriella Rivera, who is partnering with him in court. In the background at the left of the picture is attorney Winston McKesson, physician assistant Peter Nelson's counsel. photo by Lonce Lamonte, all rights reserved
But as Benjamin Gluck and other defense lawyers saw in discovery documents from the prosecution, the clean team and the dirty team were all hob-nobbing with one another and having meetings all inextricably intertwined. The taboos on contact got incestuous. Karen Nishita joined the prosecution team, and is on the prosecution team as of this date along with Dayan Mathai, Kennes Ma, and Catherine Chon.
A May 4th 2012 document Gluck showed McCrillis, the witness, indicated Ms. Nishita was in a meeting with other DAs and McCrillis.
Benjamin Gluck: Was this (May 4th 2012) the first time Karen Nishita was on the case?
Tim McCrillis: I don't recall… She was on it for quite a while.
Benjamin Gluck: Did anyone tell you whether Karen Nishita was on the clean team or the dirty team?
Tim McCrillis: I don't remember one way or the other.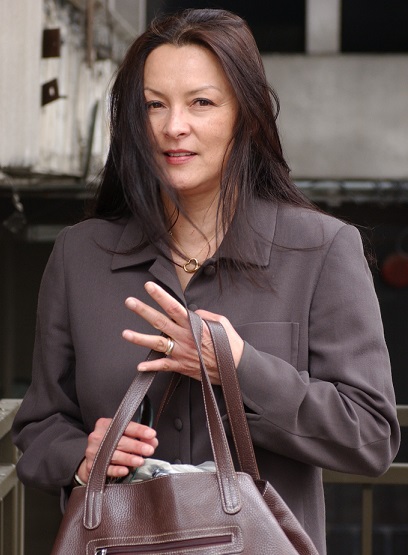 Kelly Soo Park returns to court after the lunch break on May 2, 2018. She and co-defendant Ronnie Wayne Case attend every court session in this Evidentiary Hearing accusing the prosecution of attorney-client communications privilege violations. The defense accuses several deputy district attorneys of invasions, but especially is targeting DA investigator Tim McCrillis of being on both the "dirty team" and the "clean team" and for pervasive reading of attorney-client privileged documents. photo by Lonce Lamonte, all rights reserved

Gluck's goal is to recuse the district attorney's office from this case. What can happen, and the judge spoke this openly in court this day, is that some, or all of the deputy district attorneys on the case, or the entire district attorney's office itself, could get recused. It's his role to apply a remedy to a lesser or a greater extent. If any information from a privileged document got into a dirty member's head and then got communicated to a clean team member and then used to press charges, that is a violation and is grounds for recusal.
So, Gluck wants to know everything that was discussed in these many meetings between the clean and the dirty. He came up with this list of questions for McCrillis to answer after discussing every meeting that was put before him through documentation on the Elmo.
Benjamin Gluck: Do you know of any other records reflecting this meeting? Who spoke at this meeting? What people said what at this meeting? Any further specifics regarding a legal theory? Any further recollections regarding decisions?
Tim McCrillis: I don't have any recollection.
For every meeting, McCrillis answered that he had no recollection of who spoke and what exactly was said.
The three defendants most faithful to the proceedings were in attendance today as they were all week. Ronnie Wayne Case was on the end of the second row center in a black and white horizontally striped shirt with oriental letters down the center of the back. On his left sat Kelly Soo Park's sister, Kim, in a casual grey shirt, and then Kelly Soo was in her beige, black, and red pancho. She's worn that pancho before probably as far back as during her murder case proceedings. Tatiana Torres Arnold was on the left of Kelly Soo dressed more casually than usual in a blue sweater that may have been a sweatshirt. Her husband was with her today.
There are eight other defendants who are active in this case: Paul Turley, Maria Turley, Peter Nelson, Tony Folgar, Jeff Stevens, Terry Luke, Leticia Lemus, and Yolanda Groscost. They all worked for Dr. Uwaydah in one capacity or another. Two other defendants are not active and are missing in action. Wendee Luke is on the lam and her whereabouts are unknown. Dr. Uwaydah is known to be in Beirut, Lebanon.
Beirut has no extradition agreement with the United States.