Criminal Organization Munir Uwaydah Case In Downtown L.A. Moves Forward With Witnesses In Evidentiary Hearing


By Lonce Lamonte - May 13, 2018

So, the first former, Uwaydah lawyer witness, Harry Nelson, was on the stand. It is the late morning of April 2nd 2018. Benjamin Gluck, the pilot fish of the defense, had told the court he wanted to call the three lawyer witnesses, who were waiting in the wings, as a courtesy. They had come to the last hearing and had not taken the stand. They had their schedules and no time to just burn.

But the lead prosecutor, Dayan Mathai, had accused the defense of changing the parameters of the hearing to make it open ended, in order that anything that could support a motion to dismiss the prosecution could be included. He called this fundamentally unfair.

Benjamin Gluck: The answers are actually out in the hallway right now. They can come sit down on the bench, give their testimony. We've already given it to them (the prosecution) in a declaration, but they… haven't read it, among other things they haven't read.

So, we'd ask again to put the witnesses on the stand.

Judge Larry Fidler acknowledged that the attorney witnesses were present.

Judge Larry Fidler: They have other things to do. We can accommodate them. And by the way, they're not going to sit on the bench because this belongs to me. They can sit on the witness box if you want.

Benjamin Gluck: Your honor, I hope that wasn't a Freudian slip.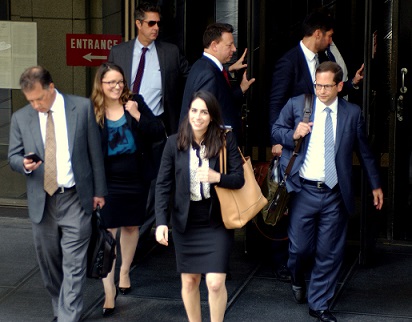 Benjamin Gluck (far right in front) and his gang of lawyers leave Clara Shortridge Foltz Criminal Justice Center in downtown LA on April 25th 2018. In a circle from right to left starting with Benjamin are: Gabriela Rivera, James Spertus, Nicole Van Dyk, Bill Fleming, Jeffrey Isaacs, and Sam Josephs. copyright by Lonce Lamonte, all rights reserved

Harry Nelson testified that he represented Paul Turley on at least one matter. Paul Turley was acknowledged to others by Dr. Uwaydah as his partner, but Turley was in terms of his functionality really more of a Stepford wife. The witness had reviewed emails, including attachments, prior to his testimony that reminded him of his representation. He couldn't recall if he'd had a retainer agreement with Turley. It was over an internal investigation by a government agency. He didn't know how the bill was paid.
Dayan Mathai asked Harry Nelson if he checked the corporate filings with the California Secretary of State to see who the officers were at Frontline Medical, but he got objections from Benjamin Gluck and comments from Judge Fidler. Mathai's focus is on who's a corporate officer and, thus, can legitimately claim an attorney-client privilege. This is Mathai's line of legal thinking. But it is Benjamin Gluck's legal line of thinking that it doesn't matter who's a corporate officer, an owner, a head bottle washer, or any garden variety employee. An employee can claim attorney-client privilege, according to Gluck. It does not have to be an owner or shareholder of a corporation, LLC, or whatever type of legal entity, who legally claims an attorney-client privilege.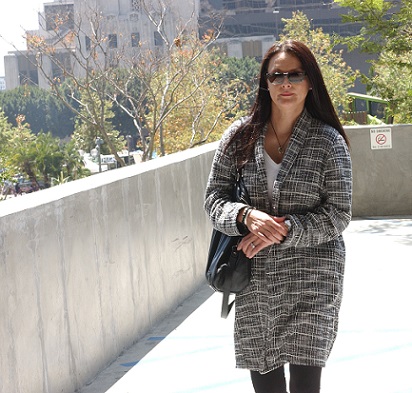 Kelly Soo Park walks to the downtown Los Angeles criminal court house with the Los Angeles Times building in the background. April 25th 2018. Copyright Lonce Lamonte, all rights reserved.

Here Dayan Mathai was crossing the line by encroaching on attorney-client communications with his questions to the witness, according to Judge Fidler. Fidler told Mathai he can go on the California Secretary of State website and find out who the corporate officers are as easily as anybody. It's public information.
Judge Larry Fidler: You're crossing into areas that you're not allowed to get into. And you can impeach him without his testimony. That's a fact.
Prosecutor Mathai showed redacted invoices as exhibits and then asked Harry Nelson if Peter Nelson (no relation), Uwaydah's physician assistant, was seeing him in an individual capacity and would have a different client number from Dr. Uwaydah or Frontline Medical. He was clearly digging at if Peter Nelson was an entity by himself or if it was all a representation of Uwaydah. But Harry Nelson said he also had matter numbers; the matter and the client would vary. With matters they could have a joint interest. He didn't know who paid the bill.
Harry Nelson was asked about his firm trying to negotiate with Marisa Schermbeck Nelson (Peter Nelson's wife) after Dr. Uwaydah fled California and the U.S. in June of 2010. Uwaydah was trying to claim a lap top computer and control over certain company bank accounts from Marisa. But according to the witness, his former partner, Benjamin Fenton, was the lawyer trying to negotiate for Uwaydah with Marisa Schermbeck. He was not directly involved.
Benjamin Fenton is a legal thug who would do a great deal of what Dr. Uwaydah demanded: including threatening a publisher. Fenton sued this publisher-journalist on behalf of Uwaydah in June of 2010 over a factual article written by a freelance writer, named Larry Kennedy, which was published on adjustercom. Kennedy's article related that Dr. Uwaydah had fled California and the U.S. presumably first to Mexico and then to Lebanon. It stated Uwaydah's departure took place right on the wake of the arrest of Kelly Soo Park, a key Uwaydah operator, who had just been charged with the murder of aspiring actress and model Juliana Redding. The defamation lawsuit, filed in Los Angeles Superior Court against adjustercom, which was never served, was accompanied by a bombastic, demanding, and threatening "cease-and-desist" letter. Benjamin Fenton asserted a salient demand that the article be "taken down".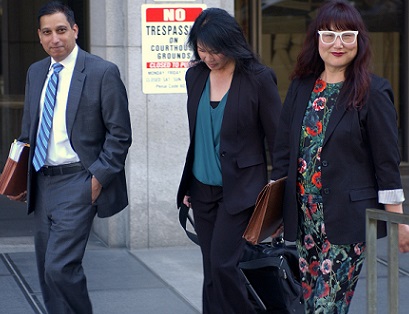 Prosecutors (from left to right) Dayan Mathai, Karen Nishita, and Catherine Chon leave Clara Shortridge Foltz Criminal Justice Center after a long day in court on April 25th 2018. photo by Lonce Lamonte, all rights reserved
Harry Nelson's law firm had been Fenton Nelson. But Benjamin Fenton and his father, Henry Fenton, had recently left the firm with another partner and started their own, separate firm. Now Fenton Nelson had been legally amended and renamed as Nelson Hardiman.
Benjamin Gluck showed the witness his signature on his declaration. Gluck asked whether he had represented Munir Uwaydah and Paul Turley. The witness acknowledged that he had represented both.
The witness testified there were government investigations and administrative actions involving licensing boards, the DEA (Drug Enforcement Administration) as well as insurance reimbursement disputes with various payers. He dealt with the California Medical Board and the Physician Assistant Board. His firm was a healthcare regulatory firm.
There was a standard of care issue. There were disputes related to procedures at Tustin Hospital. He represented Peter Nelson in connection to the Medical Board Inquiry related to procedures at Tustin Hospital. He testified that Peter Nelson was a joint client. He also represented Uwaydah and Peter Nelson in connection with billing disputes with Berkshire Hathaway and State Compensation Insurance Fund (SCIF). The SCIF matter was a big conflict.
An exhibit, which was an invoice, was shown to the witness. It was submitted to Peter Nelson in care of Dr. Uwaydah. Another exhibit, had written on the top of the document, "In the matter of the second amended accusation against Munir Uwaydah, M.D." It was a draft document. Not signed. It was work product. And it was obtained through discovery by the prosecution.
Harry Nelson was asked about a meeting he's had with the prosecution team in 2017 where he'd allegedly stated, "Fundamentally, Uwaydah ran the empire." He didn't remember saying that. He testified, "I just don't think that that's something that I would have said."
Benjamin Gluck: And so you, as you sit here today, you don't believe you said that?"
Witness Harry Nelson: I don't believe I said that.
The witness was asked about the California Code of Regulations which describes the scope of practice and supervision requirements for a physician assistant.
Benjamin Gluck: And does that regulation say the doctor cannot leave the room?
Harry Nelson: No. It does not say that.
Benjamin Gluck: Did the California Medical Board matter in which you represented... Pete Nelson as well as these other clients relate to an issue of physician supervision?
Harry Nelson: Yes.
The witness testified that he provided attorney work product for Peter Nelson in connection with the regulatory action. He overall represented Munir Uwaydah, Paul Turley, Peter Nelson and various corporations. His declaration was prepared by the Bird firm.
During his cross-examination of this witness, lead prosecutor Dayan Mathai couldn't remember that the Fentons had left the law firm. Harry Nelson had already testified to this. His law firm was now amended to Nelson Hardiman. Mathai also didn't remember at the beginning of his testimony that the witness had been sworn in. Then, he was reminded by the witness of being told something 2, 3 times. Clearly Mathai was intensely preoccupied.
The Fentons, while partners with Harry Nelson, filed a lawsuit against Marisa Schermbeck claiming Ali Ghandour was the owner of Accounts Receivables Acquisition, LTD. Dayan Mathai perked up when questioning the witness about Ali Ghandour.
Harry Nelson: All I will say is I recall there has been an allegation that he was not a--- he was a fiction but I --- my belief sitting here today is that that was resolved --- that Mr. Ghandour is alive and well.
Harry Nelson hemmed and hawed, and started his sentences over giving a feeling he was not at ease when talking about Ali Ghandour. After being sued by Dr. Uwaydah via the Fentons in 2010, Marisa filed a declaration in opposition to the complaint alleging Uwaydah and not Ghandour was the owner of ARA. She asserted Ghandour was not a real person.
Harry Nelson testified that Benjamin Fenton would be the best person to subpoena on that matter. The law firm Fenton Nelson dismissed the complaint a day or two after Marisa's declaration.
Dayan Mathai asked the witness about that same statement that Benjamin Gluck had asked him about on direct examination. He asked if he had said to DDA Karen Nishita and investigator Tim McCrillis that Dr. Uwaydah fundamentally ran the empire and Turley worked for him.
Dayan Mathai: Did you say that to investigator Mc Crillis on October 18, 2017?
Harry Nelson: I don't recall saying that.
Then Dayan asked about Tim Mc Crillis's chronological report where it was recorded that he said it was a problem for the physician to leave the room in the middle of a surgery. He testified he never said that, in spite of Tim documenting that he did say that. He explained he was trying to educate Deputy DA Karen Nishita and investigator Tim McCrillis on the standard of care in California based on Title 16, CCR 1399.541.
Next, former Uwaydah attorney Richard Green came to the stand. He's been a lawyer for 43 years and specializes in real estate and business litigation. He testified to filing prodigious numbers of law suits on behalf of Uwaydah. He worked for Uwaydah from around 2005 to 2010. He testified he represented Frontline Medical, Munir Uwaydah, and Paul Turley. He represented Uwaydah and Turley both in their individual and corporate capacities.
He worked with other lawyers on behalf of Uwaydah: Bo Thoreen, Tatiana Torres Arnold, and Mark Weiss. He testified that all communications were confidential. Basically, he was asked the same questions by the attorneys that Harry Nelson was asked. Did you represent Dr. Uwaydah, Paul Turley, Peter Nelson in their individual capacities? Did you represent them in their corporate capacities in relation to Frontline? South Bay Surgical and Spine? Or any of the other Uwaydah entities?
Judge Fidler announced before the break that some documents he reviewed concerning discovery that he'd discussed "in-camera" recently are non-discoverable. Documents discussing how Amy Jacks, Marisa's lawyer, goes to yoga class don't have to be included in discovery.
Judge Larry Fidler: It's nice that Ms. Jacks goes to yoga class. I like that, and that's good for her mind and her body, but the truth is you don't have to get that as part of discovery. Or setting up meetings.
A whole other category he didn't review, that he said he didn't have to review because it was about witnesses who aren't to be called by the People because they had nothing bad to say about Dr. Uwaydah, is discoverable.
Judge Larry Fidler: The fact that something bad wasn't said is Brady material. Okay?
lonce@adjustercom.com