Defense's Evidentiary Hearing On Attorney-Client Privilege Motion Starts April 2, 2018 In Criminal Organization Munir Uwaydah Case In Downtown Los Angeles. The Prosecution's Star Witness, Marisa Schermbeck Nelson, May Take The Stand.


By Lonce Lamonte - March 7, 2018

On the afternoon of the most recent court hearing for the Criminal Organization Munir Uwaydah case, defendant Kelly Soo Park appeared in slender black pants just exactly as she had for so many court days from 2010 to 2013 during her pre-trial and trial for the murder of aspiring actress and model, Juliana Redding. This latest of court proceedings which happened at 1:30 pm on February 20th 2018, moved this case just another rat hair further along as its snail's pace continued towards trial for Kelly Soo and 11 other defendants for their roles in workers' compensation fraud to the tune of hundreds of millions of dollars in California.

The question is raised: will Ms. Park and some or all of the other defendants walk away free and exonerated as Ms. Park did on the day the jury came forth with a not-guilty verdict for murder on June 4th 2013? Some or all of these defendants could walk away exonerated from the charges of egregious workers' compensation fraud before even getting to trial. That's because there are motions to dismiss along with motions to recuse the prosecution and/or dismiss the case for attorney-client privilege violations coming up the prosecution's grill from the defense.

Kelly Soo Park doesn't look a day older than she did five years ago. She wore a beige jacket with her trademark black pants, and the only difference was that she had on some flat shoes-- which were pink and tan-- rather than black high heels. Her long, almost black hair fell eloquently down her back the same way it has for years. Not a wrinkle, not a blemish was on her youthfully preserved face which was strikingly beautiful at age 52.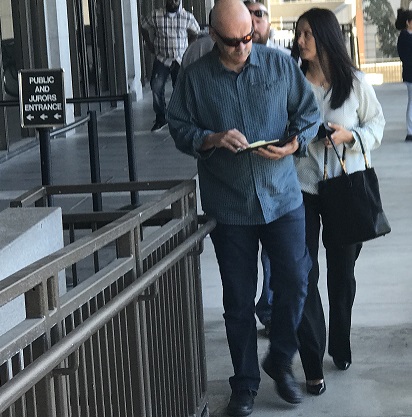 Kelly Soo Park, right, with her husband,Tom Chronister, leaves by the back door of Clara Shortridge Foltz Criminal Justice Center in downtown L.A. on October 26th 2017. Kelly Soo regularly likes to wear her signature black pants. photo by Lonce Lamonte, all rights reserved

Ronnie Wayne Case, who was first arrested with Kelly Soo in June of 2010 but was released the next day, came to the hearing in worn blue jeans and what appeared to be old sneakers. He looked thinner than he looked a year ago. He has a shaved or naturally bald head, and he wore a shirt he likes to wear which has crisscrossed lines of a few shades of tan.
These defense lawyers, led by the ring-leader (as judges refer to him) Benjamin Gluck, are powerful. Not a single one of them is a slouch. Collectively, they are an eleven on a one to ten scale. These specific counsels: Vicki Podberesky, Jeffrey Isaacs, Bill Fleming, Richard Moss, Amanda Touchton, James Spertus, and of course the ubiquitous Benjamin Gluck, also appear regularly on fraud cases in Orange County. They cooperate together and join on motions behind Benjamin Gluck, from whom no prosecution is safe.
Benjamin Gluck, here in this Uwaydah case, has spearheaded the attorney-client privilege violation motion which was set at this last hearing to be heard on April 2nd. It could last a full week through April 6th 2018.
Gluck's gargantuan to-do is that he alleges the prosecution reviewed numerous attorney-client privileged communications that were seized from "Location 13", which was a storage locker that Dr. Uwaydah used to store his potpourri of stuff. Gluck claims that investigator Tim McCrillis looked at communications, placed them back in the files, and then continued on as part of the prosecution strategy team even after he had become a "dirty" member of the DA team and should have been cordoned off, segregated, and virtually quarantined from this current prosecution team of Dayan Mathai, Kennes Ma, Karen Nishita, and Catherine Chon. Gluck claims that Tim McCrillis, the investigator, was "tainted" and other deputy DA's were tainted, as well. In essence, the whole prosecution team, according to Gluck, is so tainted that the whole DA team needs to be recused and the case dismissed. Gluck rants about "outrageous prosecutorial conduct" and that this case needs to be "put out of its misery". Gluck can wax eloquently before the court with his dramatic expatiations of his outrage. He also asserts that "dirty teams" are not allowed under California law.

Benjamin Gluck gives the victory sign as he leaves Clara Shortridge Foltz Criminal Justice Center in downtown L.A. with his co-counsel Nicole Van Dyk on October 7, 2016. photo by Lonce Lamonte, all rights reserved

Benjamin Gluck represents Paul Turley, who was on paper as 49% owner of Frontline Medical, while Dr. Munir Uwaydah was 51% owner. For this reason, Gluck as Turley's lawyer, had from the get-go tried to bully Marisa Schermbeck Nelson, a former defendant now turned prosecution witness, into signing a document stating all the contents of "Location 13" belonged to Frontline Medical. Gluck also imposed upon Shelly Rosekelly, a former Uwaydah employee who is not a defendant, to declare that the materials belonged to Frontline, as well. So, one can deduce that Gluck wanted Marisa and Shelly to make these declarations because he, Gluck, wants to claim attorney-client privilege for Paul Turley and catch the prosecution with its hand in the cookie jar.
But according to Marisa Schermbeck Nelson and also Shelly Rosekelly, there was all kinds of Dr. Uwaydah potpourri in Location 13. There was stuff pertaining to Uwaydah's mistresses, concubines, ex-wives, illegitimate children, dog breeding, old real estate transactions, and anything under the sun that Dr. Uwaydah wanted to chuck in there.
Now the argument from the prosecution is "whose privilege" is being claimed? Does Paul Turley really have a privilege? Was he really an owner? Or was he just a flim-flam phony straw owner who had no power as a real owner what-so-ever? The prosecution argument is that this is fraud and Turley isn't an owner, everything was controlled by Uwaydah, and so Turley doesn't have any privilege.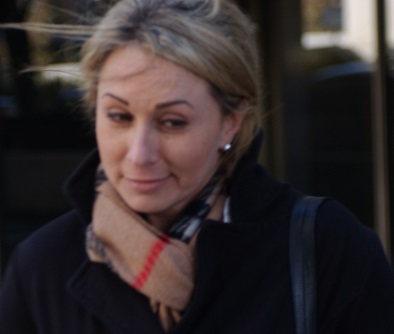 Marisa Schermbeck Nelson leaves the courthouse on a chilly Los Angeles day on December 2, 2016. photo by Lonce Lamonte, all rights reserved.
Marisa Schermbeck Nelson will be crucial as a witness when she is called to the stand, but she may not testify at the April 2nd evidentiary hearing unless the prosecution calls her. Judge Fidler wants to hear from her but not necessarily on the week of April 2nd. Her credibility will be of the essence. She stated in her proffer to the prosecution on May 31, 2017 that: "Everything Paul Turley did was scrutinized by Uwaydah. So, if Paul Turley asked for $10,000, he had to prove it, before he would get it."
Marisa explained in that same proffer that she and others tried to persuade Paul Turley to leave Uwaydah and get out. Uwaydah disparaged Paul and would say "F--- Paul" while trying to avoid giving Paul his paychecks. Maria Turley, Paul's wife and co-defendant, would call Marisa to beg for money so she could pay the mortgage.
In that May 31st 2017 proffer, on page 57, Marisa says to prosecutors Dayan Mathai and John Nantroup, about Paul Turley, "I do know it was about job security, about having that income. He did have perks of going to Cuba. And Brazil, and having fun with Uwaydah, on Uwaydah's dime. So, he (Uwaydah) would take Paul Turley, and they'd go have their fun with whoever…. So, I know that that was part of it. And, I think, a lot of it, also, was he treated him as a partner to other people. So, he would say, 'This is my partner, Paul Turley.'"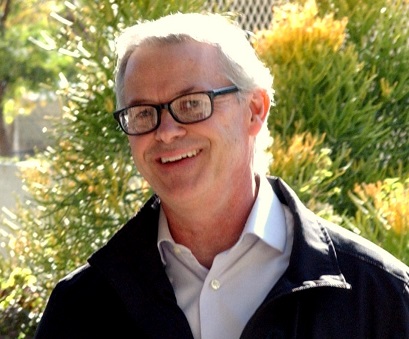 Paul Turley, D.C. leaves the downtown L.A. courthouse on February 20th 2018. He was disparaged and disrespected by Dr. Uwaydah, and Marisa Schermbeck in her proffer said that Uwaydah was trying to push him out. "I felt bad for Paul," she said, plus that Turley was "another scapegoat of Uwaydah's". photo by Lonce Lamonte, all rights reserved
So, it was all an act. Dr. Uwaydah wanted people in the world to think Paul Turley was his partner. But he really was not. Munir controlled everything. He was 100% the owner and the boss with full control over all his companies, over every dime of all the money, and that included Frontline. He put other people on paper just for the appearance. He hid the reality. This is one of the characteristics of evil people, according to the late author and psychiatrist M. Scott Peck. Evil individuals are obsessed with their appearances while they hide their reality and their true selves.
So, what will Judge Larry Fidler think of the evidence that will be presented at this attorney-client privilege evidentiary hearing on April 2nd 2018? How will Benjamin Gluck come forth with his mighty rhetoric, and how will the prosecution do with their witness who is a former Uwaydah employee? Marisa Schermbeck Nelson committed numerous crimes in her service for Dr. Uwaydah.
The prosecution is at its peril here, and no prediction can be easily made now of the outcome. April 2nd is in less than a month. The war could be won on either side.
Defense attorney Winston McKesson, who is a veteran "Johnnie Cochran" lawyer, came on the scene just months ago to represent Peter Nelson, Dr. Uwaydah's former physician assistant. McKesson asserted after all the defendants waived time until the evidentiary hearing for April 2nd, that his client demanded his Preliminary Hearing immediately, on March 5th.
Peter Nelson is not allowed to practice medicine as a physician's assistant pending the outcome of his criminal case. That's why his lawyer wants to get him to his Preliminary Hearing and do everything to get him exonerated as soon as possible. He was let out of jail on his own recognizance on October 31st 2017, after 25 months, and promised the prosecution he would not demand his Prelim independent of the rest of the defendant group. The defense had a different perception of that agreement, and naturally Benjamin Gluck had words in protest.
Lead prosecutor Dayan Mathai: We agreed to release Peter Nelson from custody, (considering) that they would not push for a Preliminary Hearing. (He would) stay in this court.
Peter Nelson defense lawyer Winston McKesson: I don't want to be the fly in the ointment, but he's demanding his Prelim to start March 5th.
Benjamin Gluck: He wasn't waiving a right to have a Prelim.
Judge Larry Fidler: You're not going to waive time?
Winston McKesson: That is correct.
The judge ruled to consolidate the case. All the related complaints will stay together in this same court room. He also ruled that he was finding good cause to continue Peter Nelson's preliminary hearing in order to allow the attorney-client privilege evidentiary hearing to start on April 2, 2018 and allow Peter to be part of that.
Winston McKesson wrote this writer via email, "… this ruling was in the interest of judicial EFFICIENCY, in that, if the aforementioned evidence hearing is decided in our favor, his ruling may be dispositive and HENCE, make the preliminary hearing moot."
Yes, if the ruling is in favor of the defense, it could be such a ruling that dismisses this case.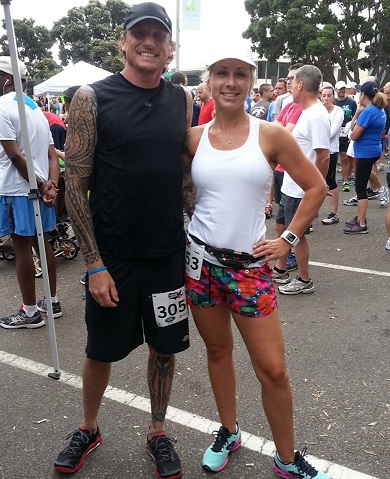 Peter Nelson and Marisa Schermbeck Nelson at a sporting event (undated photo from Marisa's Facebook page)

The prosecution sought to get their motion to disqualify Benjamin Gluck heard before the defense attorney-client privilege violation motion. But the defense motion was filed first so was further ahead in line. The defense lawyers all battled to butt their motions to the front of the line ahead of the prosecution. Gary Kaufman, another new lawyer now on the scene representing Tatiana Torres Arnold, Dr. Uwaydah's one-time full-time lawyer, got on the calendar for April 2nd for Tatiana's motion to dismiss the charges against her. So, there's a chance Tatiana could win on that motion.
If the prosecution can hang on and not get disqualified, and not get the case fully dismissed, they can take a shot at getting Benjamin Gluck disqualified, and perhaps disqualify other defense lawyers.
There's a huge problem with some or more of the defendants' lawyers being paid by Dr. Uwaydah. It's an egregious conflict-of-interest. What it does is it puts Uwaydah's interests ahead of the interests of each particular defendant. It inhibits each defendant from testifying in any manner disadvantageous to Uwaydah.
Uwaydah paying for the defense affirmatively attacks the defendants' constitutional rights and their rights to due process without conflict in their legal representations. No lawyer being paid by Uwaydah can be fully loyal to his client ahead of Uwaydah. Uwaydah's interests will always have to come first. So, Uwaydah's power can pull the strings of the court like a marionette doll all the way from Beirut.
Marisa Schermbeck Nelson herself testified and implicitly implied under oath in her May 31st 2017 proffer to the prosecution that Dr. Uwaydah has nothing but contempt for Paul Turley. She testified as to how Uwaydah would say "F---- Paul" as if he were something worthless and undeserving of a paycheck. Yet Turley clings to Dr. Uwaydah like a battered wife who's addicted, has low self-esteem, and can't leave her abuser.
Benjamin Gluck is like the village bicycle whom everyone has ridden at least once. He has represented nearly all of the co-conspirators, both charged and uncharged. There is little doubt, that to this day, he is still one of Dr. Munir Uwaydah's main powerhouse lawyers. Uwaydah is at this moment trapped in Lebanon like a caged lion. His file with Interpol has the International Arrest Warrant active throughout Europe and the United States. He most likely can travel to certain Arab countries, but he's cut off from the West.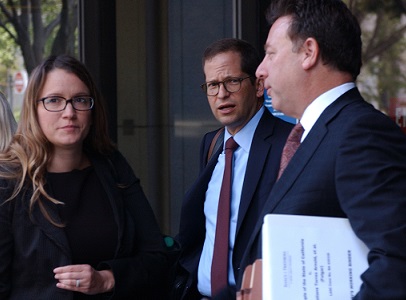 Nicole Van Dyk, left, and Benjamin Gluck, center, are co-counsels for Paul Turley. Jeffrey Isaacs, right, is counsel to Tony Folgar who is charged with conspiracy and capping. Photo by Lonce Lamonte, April 26th 2017, all rights reserved.

Gluck has been Marisa Schermbeck Nelson's lawyer, which he denies vehemently. But he gave her legal advice during her bankruptcy proceedings when Uwaydah was gnawing at her neck for money she "stole". He answered her questions when she received a "target letter" from the Los Angeles District Attorneys' office just before her September 16, 2015 arrest.
Gluck has been everybody's lawyer in the Uwaydah cult and is in conflict every which way you slice it. For this reason Judge Fidler has considered disqualifying Gluck from cross-examining Marisa as a witness if it's in front of a jury.
So, let the games begin again April 2nd 2018 in downtown Los Angeles, Department 106. This is the day after Dr. Munir Uwaydah's 52nd birthday. Until then…
This writing is copyrighted by adjustercom and Lonce Lamonte; all rights reserved. For reprint requests (which come with a fee), please write to Lonce Lamonte at lonce@adjustercom.com. No replication is allowed without express written permission from the publisher.