News
Email A Friend
More News
December 14, 2018
Janek Hunt, Brother-In-Law of Dr. Munir Uwaydah, Arrested In Chicago. Felony Complaint Filed Against Hunt By Riverside County District Attorney.
December 13, 2018
California Division of Workers' Compensation Posts Draft Physician Reporting and Utilization Review Regulatory Amendments to Online Forum for Public Comment
December 13, 2018
Workers' Compensation Premiums Are Falling In California, According To WCIRB Report
December 12, 2018
State of California Office of Self-Insurance Plans Posts Proposed Regulations and Public Meeting Announcement
Paul Turley And Peter Nelson Released On Their Own Recognizance In Criminal Organization Munir Uwaydah Case In Downtown L.A. Prosecution Files Three Brand New Complaints.


By Lonce Lamonte - November 1, 2017

Yesterday afternoon, October 31st 2017, in Department 106 of the Clara Shortridge Foltz Criminal Justice Center in downtown Los Angeles, the Honorable Larry Fidler released the two remaining incarcerated defendants of the Criminal Organization Munir Uwaydah case, Peter Nelson and Paul Turley, on their own recognizance. Both defendants have been incarcerated since September 14th or 15th 2015, which means they've been in jail for over two years. Thus, yesterday, they got their freedom back when the judge gave the ruling from the bench that they be released OR.

Peter Nelson sat at the very end of the defense table near the side door for detainees to enter in a blue jail suit with his hair shaped in a flat top crew cut. His old fashioned eye glasses had a thin, shiny burgundy frame and looked vintage and out of the 1950s. His mustache and beard framed his mouth.

Paul Turley sat further in on the table just next to his co-counsel Nicole Van Dyk, who is the lawyer-partner on this case with Benjamin Gluck. Paul sported his brown jail suit and had his usual short, dark and grey hair.

As defense counsel for Peter Nelson, Winston McKesson pounded the table repeatedly for the past three hearings with his statements of "two years, one month, and (so many days)" indicating Nelson's time spent in jail. His statements varied by some days depending upon which day in court he was arguing. And, alas, the defense prevailed.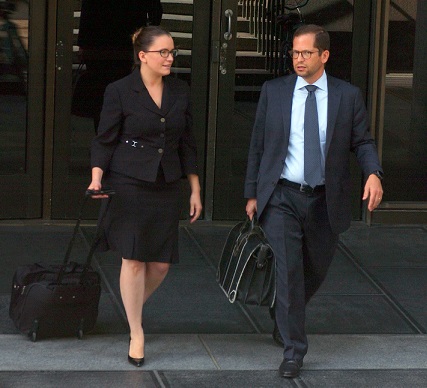 Nicole Van Dyk, left, and Benjamin Gluck, right, are co-counsels for Paul Turley, D.C. who is accused of conspiracy and workers' compensation insurance fraud in the Criminal Organization Munir Uwaydah case in downtown Los Angeles. They are shown here leaving Clara Shortridge Foltz Criminal Justice Center on October 7th 2016. Gluck is the leader of the defense for all the current defendants in the case. photo by Lonce Lamonte, all rights reserved

After eloquent monologs in days gone by from Paul Turley's defense counsel, Benjamin Gluck, which he delivered last year in Judge Kathleen Kennedy's court room pleading for the release of his client, Paul Turley, as well as Peter Nelson, for whom he made special appearances, Gluck and company convinced Judge Fidler yesterday to grant release to both Turley and Nelson after their long and hard fought campaign. Now, no defendants in this case remain in custody.
Peter Nelson acted as Dr. Munir Uwaydah's physician assistant for several years leading up to Dr. Uwaydah's flight to Lebanon from California in June of 2010. His departure came on the wake of the arrest of Kelly Soo Park for the murder of aspiring actress and model Juliana Redding.
Park was found not-guilty by a jury on June 4th 2013 in the Los Angeles criminal court room of the Honorable Kathleen Kennedy.
Nelson allegedly performed multiple surgeries for Uwaydah while the doctor was out gallivanting around town, or perhaps the world. Numerous patients claimed maiming and injury by Peter Nelson.
Paul Turley, D.C., was a sort of lackey for Uwaydah who was allegedly involved in numerous and sundry of Uwadah's frauds, which included having multiple properties listed in his name in order to shield Uwaydah from debt collectors, plus involvement in Frontline Medical's surgery mill. Frontline Medical, which listed Turley as an owner, engaged in falsifying MRIs to qualify workers' compensation patients for unnecessary surgeries. The business of Frontline was allegedly a fraudulent surgery mill that pushed workers' compensation patient-claimants through for mostly shoulder and back surgeries, whether they needed the surgeries or not.
Yesterday also saw the filing of three new complaints from the prosecution which contained the refiling of charges that were in 130 counts from the previous complaints which were dismissed on Friday, October 27th, by Judge Fidler. These dismissals were due to the prosecution missing the deadline for amending the three complaints that was ordered in the judge's court order filed on September 19th 2017. The judge had sustained demurrers from the defense and he was allowing the prosecution to correct those counts with his "leave to amend".

Deputy District Attorney Catherine Chon is shown here leaving the downtown L.A. criminal court house on April 15th 2016. She and her prosecution team missed the deadline for amending three complaints, therefore they had to refile. "I learned my lesson," she said yesterday, October 31, 2017. photo by Lonce Lamonte, all rights reserved

But the prosecution didn't make the amendments and blew the deadline, which the judge agreed was 10 days to amend from the date the prosecution was served with the order, as asserted by the defense. Why did the prosecution miss the deadline? Deputy District Attorney, Catherine Chon, yesterday explained why as she sat on the bench outside of court room C-30 wearing a floral print leggings pants suit with a black jacket. She said that in her 16 years of experience as a criminal prosecutor, demurrers "are rare". The filing of demurrers "doesn't happen a lot in criminal" and, as well, "written rulings are rare."
This ruling from Judge Fidler was a written ruling dated September 19th 2017. Thus, Catherine Chon stated that this was the "second written ruling" of her entire career. She was, therefore, expecting to have an argument and discussion back and forth the next time she appeared in court, and to hear the formal ruling then orally from the judge from the bench. But that wasn't the required procedure.
"I learned my lesson," she confessed.
She and lead prosecutor, Dayan Mathai, are from the Hard Core Gang Unit. Ms. Chon described Mathai as a "very hard worker" and that this white collar crime work is quite distinct from gang crime. She and the prosecutors worked all weekend on the new complaints, and barely got them filed just a couple of hours before Judge Fidler's court opened again in the afternoon yesterday at 1:30 pm. Ms. Chon confessed to not having slept at all the night before, but by all appearances she looked none the worse for it.
As previously reported, Kelly Soo Park, Peter Nelson, Paul Turley, Maria Turley, and Tatiana Torres Arnold were arraigned on Friday, October 27th in Fidler's court room. The rest of the defendants, who are from two separate complaints apart from the first aforementioned group, are Jeffrey Stevens, Yolanda Groscost, Leticia Lemus, Terry Luke, Ronnie Wayne Case, and Tony Folgar. They moved over to Department 30, the court room of Judge Gustavo Sztracher, to file their continuance to be arraigned on February 16th 2018 back with Judge Fidler. Fidler's court is presently jammed with a double defendant death penalty case and with another death penalty case coming on the wake of it.

Kelly Soo Park, right, carrying black purse wearing a white shirt, leaves Clara Shortridge Foltz Criminal Justice Center on Thursday, October 26th 2017 with her husband, Tom Chronister, in front in the blue shirt. Park is accused of workers' compensation insurance fraud and conspiracy to commit fraud. She was found not guilty by a jury in this same court house on June 4th 2013 for the murder of aspiring actress and model, Juliana Redding. photo by Lonce Lamonte, all rights reserved

This writer did not wait in Department 30 to watch the simple continuance of arraignments, which were still in waiting mode, at 3:30 pm. It was time for the World Series. It's time for Dodger baseball!
When this writer mentioned this to Benjamin Gluck, who sported a grey suit and a blue dotted tie, he stated, "This is more important." Co-counsel for Peter Nelson, Lou Shapiro, laughed from across the hallway and spoke out stating this had to be a classic quote from Gluck.
Not even the World Series can come between Benjamin Gluck and defending one of his fraudster clients. Gluck was even waiting earlier in the hallway before Department 106 more than twenty minutes before the court room door even opened.
This case will pick up and continue on February 16th 2018.

lonce@adjustercom.com, Lonce Lamonte, journalist, all rights reserved; copyright by Lonce Lamonte and adjustercom.