Prosecution In Uwaydah Case In Downtown L.A. Gets A Hundred And Thirty Counts Dismissed From Three Complaints. Lead Prosecutor Says He Will Refile.


By Lonce Lamonte - October 30, 2017

It's another brutal blow and a misstep. There's no getting around it.

One hundred and thirty counts were collectively dismissed by Judge Larry Fidler in the Criminal Organization Munir Uwaydah case on Friday morning, October 27th 2017, in downtown Los Angeles criminal court, Department 106 of the Honorable Larry Fidler.

In the three original complaints which were filed on March 16, 2017, for this workers' compensation insurance fraud case, there were 194 counts collectively. It is guesstimated that over 200 million dollars in fraud loss is still growing as Dr. Uwaydah and his gang assiduously change medical business names, bill claims payers, and often collect from unsuspecting workers' compensation payers. But now, 67% of the counts charged, counting by the original three complaints, have been dismissed from one third-amended complaint and two second-amended complaints because the prosecution missed the deadline to amend the complaints again after Judge Fidler sustained the defense demurrers in part on September 19th 2017.

"We do intend to refile immediately," lead prosecutor Dayan Mathai said during court proceedings on Friday morning.

Judge Fidler had stated the previous day, on Thursday, that the People could just refile. But the waste of energy and time because of missing a deadline is distressing. The court ruled on the defense demurrers on September 19th, and the prosecution was served with the court ruling on September 20th.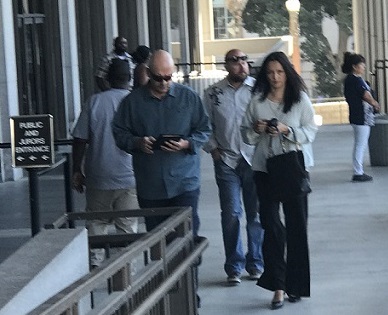 Kelly Soo Park, right, front facing in black pants, is shown here on Thursday, October 26th 2017 leaving from the back door of the court house. Her husband, Tom Chronister, is at her right in the blue shirt. photo by Lonce Lamonte, all rights reserved.
According to the defense, the People had ten days to amend the complaints: they would produce a 4th amended complaint for BA 455469 for Paul Turley, Maria Turley, Tatiana Torres Arnold, Kelly Soo Park, and Peter Nelson, a 3rd amended complaint with BA 455470 with Ronnie Case, Leticia Lemus Alvarez, and Jeffrey Stevens, and a 3rd amended complaint on BA 455473 for Terry Luke, Tony Folgar, and Yolanda Groscost. One former defendant from BA 455469 is Marisa Schermbeck Nelson. She has pleaded guilty and become a witness. Judge Fidler has stated he wants to hear her testimony as soon as possible. But the prosecution didn't amend the complaints per the court's "Order Sustaining The Demurrers In Part With Leave To Amend" filed on September 19th.
The prosecution put forth the excuse that the September 19th 2017 court order had not been entered into the minutes, plus they hadn't been served with a copy of it that was date stamped. Thus they felt they weren't officially served. But the judge on Friday rejected that notion.
Judge Larry Fidler: The court made an order to sustain some of the demurrers. Not entered in the minutes. Lots of questions. Has the prosecution been served? Yes. Must be recorded in the minutes? I can't accept that. Entered September 19th. No case law. 10 days run.
The prosecution's excuse that the order was not entered into the minutes plus it wasn't a date stamped copy that they received, on initial gut feeling felt to this writer like a specious excuse. Yes, these feeble sounding excuses are troubling. It might be that this prosecution is too overextended, overwhelmed, and lacking in manpower to the point that it can't even get its arms around deadlines for filing. Lead prosecutor, Dayan Mathai, is presently on an intense death penalty case in the same court room, and the clerk is backed up and working through her lunch hours. Even the court reporters are behind.
This writer ordered the court transcript for August 18th 2017 and still it has not been received after several inquiries. On Friday after court, neither the clerks on the 2nd floor, nor Wendy Warren, Fidler's clerk in Department 106, could produce copies of the defense demurrers and the court's ruling. But a lawyer on the defense side gave me the documents. These defense counsels are highly competent and I can't remember an instance of that being otherwise.
Judge Larry Fidler: I think I said the People were served on September 19th, but it was the 20th. (I'm) dismissing the counts (that were not amended):
BA 455469: 5-7, 9, 10-50, 77-97 (mayhem, aggravated mayhem, insurance fraud, statute of limitations)
BA 455470: 1-38 (conspiracy, insurance fraud, statute of limitations)
BA 455473: 11 -31 (capping)
The words above in parenthesis are this writer's inserts. The judge from the bench did not state what the counts were for when he spoke his ruling.
Interesting Judge Fidler ruled that counts 10 – 46 in BA 455469 are duplicitous. This is the same issue that defense counsels Richard Moss and Bill Fleming, representing Dr. Sim Hoffman in Orange County Superior Court, presented a Writ about and had heard at the Santa Ana Appeals Court on August 23rd 2017. The parties are still awaiting the Appeals Court's ruling on that Writ. In the meantime, Judge Fidler wrote in his present September 19th ruling:
Judge Larry Fidler: "… the People may allege a single offense committed in multiple ways and then later elect the specific act relied upon for the charge. However, a pleading that charges more than one offense in a single count is duplicitous. Here, the People do not argue that they are charging a single offense committed in multiple ways. Instead, they assert that they will prove a continuous course of conduct and that they intend to show to the jury that multiple bills were submitted in the alleged date range for each count. As such, the People join multiple and separate offenses in one count."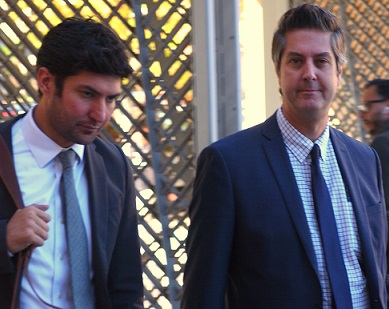 Bill Fleming, right, filed a Writ with the Appeals Court in Orange County on the issue of duplicity in the prosecution's pleading against his client Sim Hoffman, M.D. He is awaiting response. In the Uwaydah case in L.A., Fleming represents defendant Jeffrey Stevens. At left is lawyer Sam Josephs who represents Ronnie Wayne Case. photo dated December 2nd 2016 by Lonce Lamonte, all rights reserved.


The defendants of BA 455469 were arraigned at the end of morning Friday. Kelly Soo Park stepped forward before the bench in a white shirt, tan pants, and brick colored high heeled shoes. She wore beads around her right wrist as her long, exquisitely dark hair, flowed in a curve shape on her back. Tatiana Torres Arnold, who is an attorney, looked very elegant. Painted with red lipstick she looked model-like slender and beautiful in a grey jacket and black skirt. Maria Turley stepped forward with her wavy dark hair in a casual leisure-like black suit with a bright pink shirt.
Paul Turley in brown jail attire and Peter Nelson in blue, both still incarcerated for more than two years, sat chained, handcuffed and at the defense end of the table before the judge's bench. Winston McKesson, a new attorney partnering now with Lou Shapiro in defending Peter Nelson, Dr. Uwaydah's former physician's assistant, pleaded throughout two days for the case to move forward in deference to his client's constitutional rights. McKesson is a handsome, dark cream-skinned Black man, who recently stepped in during the last couple of months.
All five defendants pleaded not-guilty. Judge Fidler then ordered all defendants from all three complaints to reappear in court on October 31st 2017, Tuesday afternoon, at 1:30 pm. That's tomorrow.
lonce@adjustercom.com, Lonce Lamonte, journalist, all rights reserved; copyright by Lonce Lamonte and adjustercom.