Dr. Thomas Heric Appears In Orange County Superior Court On Friday, May 5th. His Appeal Against His Suspension In The California Worker's Compensation System Is Rejected By Workers' Comp Administrative Law Judge Robert Mays.


By Lonce LaMon - May 12, 2017

Dr. Thomas Heric sat in his wheelchair at a table in the cafeteria of Orange County Superior Court just before 9 am on Friday morning, May 5th 2017. This writer had no awareness of any court appearance for Dr. Heric that morning.

Dr. Heric has been charged as a consort to Dr. Sim Hoffman's alleged workers' compensation sleep studies charade and scam. Dr. Heric is a neurologist who lives on the Los Angeles west side and acted as the "sleep expert" producing umpteen cookie-cutter, bogus sleep reports for Hoffman's Better Sleeping Medical Center in Buena Park, California.

Before serving my coffee, I approached. "What are you doing here?" I asked Heric.

He indicated that he was there because he was told to be there, which, of course, was an answer that hardly satisfied me. He is tethered as a co-defendant in the complaint against Buena Park radiologist Sim Hoffman, M.D., and that case is stayed pending a Writ review by the Court of Appeals on the last demurrer filed by Hoffman's lawyers Bill Fleming and Richard Moss and denied by the Superior Court judge.

The California Supreme Court just overruled the first Appeals Court decision not to review, and sent it back demanding that court review. That was in March 2017. So there would be no way the case would be back in Superior Court by May 5th. Writ reviews take a year at the Court of Appeals.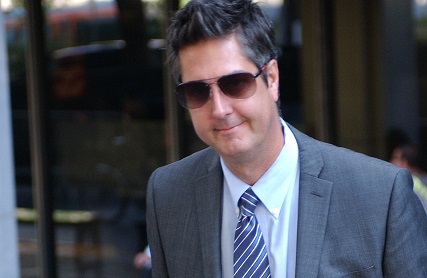 Attorney Bill Fleming, shown here outside the Los Angeles criminal courthouse on April 11th 2016, wrote and filed the Writ as Dr. Sim Hoffman's defense counsel. His argument, in an extreme nutshell, is that too many disparate "acts" (which in this case are billings) are contained in each Count in the charging document. He's been arguing this point, ad nauseum, for at least three years. photo by Lonce LaMon, all rights reserved
Dr. Heric then quickly expressed to me that I always write negative things about him. He said, "You think I'm a bad doctor."
I retorted back that he's been found guilty of Medicare fraud. Plus, he's been now suspended by the California Department of Industrial Relations and its Division of Workers' Compensation. I received the notice of his suspension by email just last month.
"I haven't done anything," he said.
I was all astonishment. So, I thought, am I the one with wrong understanding and wrong perceptions?
Denial is a fascinating thing to watch. So many people who commit wrong actions get into it.
Not long after that interaction, I followed the prosecutor, Shaddi Kamiabipour, into court room C-41, as the guilty plea deals for the Aspen boys were made to wait in court room C-30. Inside C-41, Dr. Sim Hoffman was seated in the audience area wearing his trademark red tie. After six years frequenting this court house, one would think he'd want to bow out. But there he was looking the same as ever in a fine suit with his ever-present red tie.
Shaddi Kamiabipour stepped into the bench area and stood in front of the lawyers' table. Judge Richard King had not come out yet, and as Shaddi turned around Dr. Heric had arrived. He was in his wheelchair at the front of the aisle at the swing door to the bench area. He joked with her about serving jail time.
Dr. Thomas Heric: How about two, three years?
Shaddi made some comment this writer didn't completely catch but it seemed like she was indicating that wasn't enough.
Then Heric's attorney, Robert Moest, commented, "You don't look good in Orange." He was most likely joking trying to get his client to make no further comment.
This hearing was just in order to pick a future date for Heric to appear. The lawyers agreed on December 8th, and after the judge came out pulling on his robe on his way to the bench, he listened to how Heric was not part of the appeal.
Judge Richard King: Which defendant is stayed?
Prosecutor Shaddi Kamiabipour: Dr. Hoffman.
Shaddi then explained that in an abundance of caution she wanted to put Dr. Heric on the calendar.
Judge King: But it's just so far out.
Then Bill Fleming, Hoffman's lawyer, said that the oral arguments at the appeals court won't happen for another five to nine months.
The judge was reluctant, but he agreed. Bill Fleming meant that it will be another five to nine months just for the oral arguments. But then it will be more time waiting for a written ruling.
During the preliminary hearing in September of 2015, which was held in the Westminster courthouse, prosecutor Shaddi Kamiabipour presented a witness, a sleep expert from Minnesota, a Dr. Michel Cramer-Bornemann. As she tried to introduce this expert to the court, Sim Hoffman's defense co-counsel, Richard Moss, fought vehemently to disqualify this doctor as a witness to the case.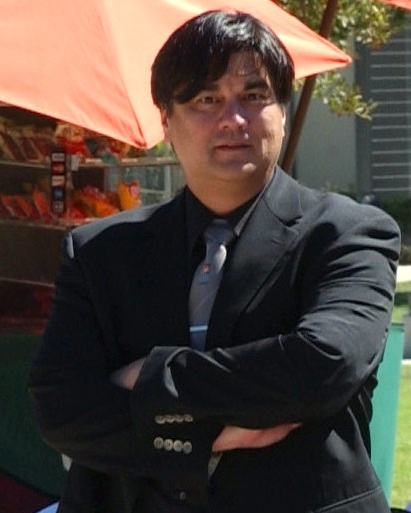 Dr. Michel Cramer-Bornemann, above, testified in the preliminary hearing of the Sim Hoffman, M.D. and Thomas Heric, M.D. case in Westminster, California on October 1, 2015. He is shown here returning to court after the lunch break. photo by Lonce LaMon, all rights reserved.
Moss went off in a harangue for about a half-an-hour stating that this witness was not a qualified California workers' compensation doctor, had no experience handling any workers' compensation cases in California, and had no knowledge of the California work comp system. This was odd, because the point to be made here by the prosecutor had nothing to do with workers' compensation. It had to do with the medicine and treatments for sleep disorders, what sleep illnesses exist, how they manifest themselves, how they should be treated and, how a sleep center should be run.
Moss bringing up the fact Dr. Cramer-Bornemann was from Minnesota and had no knowledge of the California workers' compensation system was completely off point. To this writer it was like arguing that a fish has no experience with flying. The fish is called as a witness to testify about swimming. Nothing else. So in like fashion Shaddi was calling Cramer-Bornemann to testify about medicine—specifically the medicine of treating sleep disorders. He was not being called to testify about the California workers' compensation system.
But Moss wouldn't relent. Here Dr. Thomas Heric had been Dr. Sim Hoffman's "sleep expert" for his Better Sleeping Medical Center. Therefore, it would be logical to cross-examine a sleep medicine expert and get some expert opinions about sleep medicine diagnostics, treatment, and how a sleep center should be run. Heric had produced hundreds of cookie-cutter sleep reports supposedly interpreting the reports from the technicians who read the electronic data recorded from the patients' electrodes while sleeping.
Clearly Moss didn't want Cramer-Bornemann on the stand so he was throwing a red herring. But finally Judge Margaret Anderson ruled in order to allow Cramer Bornemann to take the stand.
Dr. Cramer-Bornemann testified that in reading the technicians' reports, he found a few patients who manifested dangerous sleep disorders that were life threatening. One in particular he emphasized. It was a case of a patient who had chronic sleep apnea, a condition which stops a person from breathing while sleeping. In severe cases this can cause death. And this one was a severe case, Cramer-Bornemann testified. It was life threatening. But Dr. Heric did nothing to advise that patient or refer him for treatment. He simply created and sent one of his usual and customary cookie cutter sleep study reports designed to slip through the system and produce a fee.
So, it was not about caring for the patient for Heric. The whole exercise was purely about allowing Hoffman to bill the workers' compensation insurance carrier. The patients' needs were ignored. Their lives were threatened.
So, is Dr. Heric a bad doctor? Absolutely. And he speaks as if this writer has a misinformed opinion along with bad perceptions.
"I haven't done anything," was exactly what he said. Yes, and that's the point. He didn't do anything when he should have done something. He should have responded with a proper diagnosis to that patient with severe sleep apnea and directed him for immediate treatment.
Dr. Cramer-Bornemann is a class act. On the stand he exuded competence, knowledge, focus on the well-being of the patient, and intelligence. Cramer-Bornemann exemplifies what a doctor should be.
Dr. Heric should not be practicing medicine. He should write his books (he's a published author), and engage in his arts. He needs to serve his punishment for his frauds, and stop embarrassing his attractive brunette wife.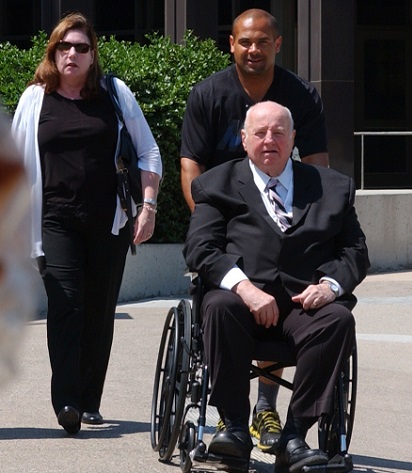 Dr. Thomas Heric leaves Orange County Superior Court on July 28th 2016. His son pushes his wheelchair as Dr. Heric's wife, Paris, walks on their right. photo by Lonce LaMon, all rights reserved
The California Division of Workers' Compensation Acting Administrative Director, George Parisotto, issued a Determination and Order upholding the suspension of Dr. Heric on May 9th 2017. Heric had appealed his notice of suspension.
He had been convicted more than a decade ago in Sacramento's federal District Court for Medicare and Medicaid-related health care fraud, which also resulted in his suspension from those programs by the U.S. Department of Health and Human Services. Workers' Compensation Administrative Law Judge Robert Mays rejected Heric's argument that his conviction did not fit within a legal definition of fraud or abuse.
As well, Dr. Philip Sobol, an orthopedic surgeon in Los Angeles who pled guilty in November of 2015 to involvement in a kick-back scheme for referring thousands of patients for surgery to Pacific Hospital of Long Beach, had his appeal on his suspension rejected at the same time. His arguments were that his conviction predated the new law (AB 1244) and that the Department of Industrial Relations was required to use a different procedure to hear his appeal. Those arguments were rejected specifically by Workers' Compensation Administrative Law Judge William E. Gunn.
Dr. Heric became active in California's workers' compensation system after his federal conviction and suspension from the Medicare system. This is one of the things that the Legislature wanted to stop when adopting AB 1244 – allowing convicted doctors to hop from one system to another undeterred.
Sim Hoffman, M.D., with Thomas Heric, M.D. tied to his ankle, has over 1400 liens filed with the WCAB with an estimated claim value of over $7 million. These liens are currently stayed pursuant to SB 1160 and would become subject to consolidation following a conviction for the crimes charged.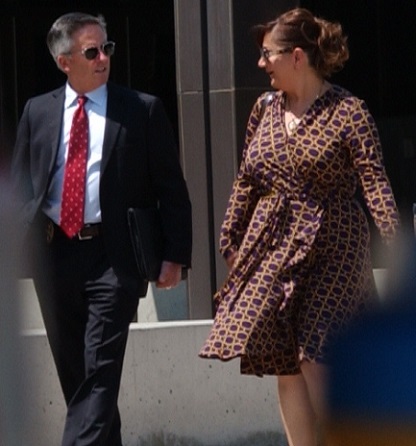 Prosecutor Shaddi Kamiabipour, right, is shown here leaving the Orange County courthouse on July 29th 2016. She is prosecuting Thomas Heric, M.D., a neurologist, and Sim Hoffman, M.D., a radiologist, in a multi-faceted workers' compensation fraud case. photo by Lonce LaMon, all rights reserved
So, the next court date for Dr. Thomas Heric has been set for December 8th 2017. That's over a half a year into the future. Hopefully the arguments will have been heard at the Appeals Court by that date, and a ruling published.

But Heric could cop a plea of two to three years in prison, or whatever he can negotiate with prosecutor Shaddi Kamiabipour like he suggested in court on May 5th. He could apply for the program to wear an ankle bracelet around the house. He's 81 years old. He's in ill health. He had a cardiac event during the time of the preliminary hearing in September of 2015. He used to walk into every court appearance and now he comes to court in a wheel chair pushed by either his wife or his son. He should be kept out of the prison system as well as the workers' compensation system.
He should also be kept completely out of the practice of medicine. That requirement should be one of the terms in any plea agreement.
lonce@adjustercom.com, Lonce LaMon, journalist; copyright adjustercom and Lonce LaMon, all rights reserved.