Much Anticipated Orange County Landmark Ruling From Court Of Appeal Goes In Favor Of Defense. Petition For Writ Of Mandate Granted.


By Lonce LaMon - March 22, 2016

It's been an entire year since the defense led by the formidable Benjamin Gluck sent a petition for a writ of mandate to the California Supreme Court on the denied demurrers by Judge Thomas Goethals in the Landmark case in Orange County Superior Court.

The petition was first sent to the Court of Appeal of The State of California, Fourth Appellate District, Division Three in February 2015 and was summarily denied. But Gluck wouldn't take no for an answer. He sent it to the California Supreme Court. That high court granted a review and sent it back to the Fourth Appellate District, Division Three with directions to vacate the previous order denying the writ petition and to issue an alternative writ to be heard in that appeals court. That happened nearly a year ago, so it's been an inordinately drawn out waiting game ever since.

So much time went by that it seemed to be forgotten. This writer went numb looking out for it, and turned to other cases. But when it finally hit, it came stealthily and resounded like a bomb. The ruling was filed a week ago Thursday, on March 10th 2016.

Petition granted.

The present case has been virtually wiped out. All that remains is Count 1 from both indictments, which was a conspiracy charge not addressed in the writ petition, and Counts 298 and 323 from the Charbonnet amended indictment which were repeated counts from the original 30 and 33 which are alleged violations to a single victim entirely within the statute of limitations and therefore were not addressed in the petition. But all the rest--the combination of both indictments, which after amended added to about 450 counts--has gone up in smoke.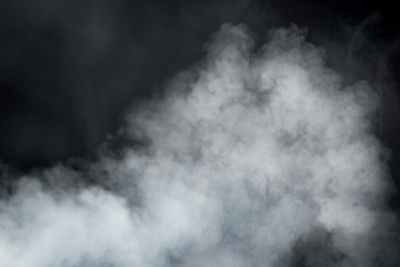 This case began with two original indictments which were filed on June 17th 2014. One is the People vs Yvette Charbonnet and the other the People vs Kareem Ahmed. Benjamin Gluck is the defense counsel for Kareem Ahmed, the CEO of Landmark Medical Management who was one of Barack Obama's million-dollar donors. Ahmed is now since June 17th 2014 accused of over 100 million dollars in workers' compensation fraud involving the illegal manufacturing and distribution of compounded pain cream medications.
He is also accused of doling out more than 25 million dollars in kick-backs to physicians in exchange for prescribing his compounds. He, along with a physician and a pharmacist, is accused of involuntary manslaughter in the death of an infant.
Originally in Charbonnet, the grand jury returned an indictment with 35 counts against 12 defendants. Originally in Ahmed, the grand jury returned an indictment with nine counts against three defendants. After numerous demurrers filed by the defense, many of which were sustained by the court, the court allowed the prosecution to amend the indictments which inspired the prosecution to multiply the counts in an attempt to make the corrections ordered.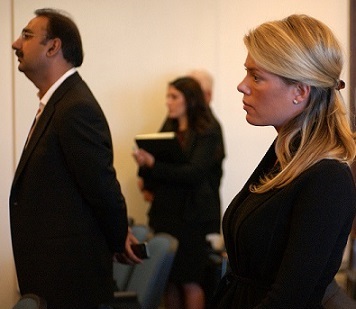 Kareem Ahmed, left, and Yvette Charbonnet, right, stand up in court on September 12th 2014. Ahmed and Charbonnet were each the lead defendant in the two indictments filed on June 17th 2014 which were pulled out from under the prosecutor on a successful writ of mandate filed March 10th 2016.
photo copyright Lonce LaMon, all rights reserved
Benjamin Gluck began arguing vociferously in court around November 2014 of the vagueness and lack of specificity in many of the counts of the indictments. He expressed the scope of the counts contained thousands of discrete offenses. In summation to the grand jury, the prosecutor had stated she could have "charged 5,000 counts in lieu of the actual counts charged."
Gluck exclaimed at some point, during court proceedings, something to the effect that his client and all the defendants "have the right to know what they're being charged with!"
He also argued against numerous victims (workers' compensation payers) being contained within the same counts. The jury instructions had asked for unanimity from the jurors in finding the defendants committed only a single act encompassed within the numerous acts in any count to return a true bill on that count. But Gluck argued that all the "acts" within the single counts did not have affirmations of "probable cause" from the grand jury. Because according to the grand jury instructions, the grand jurors only had to find a single act that affirmed probable cause within the many acts in most counts.
The People sought to amend. They turned the multiple victims' counts into one victim for each count. So, the Charbonnet indictment turned into 349 counts from its original 35 counts. The Ahmed indictment turned into 90 counts from nine counts.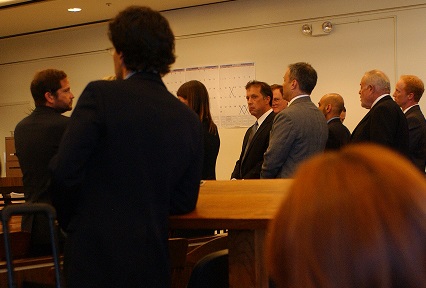 Benjamin Gluck, far left, leads the defense in the Honorable Thomas Goethals' court room in Orange County Superior Court on September 12th 2014.
photo by Lonce LaMon, copyright with all rights reserved
But the defense argued they couldn't do this, although the judge admitted he knew the prosecution would do it. Judge Thomas Goethals stated on January 16th 2015 that he was preparing for different 995 motions and was promising to study the grand jury transcripts more thoroughly. This implies he had not studied the grand jury transcripts that brilliantly. If he had, he would have known the jury instructions better. He explained that when he sustained some demurrers he predicted what the People would do. He predicted they would likely "change 40 counts into 400 counts".
Gluck on that same date said to the prosecution and the judge, "For all of these you have to at least agree on one act. They never identified which act it was. There is a problem in this case."
Evette Charbonnet's attorney, Jean Nelson, argued right after Gluck, "There's a clear rule out there. The People can amend typographical errors. But not this second type of mistake. You cannot change by adding counts."
"They (the prosecution) need to go back to the grand jury and get a new indictment," Gluck stated as the bottom line back in court on January 16th 2015.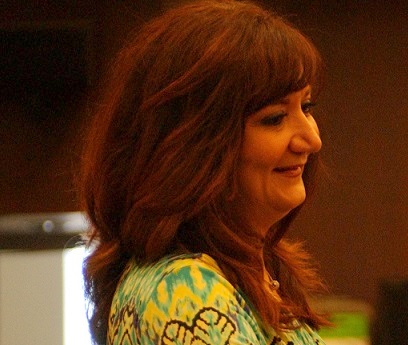 Shaddi Kamiabipour, Deputy District Attorney for the workers' compensation fraud unit for Orange County, is shown here in Judge Thomas Goethal's court room on September 12th 2014. She has not decided yet if she will file an information as her next step to prosecute the 15 Landmark defendants, or if she will go back to the grand jury. She stated last Friday, March 18th 2016, that she is in the process of making her decision. But she will, absolutely, do something.
photo by Lonce LaMon, copyright with all rights reserved
And that's precisely what the prosecution has to do. Gluck had gotten it right. Shaddi Kamiabipour has to go back to the grand jury, or else she has to file this case as an information rather than use a grand jury. "It's a set- back," she told this writer on Friday, March 18th 2016, while inside the Orange County Superior Court building.
With an information she would have a preliminary hearing, and would therefore not be so tied to form. She could rely more on the evidence. The rules imposed on amending indictments vs amending informations are vastly different as has been explained in
the appeal court ruling filed on March 10th 2016
.
There were also issues with the statute of limitations in many of the counts. There was also the issue that the prosecution changed the manslaughter charge from involuntary manslaughter done lawfully to involuntary manslaughter done unlawfully.
Benjamin Gluck is a power with which to be contended. He's brilliant like some kind of Cartesian evil genius. He knows the law better than any and all. Which is good, we must all admit.
He will go to any extreme in defending a client's due process rights and will especially go after the Media. He's a fraudster's dream super lawyer. He's the alpha-wolf who leads the pack of defense wolves in all the joint demurrers and 995 motions.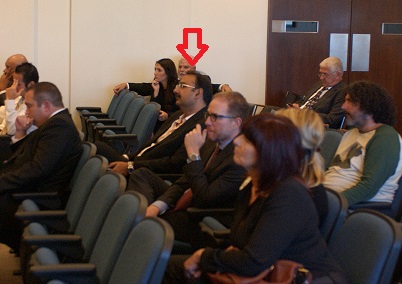 Kareem Ahmed, center under arrow, with glasses, mustache and dark jacket, sat in Judge Thomas Goethals court room on September 12th 2014. He's off the hook for now. But the prosecution will either go back to the grand jury or file an information.
photo by Lonce LaMon, copyright with all rights reserved
Last month on February 19th in downtown Los Angeles Criminal Court, the Honorable Kathleen Kennedy in the midst of the Criminal Organization Munir Uwaydah case proceedings, asked Gluck's associate, Ariel Newman, "Mr. Gluck isn't here again?"
Gluck is defending Dr. Munir Uwaydah's right-hand-man, Paul Turley, in that case. While the pernicious and perfidious Uwaydah is still on the lam, last word suggesting he's in the Ukraine, Gluck is defending Turley, Uwaydah's second in command. However, for the past two hearings Gluck has sent his associate, Ariel Newman, to the court room and he himself has been absent. Most likely on February 19th Gluck was in Orange County on the Aspen Quartet case. So Judge Kennedy looked disappointed and stated, "I'm feeling neglected."
So, even the judges love him. He's beguiling with a boyish charm and a face that can't quite grow a full beard.
Shaddi Kamiabipour with her co-counsels, one prominent one being Debbie Jackson, in Orange County is breaking ground in the youthful field of workers' compensation fraud prosecution. The issue is the numbers. It's harrowing. This is why she said to the grand jury that she could have charged 5,000 counts in lieu of the actual counts charged.
The number of billings are so overwhelming the district attorneys have to consolidate. Shaddi tries to put many acts together. A DDA isn't forced to try this with regular pedestrian cases. The lesson here that's evolving is it can work with filed cases but only with overwhelming care and caution with grand jury cases. Form is of the essence with a grand jury case.
Workers' compensation billing fraud cases are a formidable challenge. How to get in the seemingly infinite numbers. In 2012, during the first case of Sim Hoffman, M.D. which was a grand jury case, Shaddi stated she could only go back one year with the billings from Sim Hoffman's medical practice; otherwise the case would be completely unmanageable. It produced 17 million in fraud just from that one year.
Yes, that first Sim Hoffman, M.D. grand jury case filed in May of 2011 in Orange County was also lost but to a successful 995 motion led by defense attorney Richard Moss. At least it wasn't won by Benjamin Gluck.
lonce@adjustercom.com ; Lonce LaMon, journalist; copyright Lonce LaMon and adjustercom; all rights reserved.