News
Email A Friend
More News
December 6, 2019
California Department of Insurance Arrests Suspects In San Diego Organized Auto Fraud Ring In $500,000 Operation Dealer's Choice
November 29, 2019
Former NFL Tight End Kellen Winslow Sr. Files Workers' Compensation Claim Claiming Brain Injury
November 23, 2019
Darrell Brown, Sedgwick So Cal Claims Executive, Dies At Age 52. His Memorial To Be Held on November 30th 2019 In Inglewood, California
November 23, 2019
California Division of Workers' Compensation Announces 2020 Profile Audit Review and Full Compliance Audit Performance
Hoffman's Hearing Rep, Louis Santillan, Had Too Much Stress On $450,000 A Year. Case Continued To March 4th 2016 in Orange County Superior Court.


By Lonce LaMon - February 25, 2016

The hearing that had been scheduled for tomorrow, Friday, February 26th 2016, for The People vs. Sim Hoffman, M.D. and Thomas Heric, M.D., in Orange County Superior Court, has been continued to Friday, March 4th 2016, in court room C-35. That is the court room of the Honorable Richard M. King.

This is a new judge on this case in a new phase which is poised for trial after the Honorable Margaret Anderson, the preliminary hearing judge, ruled the defendants must face the charges. Now, the latest arraignment is still going on for the 6th amended complaint which is now at 103 counts. The first version complaint which was filed in January of 2014, started out at 151 counts. The monetary guestimate of thievery was expressed then at approximately 18 million dollars. Now, the defense still has a last chance to make a last ditch effort to pull a rabbit out of a hat.

Hoffman defense attorney, Richard Moss, finally broke his silence and replied by email two days ago. "We have nothing to add to our pleadings at the moment. At the same time we plan on augmenting our submissions with oral argument at any hearing. Forgive me if I decline to offer previews!"

He signed his short message: "All my best, RAM". The Ram. That's an appropriate nickname for Richard Alan Moss as he's just like a ram. Always bombarding. At barely over 100 pounds in body weight and more than seventy years in age, Richard Alan Moss packs a wallop. He's got charm and the power of experience, and with a lot more integrity than a Benjamin Gluck. Moss drove a successful 955 motion on the original May 2011 indictment, and he could wipe out this filing as well. No one should breathe easy until this case is on its first day of trial or until a plea bargain has been finalized.

This is a case of workers' compensation billing fraud rife with the consummate greed of three professionals trapped by their own vices while doing pirouettes in center stage encircled by a chorus of unscrupulous doctors. It's a rag bag of individuals who don't want to do the right thing because they possess all the wrong values, are consummate materialists, and are making a lot of money.
They have a vice, like cocaine addiction. Check out this
letter from Louis Santillan to Thania Soto
, the Hoffman employee who handled the payroll. In it Louis Santillan, Sim Hoffman's hearing rep and bill collector, rails to this payroll administrator about how Beverly Mitchell, Hoffman's office manager, audited his commissions' report and committed "unlawful disallowance of wages due on pay date…" As a result of her actions, he has been denied wages of $5,179.59. Thus, he bombastically demands payment as he expresses with all the threatening words used in labor law documents.
This is a man who made an average of $450,000 a year from 2003 to 2007. The year 2007 was the apex of California's harrowing Recession. He is writing this letter within the year of 2007. His angry and virulent demand for $5,179.59 is for approximately 1.12% of his average annual salary. So, to be without $5,179.59 would put his salary from $450,000 a year to $444,720.41 a year. Hardly a great sacrifice. So please spare me the violin.
It offends this writer, who lives and works many of her days south of the border in the country of Mexico, to observe this kind of pathological avarice when the average worker in Mexico earns about $100 a week. I interact with these humble, grateful, intelligent people all the time. But Louis Santillan starts off his letter spouting the language of a stress claim. Oh, how much stress can a person have when earning $450,000 a year without any major life threatening illness or life altering event other than a few thousand dollars which is in dispute?
Louis Santillan writes, "I have been experiencing a tremendous amount of stress and anxiety the last two weeks trying to decipher, correct, and justify my wages, therefore, I am out sick today…" Seriously? Again, spare me the violin. These theatrics are laughable. Come to Mexico and make ends meet on $100 a week, then you'll know some stress. He is clearly setting up his law suit because like a child he can't have exactly his way.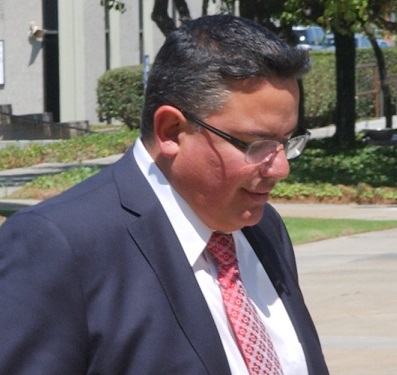 Louis Santillan is shown here leaving court on September 2nd 2015 after testifying in the Preliminary Hearing. In a letter he wrote in 2007 to Thania Soto, the payroll administrator for Dr. Hoffman, he stated, "... there is no legal basis to deny me these wages since Beverly's reason for disallowance is based on impulsive, unilateral, and unauthorized policy." This letter was one of the exhibits shown in the Preliminary Hearing.
photo by Lonce LaMon, all rights reserved
It wouldn't be a hardship to wait a few weeks or even months and take the time diplomatically to work out the difference of opinion on $5,179.59 for a person earning ~$450,000 a year. Thus, any individual who could write a letter like Louis Santillan's
here
, especially considering his income, is a type of drug addict and a criminal narcissist. This is the attitude which drains the blood from the very jugular of the insurance claims industry.
Again, back in court now on Friday, March 4th 2016 according to the latest calendar update.
lonce@adjustercom.com ; Lonce LaMon, journalist; copyright Lonce LaMon and adjustercom; all rights reserved.