Star Singer-Songwriter, Katrina, Alleges She Was Stalked By Workers' Compensation Defense Attorney Richard Widom. Feels She Let Down Defense Lawyer Lisa Kerner.


By Lonce LaMon - April 22, 2013

Katrina was a workers' compensation defense attorney in 2007 and 2008 with the Los Angeles area law firm of Tobin Lucks. Many of her fans who know she just co-wrote and released her latest single, "Ready To Love", and have heard it or watched the video, probably have no clue she's a lawyer.

Katrina graduated from Southwestern Law School in Los Angeles in 2002 and passed the Bar exam that same year. She went on to get her LLM degree, which is a Master's degree in law, in Entertainment and Media law.

She deeply admires her mother, Mania, who went to law school and became a lawyer after she divorced from Katrina's father. "My mom was a motivator for me… I had already decided to do it, working and going to law school. She was so focused. That just made me so proud of her. If she can do it, I really have no excuse. "

Katrina worked for her mother in Mania's criminal practice from 2002 to 2006 up until she joined Tobin Lux. In 2007 she met George Woolverton, one of the senior partners of the Stockwell firm, at a judge's retirement dinner. In 2009 she married George Woolverton, and at that time the Stockwell firm was named Stockwell, Harris, Widom, Woolverton & Muehl. Richard Widom, a law partner of Stockwell for over 30 years, attended Katrina's and George's wedding.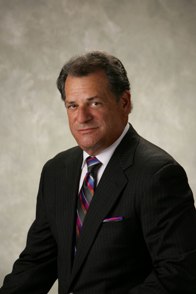 Richard Widom

Then a strange thing happened. Richard Widom, who was married to another Stockwell attorney, Lisa Kerner, got into a physical altercation with his wife at their Los Angeles area home on March 1st 2009. He was consequently accused by her of beating her. The event threw the Stockwell firm into turmoil, and out of the whirlwind that ensued Widom was fired by Stockwell on April 22nd 2009. Lisa Kerner divorced Widom and filed criminal charges against him.

Katrina, by now, had left Tobin Lux and had plunged back into her singing and songwriting career, which she had sadly given up back when she was barely a teenager. She had resigned from her great love, singing and music, in the midst and aftermath of her parent's tumultuous relationship and subsequent divorce.
"That was not a happy time. I was a kid and my parents were divorcing. I just didn't want to be the center of attention, because I was the center of attention very much. I was recognized when I went out. People recognized me.
"It was really a lot of pressure for a kid. And I really just wanted to be a kid."
At the age of 12 in 1990,
Katrina performed on Star Search
, hosted by Ed McMahon, and beat future
R&B star Aaliyah
. Watching Katrina's spectacular performance at the age of 12 is phenomenal. She outperformed a singing and performing sensation who is considered by some critics as one much copied by singer and actress Beyonce.
Aaliyah reached stardom by 2001
, just at the time when her career tragically ended due to her untimely death in a plane crash in the Bahamas.
In 2001, Katrina was in law school. She told Pulse 87 New York, "The success of Star Search quickly turned my parents' already tumultuous marriage into a battleground. Something I didn't want a part of. I thought if I forgot about the music, things would be OK, but of course, the music was never the problem."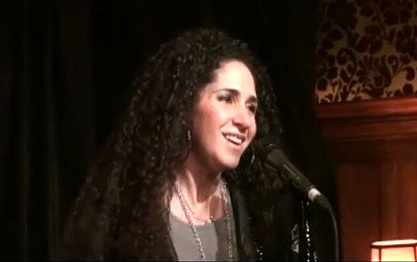 Katrina sings "Taken" live at the Regal Rooms, London, March 2012
Fast forward to 2011, ten years down the road. Katrina has graduated from law school, passed the Bar, gotten a Master's degree, become a criminal defense attorney, a workers' compensation defense attorney, joined Tobin Lux, left Tobin Lux, married prominent lawyer and politician George Woolverton, and has thrown herself with a passion back into her singing and songwriting career. After descending into tears after a Cher concert she attended in Las Vegas, she couldn't stop herself from immersing her soul as a full-time singer and songwriter any longer; it was time.
Taken by Katrina (vocals, lyrics, and music)
Don't think that I haven't noticed your stare
Because I do…
You look at me like if she wasn't there
That I should be with you…
And I would in a heartbeat
If I could, if only I wasn't so good
In the blink of an eye…
If you weren't taken
Katrina tells this writer that the situation which inspired her writing of "Taken" came from a scenario she was in back in college. She writes about things people can relate to, stuff that happens to humans universally.
This writer is absolutely in love with "Taken". How I can remember situations where someone was in a committed relationship with somebody else and yet was showing way too much interest in me. Hello? Back off or get yourself free. If only I wasn't so good…
Katrina performed this song stunningly at the Regal Rooms in London
just last year.
Katrina entered Boa restaurant in Santa Monica right near the ocean just last December to meet me. She is a very slender, petite woman bounding with energy. Her long, dark, splendorously curly hair appears fuller than her body.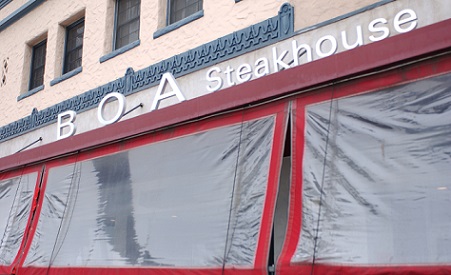 She tells me she is afraid but she wants to shine the light. Everyone seems to know her at Boa, and she is certainly a big celebrity in this place. Even the cook comes out to talk to her. As I entered, the greeter's eyes lit up when I stated Katrina had made a reservation for us and I was there to dine with her.
"I am just so afraid of him," she says about Richard Widom. "But I want to shine the light." She then repeats later on again that she is so afraid of Richard Widom, and it made this writer feel a deep anger that some man goes around inspiring such terror in a woman. It's just not right.
Katrina believes she may have prevented the alleged beating of Stockwell firm attorney, Lisa Kerner, which allegedly occurred at Lisa's home by a surprise intruder on March 21st 2011, if she had reported the terrifying incident of Widom stalking and threatening her at the gym she frequents in Los Angeles on Sepulveda Boulevard on March 16th 2011, much earlier than she did.
"I feel I let Lisa down. I'm doing this for Lisa's sake," Katrina expresses.
At about 4 pm on that day of March 16th 2011, Katrina was at the gym having a business meeting with a friend, and while she was giving the friend a tour she saw Richard Widom following her. As she tried to avoid him he yelled at her, "I am going to hurt you! I'm going to get you! I'm going to get George outside of this litigation!"
Since his firing from Stockwell in April of 2009, Widom has been suing Stockwell for wrongful termination and is seeking punitive damages. Stockwell has filed a cross-complaint. This legal maestrom has crescendoed into a typhoon of bombastic testimonies, grandiloquent legal motions, court rulings, and overrulings on appeal.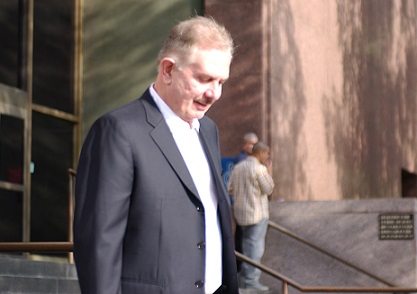 George Woolverton descends the steps of Stanley Mosk Superior Courthouse in Downtown Los Angeles after one of the hearings for the civil case of Widom vs. the Stockwell firm in December of 2012.

Also since Widom's firing, Katrina alleges that Widom has followed her home in his car from the gym around seven times. When threatened during the March 16th 2011 incident inside the gym, Katrina retaliated with the words, "I know you hurt Lisa! I will never let you hurt me! I will call the police!"
To her response, Widom further responded, "I am not afraid of the police. I will go wherever I want and do whatever I want, including coming to your house!"

Variations on this statement by Widom that he can do whatever he wants, whenever he wants, are repeated in similar language as testimony by others from the Stockwell firm in the court documents filed with the Los Angeles Superior Court. Katrina did not file a police report about Widom's March 16th 2011 threats at the gym until April 28th 2011. She delayed in reporting because her husband pleaded with her not to file a report.

"I didn't want her getting mixed up in the litigation," George Woolverton expressed was his feeling at the time. However, he much more recently said, "Shame on me."
George is not at all afraid to be self-critical. His feeling connects with a recent hit song recorded and written by Katrina named precisely:
"Shame On Me".
Why'd I let you jerk me around
Dog me all over town
I was wrong again
I let you make me a fool
I let you break all my rules
But you'll never do it again
Shame on me. Shame on me.

Katrina, B.Hayes, V. Garay © 2010
Katrina feels that if she had
reported the gym stalking incident
of March 16, 2011 on the spot, that perhaps the alleged beating of Lisa Kerner by Richard Widom, which allegedly took place only five days later on March 21, 2011, would not have happened. Perhaps the police could have stopped it, if they had been given the heads up on March 16th rather than April 28th.
Perhaps… Shame on me. Katrina feels deeply that she let Lisa down. Now, she doesn't want her fears to stop her from having the courage to do the right thing.
Lisa Kerner was brutally beaten by someone on March 21, 2011. She was found days later in a state of semi-consciousness at her residence. She later had brain surgery as a consequence of her injuries.
It is today not known how much or how little Lisa Kerner has recovered from her injuries. She is not presently actively working for the Stockwell firm. She has not responded to this writer's requests to interview her. She has requested that adjustercom not show her picture in any of its articles. Adjustercom honors her request.

To be continued…
Copyright © Lonce LaMon and adjustercom. All rights reserved.