Kelly Soo Park Case Still Doing Discovery At Least Until July 11th. DA Eric Harmon Changing Jobs. Trial Now Predicted To Start In The Fall.


By Lonce LaMon - June 11, 2012

The proceedings got going at around 9 am this morning in Downtown L.A. for the Kelly Soo Park case, which is still in the pre-trial phase. Kelly Soo Park is the defendant accused of the murder of aspiring actress and model Juliana Redding in March of 2008.

Juliana Redding was a former girlfriend of Dr. Munir Uwaydah, who is a spinal surgeon who is believed to have defrauded the California Workers' Compensation system out of hundreds of millions of dollars. Uwaydah fled California in July of 2010 upon the moment of Kelly Soo Park's arrest. He is now known to be hiding in Lebanon where there is no extradition agreement with the United States.

Park's new lawyers, George Buehler and Mark Kassabian, both appeared for her and conferred for several minutes with Deputy District Attorney Eric Harmon before Judge Kathleen Kennedy appeared on the bench. The judge said good morning and called Park immediately. Kelly Soo then stepped forward in her scoop necked white top covered by a light weight black cardigan sweater wearing off-white, slightly beige pants. She was also wearing simple single pearl earrings and had taken her hair out of a braid she had been wearing earlier slung over her right shoulder. Now her radiantly long black hair fell loosely below her shoulders.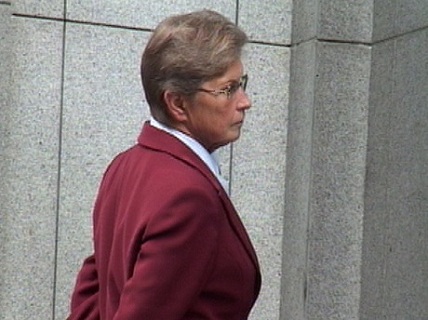 Kelly Soo Park's mother waits for her daughter outside the courthouse after the proceedings this morning. Photo by Lonce LaMon. All rights reserved.
Eric Harmon began by telling Judge Kennedy he had additional discovery to comply with and was asking for more time. The judge jestfully asked Harmon if he would have it before he changed jobs or after. Eric Harmon responded that indeed he was changing jobs but that before he changes jobs he will make sure another competent DA takes over.
Harmon stated he believes this case will get to trial by this Fall. That statement now strongly suggests the idea of this trial starting this Summer is not going to happen. Now that there's going to be a new DA on this case, this is just one more thing to cause more delay on top of Kelly Soo Park being on her third set of attorneys.
Judge Kennedy first asked Eric Harmon and then George Buehler how long they thought this trial would take. Harmon stated "Three weeks, perhaps…" and then George Buehler said "Three weeks plus….. four to five weeks."
Then Eric Harmon responded to George Buehler's statement of three weeks plus or four to five weeks with the comment, "I don't think four to five weeks is unreasonable."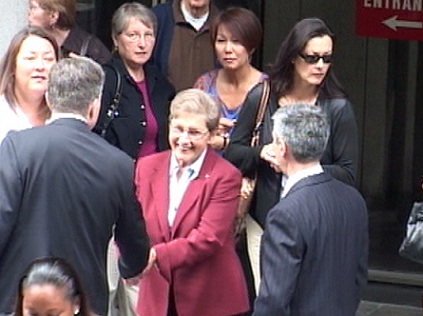 Kelly Soo Park's mother shakes hands with George Buehler, her daughter's new attorney, after court this morning. Kelly Soo is in the background in dark glasses and her other attorney, Mark Kassabian, stands in the right foreground at her mother's left. Photo by Lonce LaMon. All rights reserved.
Judge Kathleen Kennedy then retorted, "How did we get from three weeks to four to five weeks?"
The judge asked both sides to stipulate to a pre-screened jury. With a trial which will be possibly four to five weeks long, it is important to pre-screen the jurors with a prewritten form. There is no way the courts can force everyone to sit on a five week jury, she emphasized. Especially in this economy when so many jurors may not be getting paid for that long.
"I don't want people losing their jobs and their homes because they have to sit on a jury…" was her final word.
The next court date for this case has now been set to July 11th, Wednesday, 8:30 am in the same court room, Department 109 of Clara Shortridge Foltz Criminal Justice Center.