Former Work Comp Adjuster Who Is A Brother Of San Bernardino Shooter Gets 3 Years Of Probation In Immigration Fraud Scheme


By Jorge Alexandria - November 19, 2020

"Who see always in the accused a fallen brother or wrongfully suspected, he will question well."

Dr. Hans Gross. Handbook for Examining Magistrates, 1893

Syed Raheel Farook aka Raheel Farook, a former Sedgwick CMS workers' compensation claims examiner, does not look unusual or menacing. In fact, he looks so ordinarily normal that he would otherwise be forgettable save for the fact he is the brother of San Bernardino shooter Syed Rizwan Farook.

Recall that in 2015, Rizwan Farook and his wife, Tashfeen, killed 14 people in a terrorist attack in San Bernardino. Both Rizwan and his wife died publicly in a shootout with police that made world headlines.

The FBI, known for leaving no stone unturned, naturally investigated the entire Farook family. That is when they discovered Raheel's role in an immigration marriage fraud scheme that allowed his wife's sister to remain in the United States. The bogus marriage was between Mariya Chernykh, a Russian citizen, and Enrique Marquez Jr., who emerged as a key figure in the terror attack. Marquez was sentenced last month to 20 years in prison for providing Rizwan Farook and his wife with the two assault rifles used in the attack, among other crimes.

After marrying on Nov. 29, 2014, Marquez petitioned the U.S. government to grant Chernykh legal residency, according to an FBI agent's affidavit filed in Marquez's case. Marquez told agents investigating the San Bernardino attack that he'd agreed to pose as Chernykh's husband in exchange for $200 a month, which Chernykh deposited in a joint bank account. Raheel Farook and his wife, Tatiana, signed a certificate attesting that they'd witnessed the marriage.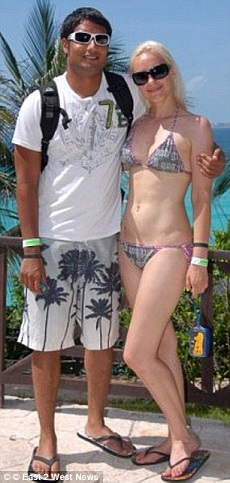 Syed Raheel and his wife Tatiana Chernykh in 2011. Source: MailOnline

Marquez and Chernykh posed together for photographs, and Raheel Farook submitted affidavits saying he would support the couple financially. Raheel also created a phony, backdated lease that purported to show Marquez and Chernykh had lived together for a year.
As their interview with immigration authorities neared, Marquez told Chernykh in a text message that he was "just a little anxious and want to talk more about the interview," according to the affidavit filed in his case. "OMG!! Enrique I'm the one freaking out here," Chernykh wrote back. "If they decline me," she added, "it's my problem not yours."
On Dec. 2, 2015, the day before the interview, Rizwan Farook and his wife, Tashfeen Malik, stormed a holiday potluck for staff at the San Bernardino County Department of Public Health, where Rizwan worked as a health inspector. Wearing ski masks and black clothing, they opened fire with the rifles that Marquez had purchased a few years earlier. They fired at least 65 rounds and fled before the police arrived, leaving behind pipe bombs hidden in a backpack, 14 people dead, and another 22 wounded.
At the time, before and during the terrorist attack, Raheel Farook had no idea what his brother had planned and he was horrified by the events of the day as they unfolded on national television. Raheel was gainfully employed at the time by Sedgwick CMS in Brea, California as a workers' compensation claim examiner, having gone through their Industry Advancement Program (IAP) as an entry level trainee. (However, as I predicted – mostly correctly- few in management at Sedgwick were willing to talk to me in the capacity as a reporter). Prior he had held a number of jobs — cell phone accessory salesman, bank teller, customer service representative — while attending Riverside Community College and Cal State Fullerton. The California Department of Industrial Relations website shows he earned the highly coveted self-administrators' license on 2-28-2018.


https://www.dir.ca.gov/osip/databases/adminpass/Default.aspx
Syed Raheel Farook was born in Chicago but moved at a young age with his family to Pakistan. After living for six years in Pakistan, the family returned to the United States, settling in Orange and Riverside counties. He attended Western High in Anaheim and later La Sierra High in Riverside. After high school he joined the U.S. Navy, obtained a top-secret security clearance, and worked as an information systems technician. He was deployed to Iraq for eight months. Thereafter he was honorably discharged and obtained a business degree from Cal State Fullerton.
The great irony: Raheel fought terrorists on foreign soil while his brother, Rizwan, became one on domestic soil.

Syed Raheel Farook arrives at the Federal courthouse for sentencing in Riverside on Monday, Nov. 9, 2020. (Photo by Terry Pierson, The Press-Enterprise/SCNG)
On Monday, November 9, 2020 Raheel declined to make a statement to the court and he did not seek leniency. He accepted responsibility and was sentenced to three years of probation for his role in the marriage scheme and was also ordered to undergo mental health treatment and pay a $100 fine. The mental evaluation is because previously Raheel suffered a mental breakdown over the circumstance of his fate, arrest, suppressed emotions, grief denied, and the inability to find a job. All that left him suicidal.
Everything comes with a cost. Sedgwick terminated Raheel's employment once he pled guilty to the "non- violent" crime. Yet, others within their organization that have pled guilty to other crimes, some violent, such as domestic violence, driving under the influence, and assault, continue to be employed. True, each circumstance and case is different.

Unlike, his brother, Rizwan, Raheel is not a terrorist murderer. What he did, lied to the federal government in order to shield his sister in-law from deportation, he did out of love for his family, the happiness of his wife, and the opportunity for his daughter to grow up with her cousin. He received no money in return. As a former federal agent (Dept. of Labor) I cannot encourage anyone to lie to our federal government.
However, I can tell you that our federal government lies to us. The Trump administration, for instance, has falsely blamed immigrants for many of America's woes. It misled us as to when it knew of the pandemic, it hid its severity, and then lied to shift the focus away from the pandemic. Our dishonest president, while in office, has uttered 22,247 lies or misleading claims, an average of 17-a-day since taking office.
Let's not be naïve. Telling lies has a value, and sometimes it's greater than the value of telling the truth. For example, lying may be justified when you are trying to save a life. If the Nazis came to your door in the early 1940s and asked you if you were hiding a Jew, the world would not judge you ill for lying to a Nazi officer.
That fascist regime may execute you on the spot but no one would fault you for your heroics. Here Raheel tried and failed to protect a loved one from our oppressive American administration, (who acquired a reputation for the harsh treatment of Muslim immigrants and for placing immigrant children in cages, among other abuses). Raheel should have known better but his heart was in the right place. That, unfortunately, is lost due to the vagaries of the criminal justice system.
Is there anyone out there in our claims or legal community willing to give Raheel, a remorseful, highly intelligent, educated, morally just man, a second chance?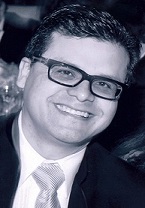 Jorge Alexandría is a former U.S. Government official (Labor Dept.) and an Army veteran who received his B.A. in Political Science from Cal State Los Angeles. He also graduated from Cal Poly Pomona with a Master's Degree in Public Administration.
He has more than 20 years of experience in claims handling, supervision, and risk management.
He can be reached at Riskletter@mail.com.
Any views and knowledge expressed in this article belong to Jorge Alexandria alone and do not represent any other organization or person.
Copyright by adjustercom and Lonce Lamonte (lonce@loncelamonte.com); all rights reserved