Entering Their 17th Year Of Service, Hutch And Son Reminds You To Celebrate Tau Day. It's Twice Pi!
"Maybe a small business that's been lost within a larger TPA," stated Carl Hutchison, the owner of Hutch And Son, when asked about the ideal client for his claims administration service. "It could be a small self-insured with six or seven hundred employees, any employer who felt like a little fish lost in a TPA's vast ocean. Your needs and concerns will be heard by us… "
Ready to step up, Carl Hutchison of Hutch And Son, has his headquarters located on the main business through-fare of Simi Valley on East Los Angeles Avenue, near the world-famous Hummingbird Nest Ranch. He is grateful to be in the workers' compensation industry, as it allows him to be of service to injured workers and their employers, as well.
"It is my belief that when you treat injured workers quickly, getting them well and back to work, it is not only a service to the injured, but a service to their employer," he says.
Carl thinks that in spite of all the terrible stories of fraud, treatment denials, doctor conspiracies, and insurance companies dragging their feet, there is still so much right with workers' compensation. "We never hear about the majority of claims which are handled well, treatment and benefits are provided with the injured workers made as close to whole as the law allows."
Hutch And Son ranked 4th
on the California DWC Administrative Director's 2014 Audit Ranking Report. That ranking of 4th was out of 47 Workers' Compensation claims TPA locations. Self Insurance Plans (SIP) Audits done every three years since 1999 have ordered no increases in reserves.
Hutch And Son in addition to handling regular workers' compensation injuries, also handles asbestos cases. Thus far, with asbestos, the handling has been done without the need for legal counsel. Carl wrote recently, "We are the lead terminal defendant on one case in San Francisco, but it looks like it's going to resolve."
Hutch And Son successfully tried a case on an AOE/COE issue to conclusion last year, including examining and cross examining witnesses. "I absolutely enjoy the challenges of defending an employer against a non-industrial or factually inaccurate claim. It's satisfying putting together a timeline of all the events in preparation of a deposition or trial. It was the highlight of my career to successfully try this AOE/COE case to conclusion this past year," Carl remarked.
He continued, "Most workers' compensation claims are fairly cut and dry. Unless a case is extremely complex, I am not a big believer in hiring defense counsel. As the claims adjuster, we may be more intimately involved in a claim and better suited to question an applicant or a doctor than defense counsel. We are very capable of aggressively defending an employer when warranted. And we have litigation experience including lien claims with bill review questions."
Carl tells the story of how a worker reported an injury just before this past Christmas. He had twisted his knee and felt a pop. The knee swelled up overnight. He reported the claim and was sent to a clinic. Hutch And Son expedited a requested MRI scan. The injured worker was a surgical candidate for a torn meniscus. The requested referral to the in-house specialist was initially approved for the end of January. But the injured worker wanted surgery as soon as possible.
Hutch And Son thus referred him to a different specialist who saw him on the last day of December. Surgery was performed on January 7th and he returned to work upon completion of his therapy.
"Because we are small we can attend to expediting treatment," Carl observed. "We have enough experience to understand that not every request needs Utilization Review (UR). This, in turn, provides better outcomes for the injured and less dollars expended for the employer with significantly less litigation."
Carl's view on Utilization Review (UR) is that it's a great tool for when there's something wrong with the claim or the request. It's not his standard operating procedure to send requests made by the Medical Provider Network (MPN) doctors to UR. "I know that this is the case in some insurance and TPA establishments. Places where UR and/or nurse case management are profit centers and not cost centers. When the injury or treatment is questionable, UR is a fantastic tool to assure any treatment provided is reasonable and necessary. But it should be kept in your back pocket."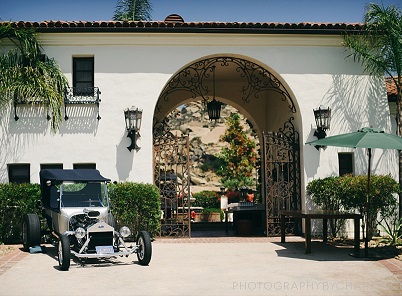 Hutch And Son is located near the world famous Hummingbird Nest Ranch in Simi Valley, California, an entrance to which is shown above
(stock photo)
Carl Hutchison, before starting Hutch And Son, worked for the TPA Associated Risk Services in the early 1990s and then moved to the TPA BCIS Services in the mid-to-late 1990s. He grew from a clerk to a claims supervisor in a decade, learning and performing all aspects of claims handling and managing employees. He also got experience as a hearing representative. He then in 1999 worked for Zurich North American for a short time before embracing Hutch And Son with 100% of his energy. He obtained his SIP (Self Insurance Plans) certificate in 1992 and his IEA Certificate in 1994.
At BCIS, Carl was also the manager of the information systems. Now with Hutch And Son, he praises his IT professionals with Risk Technologies who developed his versatile and affordable information system. He emphasizes that if anybody in claims is looking for the best IT professionals, these are the people. Not only is one of the co-founders, Mickey Mikesell, a superior IT guru, but according to Carl he is also a great goofball. He wrote, performed and recorded a song with his take on workers' compensation.
Hutch And Son offers it up here
for the readers' amusement.
But although Carl loves a joke or two, he takes all the responsibilities of his TPA seriously. He lets clients and prospective clients alike know his company will provide fast, efficient medical care to their injured employees and will actually care about them. Hutch And Son wants them to know they can and will investigate and aggressively defend against any questionable, potentially fraudulent claims. "We do contact the employer and the doctor on every claim. We do investigate cases with red flags."
Carl believes communication is the key when dealing with lost time cases. The injured worker is usually anxious and needs reassurance. "Informing them that they will receive treatment, care and benefits from us, can be relieving. Knowing that if they have any questions regarding the treatment that they can get an answer from us certainly can and frequently does ease injured workers' minds. We encourage second opinions being sought and we try to obtain referrals for specialists as quickly as possible."
Hutch And Son's best success stories include a worker who suffered a below the knee amputation and 18 months later returned to work doing his usual and customary. No attorney. Another worker lost his arm in a machine out in the middle of nowhere. Clean cut. They took him and his arm to the hospital and the one day out of the month when a vascular surgeon is on site is this particular day. They successfully reattached his arm. "We moved him from an upstairs apartment to a downstairs and got him a new bed to aid his recovery," Carl remembers. "Lucky guy."
It was during a meeting with a client back in the 1990s when this client asked him "Why don't you open up your own shop?" Carl didn't think much about it at the time, but some years later when he knew he was going to be changing jobs, he informed that client. The question came up again. So he did it. There was at first just a hand shake. It was a Caterpillar dealership in the Inland Empire for which his company still administers the workers' compensation claims to this day.