Features
Email A Friend
More Features
August 9, 2021
The Property Claims Investigation
July 29, 2021
The Examination Under Oath as a Tool to Defeat Insurance Fraud
July 28, 2021
Liability Insurance Is
January 16, 2021
Insurance HR Manager Who Participated in U.S. Capitol's Duck Dynasty Insurrection Loses His Job
Bring On The Holiday Party! 'Tis The Season. But Remember It's Still Work.


By Jorge Alexandria - December 10, 2013

Between first and third grades, I was kind of obsessed with my attire. I dressed up as Superman three days in a row, two days as Batman and Spiderman on Sunday. My tad older sister, Vicky, wasn't too keen on this, no doubt afraid that her childhood friends would judge her by my spandex body armor rather than her own worth as a person. She was guilty by association. Whether or not I like to admit it, my sister was right. People generally judge a book by its cover and the way we dress sends messages about us, and it influences the way we and others act.

Score years forward, I ditched the superhero suit in favor of a business suit and tie. I embraced a clean cut look and became a claims supervisor, believing that I would provide legal and technical advice to my claim staff. However, at one point my boss gave me the additional task of walking the beat around the office, through every cubicle, every morning acting as the fashion police-- as there were strict dress code rules to enforce. No hats, no jumpers, and no flip flops-- as the claims staff had to look professional.

I understood the desired objective. First impressions count and you never get to make a second first impression. To this vein employers, like CorVel in Rancho Cucamonga, are justified in issuing memorandums, like

this current one

requiring their employees to maintain a neat desk and neat dress and a good general appearance.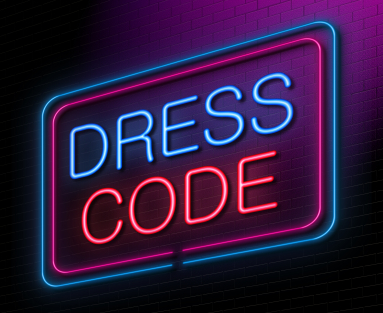 Check out the "peep toes" shoe regulation; only two toes can be exposed. Love it! Denaya Andrews, an Appeal/Denial Coordinator with Molina Healthcare, Inc. in Long Beach, reviewed CorVel's memo and indicated that she eats at her desk all the time and has seven (7) post-its plastered on her computer screen and numerous picture frames in and around her desk. She is really glad that her employer does not have such a strict office police as that of CorVel, and wrote, "there are bigger issues to worry about besides showing more than two toes! LOL."
If your desk in your cubicle or office is like mine, chances are you'll want to spruce up the dreary décor. But since you are sharing the space, well with the entire office, you may want to be sure your decorating decisions, including multiple post-its, don't alienate your co-workers or boss. If your desk is messy, your boss will assume your work is messy as well. So clean it up.
It's perfectly okay to liven it up with pictures of your kids, pets, or whatever moves you. But suggestive posters of men or
Keep grooming products at home, or at least not in plain sight. Your desk is not a bathroom.
women clad in speedos or bikinis (a la Baywatch variety) are definitely not appropriate. If in doubt, take it down.
I would personally go for a Claude Monet painting, as this is neutral and fail proof. It also exudes sophistication. Keep grooming products at home, or at least not in plain sight. Your desk is not a bathroom. Remember you want your desk to reflect your hard serious work and not your crass sinister humor.
I once had an adjuster display his extensive Dungeons & Dragons collection on top of his cubicle. It gave me the creeps. I stayed away fearful to confirm my suspicion of him worshipping Satan. Also, since you are going to sit at your desk for at least five hours out of an eight hour day, make it as comfortable as you can but leave the pillows at home.
But what is business casual? Beginning in the late 1990s, fueled in part by the youthful makeup of the dot-com business leaders, the trend away from traditional business attire took hold and insurance carriers along with third-party administrators began instituting "business casual" days. The reality is, nobody has really defined what business casual means, and it means different things to different people, firms, or offices within the same organization. Does it mean khakis and a polo shirt? Can it mean sandals or jeans? No tie? Loafers? No socks? Can it mean looking like Kurt Cobain or like Melanie Griffith's street smart working-class character in 1988's Working Girl?
I think it means appropriate business dress and you have to take a cue from the company's culture. This is an insurance company after all; therefore, go conservative. Save your provocative clothes for Las Vegas and resist the urge to wear sunglasses. Sunglasses conceal the eyes, create a barrier, and don't enable direct eye contact to help establish trust to grow the employer/employee or the carrier/insured relationship.
In a claims review, attire is critical. I am often dumbfounded on how sloppy claims adjusters can dress for them. While the work you've done in a file will speak for itself, how you dress is also a means of communicating with the insured. It speaks volumes about you. For men, the classic navy suit is a fail-safe choice. Black, charcoal, as well as pinstripes is also appropriate. Brown or green, on the other hand, are absolutely out of vogue as a business suit color, and are considered dull—and its wearer, duller.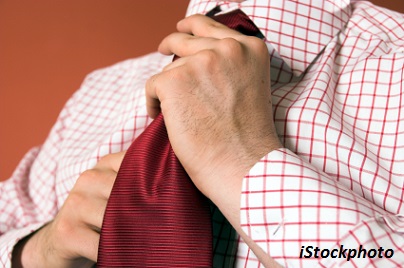 Leave those for the cheesy attorneys who think it's still the 1970s whom we've all seen walking the halls of the WCAB. (The problem with lawyer jokes is that lawyers don't think they're funny.) When it comes to shirts, men should opt for white or light blue. The "Wall Street shirt" is a fabulous look but one must earn the right to wear one. With this I mean that just because you dress like a seasoned claims examiner doesn't make you one. You've got to have the real stuff underneath.
Insofar as accessories go, people notice the tie a man wears. It is considered a reflection of his personality. Stay away from loud colors, such as orange, and avoid polka dots. While they may add spice to your romantic life, they will not enhance your professional image.
Last, people will absolutely notice your shoes, so don't mess that up. This is especially true if you are standing in front of someone shaking your hand or making a presentation. If they are worn, scuffed, or poorly maintained, they will notice. If they are not the right color to complement the rest of your attire, they will notice. Once I had the opportunity to hear Sandy Weil of Citigroup (aka Travelers Insurance) address the issue of gentlemen's shoes. He himself was wearing brown leather
... and as with fragrance: less is more. An overpowering scent, no matter how attractive, will not enhance your professional image.
Italian loafers with tassels. Two paragraphs were devoted in the LA Times the next day to what Mr. Weil had to say about men's shoes. "Men should wear the black presidential tie shoe", he said, "until they earn the right to wear these (Italian tassel loafers)." This was from a man of stature and prominence. The right to wear funky shoes must be earned!
As to women's attire, a few observations stand out over the years. White hosiery and white shoes are a taboo unless you are a nurse. Hats are lovely, especially around Buckingham Palace, but they are not considered professional. Jewelry should not be ostentatious and as with fragrance: less is more. An overpowering scent, no matter how attractive, will not enhance your professional image. Also, purses belong, while in a meeting, under the table by your feet and not slung over the back of your chair.
Due in great measure to the popularity of ex-secretary of state, Hillary Clinton, the pantsuit is more widely acceptable for women in today's business environment. Also, color has power. Some call it the red effect. In a study published recently in the Journal of Experimental Social Psychology, men viewed women wearing red as more attractive than those wearing white or green.
Final words of advice: with Christmas and company parties just around the corner, there may be the temptation to let loose and show off your personal, more fashionable side. This is understandable. However, while a company party is called a party, it is not. It is still work. Therefore, your choice of attire should be business dress. Keep in mind these are still the same claims assistants, adjusters, supervisors and claims managers you will see and face the next day at the office and around the conference table.
Alright! Now let's bring on the holiday season. Have a good time at the company party!
Merry Christmas.
Jorge Alexandría is a U.S. Army veteran who received his B.A. in Political Science from Cal State Los Angeles, and graduated from Cal Poly Pomona with a Master's in Public Administration.
He holds both a California Workers Compensation Claims Professional (WCCP) designation and the State of California's Self-Insured Administrator's License. He has more than 20 years of experience in claims handling, supervision, and risk management.

He currently practices federal workers' compensation of maritime interest.

He can be reached at
Riskletter@mail.com
. The views and knowledge expressed in this article are Jorge Alexandría's alone.
© adjustercom. All rights reserved.