People
Email A Friend
More People
February 26, 2020
Cheryl Scott, City Of Glendale Workers' Compensation Administrator, To Retire At End Of March 2020. She plans to work part-time and be in the audience at the Hollywood Bowl.
November 17, 2019
Lynda House, Veteran Workers' Compensation Claims Adjuster, Enjoys Not Being Retired In Retirement.
August 21, 2018
Sheri Lawrence Joins Sempra Energy As Employee Care Services Manager After 29 Years Of Workers' Compensation Claims Experience
June 19, 2018
I, Harold David Anderson, Am Retiring From The Claims And Sales World, But Not From Work. I'm Moving On To Become A Full-Time Writer.
Veteran Defense Attorney Ian Paige Takes On The San Francisco Bay Area After Life In The San Fernando Valley.


By Lonce LaMon - March 20, 2013

Ian Paige, who was born in Rome, Italy, and grew up in Southern California's San Fernando Valley, has just moved to the San Francisco Bay Area where last month he took up the position of Senior Managing Attorney with the Stockwell Firm in their San Francisco office. He's been enjoying living in hotels to start out his transition north and is diving into his working relationship with Jan Fuchs, who is the Managing Attorney of the San Francisco Stockwell office, presently located on Kearney Street.

Ian came from Stockwell's Los Angeles office where he was a Vice President and oversaw the Lien Unit. "Jan Fuchs will be continuing as manager, and we will be working together," Ian explains. He confirms that he is the senior managing attorney over Jan Fuchs as the managing attorney which isn't "just because of the years I've had with Stockwell but because I have much more grey hair than he has."

Ian Paige's plans are to maximize the potential of the Stockwell Bay Area office and to move it to Oakland this year. He is searching for the new office location as well as an East Bay residence for himself with his wife Myra.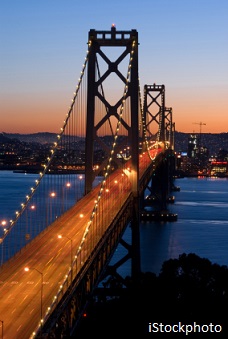 The Oakland Bay Bridge at sunset

His decision to move was both a professional and personal one. His daughter lives in the Berkeley area and his grandson was born on Halloween just last year. "Sammy" is a delight to Ian and he is amazed at the growth Sammy has undergone in just four short months. Ian has three offspring and his oldest is now 29.

"I think when you're there every day and every night with your own children, the changes that they go through are sort of incremental and they build up a little bit at a time. But you don't really see the milestone changes like how I'm seeing in Sammy once a week or every 10 days. Then the changes are not on a day-by-day basis but they are more like milestones. It's amazing.

"Like the ability to reach out and grab toys and bring them in to himself now as opposed to a month ago. The muscle control. And those things are fascinating."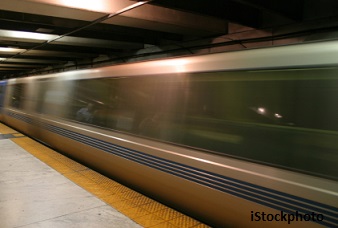 BART (which stands for Bay Area Rapid Transit) tunnels under San Francisco Bay connecting San Francisco and Oakland! Commuters travel easily between San Francisco and the East Bay.

Ian has been with the Stockwell firm since 1986 and prior to Stockwell he worked for other firms. He attended San Fernando Valley College of Law. A few other Stockwell lawyers share some of his geographical and educational history. For instance, Co-President Steve Harris and Ian went to the same elementary school, and one of the San Francisco attorneys, Mark Willens, went to the same high school as Ian. He gets a kick out of the overlapping places his colleagues have been just like him, and remembers also that fellow Stockwell lawyer Richard Green "attended Cal State Northridge which is right around the corner from my house."

But now working and living in the San Francisco Bay area is what he wants to do. "It's so exciting," he says. "I'm still in the process of learning the geography. I don't have all the street names memorized. I have been enjoying taking the BART. That's been quite an experience. I've met some interesting characters."

Moving the Stockwell office from Downtown San Francisco to Oakland, Ian feels is the right move. "It's better for client relations; it's better for client communication. We also have substantial business at the Oakland board, and at the other boards near there in California. It seems that Oakland is an up and coming city—and has been for a while. Oakland has its issues but it also has its real benefits. So we're looking to take advantage of that."

So, what does he think are Oakland's benefits?

"Bart access is better. Freeway access is better because of the traffic patterns. The cost factor. "

Ian's plans are also to continue to benefit the Stockwell clients with all of the communication of litigation skills, and to work together to "make sure that we maximize the potential of everyone in the office.
"I've had the chances to do really good work and have good relationships with the clients. And I think that's why I have been there. "