News
Email A Friend
More News
December 7, 2023
California Division of Workers' Compensation Posts Adjustment to Official Medical Fee Schedule (Ambulance Services)
December 7, 2023
California Divison of Workers' Compensation Announces Move of Stockton Office to Lodi
December 4, 2023
California Division of Workers' Compensation (DWC) Opens Registration for 31st Annual Educational Conference
November 30, 2023
Japan plans to expand their workers' compensation system to protect all freelance workers and professionals. Soon, all types of freelancers will be able to buy the insurance and make claims.
The 76th Annual Workers' Compensation Educational Conference this August 21st – 24th 2022 with prominent role for Sedgwick


By Lonce Lamonte and the news release from Sedgwick - August 20, 2022

The Workers' Compensation Institute (WCI) will celebrate the 76th Annual Workers' Compensation Educational Conference and the 33rd Safety & Health Conference in Orlando, Florida on August 21st-24th 2022. That's Sunday through Wednesday.

An array of stakeholders representing all facets of the industry will once again begin a dialogue and exchange ideas about how to improve workers' compensation systems and the injured employee experience. As in years past, Sedgwick will play a prominent role at this event — highlighting some of the industry's most advanced solutions and concepts within the workers' compensation arena.

Giving back

Join us Saturday, August 20th for a volunteer day and gala to support Give Kids the World (GKTW) Village, an 89-acre, nonprofit "storybook" resort in Central Florida where children with critical illnesses and their families are treated to weeklong, cost-free vacations. Last year, even amid the COVID-19 pandemic, the WCI community continued its ongoing support of GKTW. Under Doug Clark's leadership, WCI volunteers and donors raised over $125,000 during the WCI 2021 service day, silent auction and gala. Tune in Monday to hear Doug announce the fundraising results for 2022.

Opportunities to embrace, elevate and expand your view

Throughout the educational sessions, Sedgwick leaders will cover 13 topics — from advancing medical care and streamlining claim processes to addressing pain management and talent concerns. The lineup includes experts like David Stills, Teresa Bartlett, Michelle Hay, Jeff Ziblut, Andrea Buhl and more.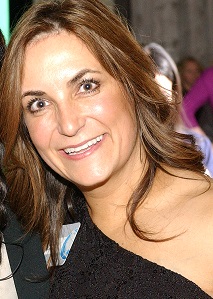 Kimberly George in April 2013. photo by Lonce Lamonte, copyrighted with all rights reserved

A packed house is especially expected for the Monday morning keynote about the battle for talent hosted by Sedgwick's own Kimberly George and Safety National's Mark Walls. And with talent on your mind, be sure to register for The Alliance of Women in Workers' Compensation workshop on Wednesday morning for insight on cultivating a strong culture and talent management strategy.
Find us at booth #803 in the exhibit hall to connect with leaders throughout the conference.

By adjustercom editor Lonce Lamonte, lonce@adjustercom.com, and the news release from Sedgwick's news page at "News and Media" at www.sedgwick.com