Attorney James McAdam's Death Leaves Maritime Claims Community Saddened


By Jorge Alexandria - June 10, 2020

Longtime beloved applicant attorney James Michael McAdams, 74, died June 4, 2020.

I knew Jim. Jim was a friend of mine. During my tenure with the US Department of Labor's Office of Workers' Compensation Program (OWCP) we interacted on a daily basis. Jim was the go-to-guy for maritime worker's compensation claims and several of the Appeals he handled on behalf of injured dockworkers under the Longshore Act resulted in the creation of favorable laws.

Jim treated everyone with kindness — from his clients, OWCP staff to judges. I'd say he was extremely easy to talk to. He had, I hate to use the word, but he had a Matlock presence just like the old TV show. You trusted him, you talked to him and you believed him.

He also possessed a great sense of humor and always a story to tell. He was very personable. He talked common sense and it did not hurt that he was married to a former claims assistant, Grace [Villalino] McAdams, so he understood the lives of claims professionals.

Jim was born in Hobbs, New Mexico on June 29, 1945, to Harry M. and Gladys [Crume] McAdams. He graduated from high school as valedictorian and class president. He then attended the University of New Mexico on scholarship, where he obtained his BA and MA degrees. While in graduate school, he interned for the New Mexico Secretary of State and wrote his thesis on the office of Attorney General. His political leanings may have been influenced by his father, who later was a New Mexico state senator.

McAdams attended the Naval Officer Candidate school in Newport, Rhode Island and was promoted to full lieutenant. After completing law school at USC, Jim selected his legal career to be of service in protecting the rights of injury victims, initially with the L.A. firm of Magana, Cathcart, and Pierry, and eventually with his own San Pedro partnership of Pierry & McAdams, LLP.

Predeceased by his parents, he is survived by his wife of 31 years, Grace [Villalino] McAdams. Other survivors include son Raymond McAdams, a San Pedro artist; sister Diane Gladow (Dean) of Emporia, Kansas; stepson Karl Villalino (Deanna) of Glendale, Arizona; grandchildren Elizabeth and Matthew Villalino, great-grandchild Michael Villalino; and a large number of nieces, nephews, and in-laws.

Interment will be at Green Hills (Rancho Palos Verdes), and a celebration of life ceremony is pending.

From one Christian to another, I'll see you later, Amigo!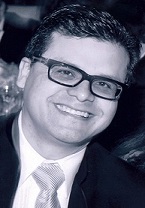 Jorge Alexandría is a former U.S. Government official (Labor Dept.) and an Army veteran who received his B.A. in Political Science from Cal State Los Angeles. He also graduated from Cal Poly Pomona with a Master's Degree in Public Administration.
He has more than 20 years of experience in claims handling, supervision, and risk management. He can be reached at Riskletter@mail.com.
Any views and knowledge expressed in this article belong to Jorge Alexandria alone and do not represent any other organization or person.
published by adjustercom and Lonce Lamonte, lonce@adjustercom.com, all rights reserved