Elizabeth Molina Zimmerman, Corvel Claims Adjuster, Dies At Age 55


By Jorge Alexandria - November 21, 2019

Elizabeth Molina Zimmerman died October 31, 2019 at Kindred Hospital in Los Angeles surrounded by family and friends. She was a veteran workers' compensation claims assistant and medical only examiner.

Before she gave up her spirit, she told everyone that she cared for them, and that she wanted people not to have to go through the same fight she went through. She is survived by daughter, Alyssa, age seventeen and a high school student.

Ms. Molina-Zimmerman died of breast cancer.

Elizabeth Molina was born on May 16, 1964. In 1987 she graduated from East Los Angeles Community College with an associate degree in both liberal arts and psychology. Immediately she began working as a workers' compensation claims assistant at temporary assignments at Risk Enterprise Management in Brea, CA; AIG Claim Services in Costa Mesa, CA.; and San Diego Gas & Electric Company.

From 2006 through 2008 she found regular employment at Employers Insurance Group in Glendale, CA. Her final tour of duty began in October 2015 at Corvel Corporation in Rancho Cucamonga, California. There she rose to become a medical only examiner handling municipality claims for four years.

I wish Elizabeth Molina-Zimmerman instead was a cancer survivor rather than cancer victim. The truth is cancer is a known killer.

Breast cancer occurs when normal cells mutate and multiply faster than usual. This uncontrolled multiplication of cancer cells creates tumors within the breast tissue. This type of cancer is the most common cancer among women in the United States.

Approximately 12.8 percent of women will be diagnosed with breast cancer at some point during their lifetime. This year alone, 1.5 million were diagnosed with the disease.

Breast cancer, if caught early, may not spread at all.Unfortunately, by the time doctors figured out Elizabeth Molina-Zimmerman had breast cancer in February 2019, it was at stage 4. At this stage breast cancer is not curable and Elizabeth's treatment was aimed to prevent it from spreading any further to the lymph nodes, lungs, bone, brain or liver.

She courageously fought but she had a tremendous fight ahead of her and struggled with the disease, never giving up. Inevitably, she made the decision to stop all medications and left the situation in God's hands. She passed away in grace and in peace. Her last night was spent with friends and family with soft music in the background; it was a celebration of her journey in life and her next journey to come with our Heavenly Father that awaited her.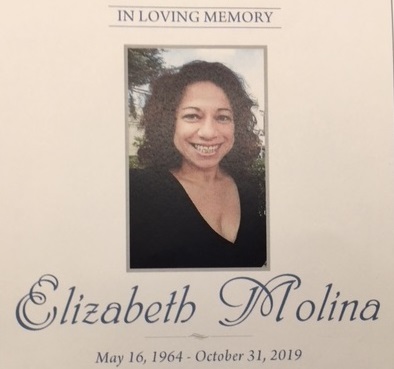 Funeral mass was held on Friday, November 15, 2019 followed by a Celebration of Life under the care of Funeraria Del Angel in Lincoln Heights in Los Angeles, California.
Elizabeth Molina Zimmerman is mourned and fondly remembered by her colleagues at Corvel Corporation and the Southern California workers' compensation claims community.
In her honor, may we raise awareness against breast cancer so a cure can be found.
Video link:
https://www.dignitymemorial.com/obituaries/los-angeles-ca/elizabeth-molina-8910618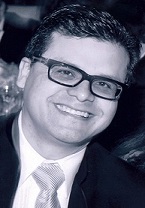 Jorge Alexandría is a former U.S. Government official (Labor Dept.) and an Army veteran who received his B.A. in Political Science from Cal State Los Angeles. He also graduated from Cal Poly Pomona with a Master's Degree in Public Administration. He has more than 20 years of experience in claims handling, supervision, and risk management. He can be reached at Riskletter@mail.com. Any views and knowledge expressed in this article belong to Jorge Alexandria alone and do not represent any other organization or person.
Do you know someone recently departed who had a claims-related career and whom you feel should be honored with an obituary? Contact Jorge Alexandria at riskletter@mail.com.
Published by adjustercom and Lonce Lamonte (lonce@adjustercom.com), all rights reserved. www.adjustercom.com.