News
Email A Friend
More News
December 6, 2019
California Department of Insurance Arrests Suspects In San Diego Organized Auto Fraud Ring In $500,000 Operation Dealer's Choice
November 29, 2019
Former NFL Tight End Kellen Winslow Sr. Files Workers' Compensation Claim Claiming Brain Injury
November 23, 2019
Darrell Brown, Sedgwick So Cal Claims Executive, Dies At Age 52. His Memorial To Be Held on November 30th 2019 In Inglewood, California
November 23, 2019
California Division of Workers' Compensation Announces 2020 Profile Audit Review and Full Compliance Audit Performance
Memorial Services For Radcliffe T. Alvarez Set For Friday, August 9, 2019


By Jorge Alexandria - August 7, 2019

"Cliff was very helpful and he always had a smile and a kind heart for everyone" Arlene Hazelrigg, President of Hazelrigg Claims Management

Memorial services for workers' compensation claims examiner Radcliffe "Cliff" T. Alvarez will be held Friday, August 9, 2019. The visitation will run from 4:30 p.m. – 8:00 p.m. followed by funeral services Saturday, August 10, 2019 from 2:00 p.m. – 4:00 p.m. Both will be held at Green Hills Mortuary and Memorial Park, 27501 South Western Avenue, Rancho Palos Verdes, CA 90275. Per a Facebook posting, mourners are encouraged to wear light or pastel colored clothing. This is not necessary but preferred by the family.

Cliff, aged 54 at the time of his death, was born on March 4, 1965. He passed away on Saturday, July 13, 2019 from a heat stroke while running a marathon. He was a United States Marine Corps veteran and served with distinction in Operation Desert Storm during the Gulf War. He was also a rising star at Hazelrigg Claims Management's office in Chino Hills, California. He is survived by his daughter, Carissa, his parents, his ex-wife, his brothers, and sister.

A heat stroke occurs when the body's temperature rises faster than it can cool down. Heat exhaustion is caused by loss of water, and in Cliff's case through exercise. July through August are the most dangerous months for heat. Experts advise not to be fooled into thinking you can do the same work or work out at the same intensity in high heat. At a minimum, a work out in high heat requires regular hydration combined with cooling breaks. If we are to learn anything from Cliff's death, and I'm certain Cliff would have desired that, is that heat stroke is a serious emergency. Call an ambulance immediately. While waiting for help, get the person to an air-conditioned space, soak clothing with cool water, and sponge cool water on the face and arms.

Cliff Alvarez was a good friend to many, and without his guidance and tutelage, many would not have made it as far as they did in their claims professions. Cliff, may your soul be in peace forever. Now you are free but we lost someone precious.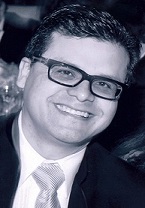 Jorge Alexandría is a former U.S. Government official (Labor Dept.) and an Army veteran who received his B.A. in Political Science from Cal State Los Angeles. He also graduated from Cal Poly Pomona with a Master's Degree in Public Administration. He has more than 20 years of experience in claims handling, supervision, and risk management.

He can be reached at Riskletter@mail.com. Any views and knowledge expressed in this article belong to Jorge Alexandria alone and do not represent any other organization or person.
Published by adjustercom and Lonce Lamonte (lonce@adjustercom.com), all rights reserved. www.adjustercom.com.