Cliff Alvarez Of Hazelrigg Claims Management Dies From A Heat Stroke.


By Jorge Alexandria - July 21, 2019

Sad news out of Chino Hills, California and Hazelrigg Claims Management: Cliff Alvarez, a rising workers' compensation claims examiner, died on Saturday, July 13, 2019, from a heat related illness.

Cliff died doing what he loves best: running a marathon. Unfortunately, he suffered a heat stroke and help did not come immediately. Temperatures in the Chino Hills, California area that day had reached 94 degrees when Cliff became ill. When the body's temperature rises faster than it can cool down, "heatstroke" occurs, damaging the brain and other vital organs.

Cliff was born in the Philippines. He came to the United States at the age of 14 to live with his father. At the age of 18, he joined the United States Marine Corps and served in Operation Desert Storm. After serving our country, he took up residence in Las Vegas where he worked in security for several years.

In 2004, Cliff moved to California, joined our claims community, and began working at Hazelrigg Claims Management.

Cliff was an avid cyclist and athlete. He enjoyed the outdoors, loved animals, and enjoyed riding his mountain bicycle up Mount Baldy, California, challenging himself with century rides, taking part in cycling races, obstacle runs, hiking, and running 5 kilometer races.

He is survived by his daughter, Carissa, his parents, his ex-wife, his brothers, and sister.

Cliff was the nephew of Arlene Hazelrigg, President of Hazelrigg Claims Management. Arlene described Cliff as, "very helpful and he always had a smile and a kind heart for everyone".

Arlene expressed gratitude to the claims community for all the kind words and condolences that have been conveyed to her and Cliff's family by the claims community. It is indeed heartfelt that Cliff Alvarez was well-loved by so many.

As of this writing, Cliff's body has not been released yet by the coroner. As such, funeral arrangements are pending.

Title photo courtesy of Arlene Hazelrigg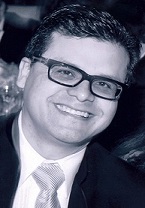 Jorge Alexandría is a former U.S. Government official (Labor Dept.) and an Army veteran who received his B.A. in Political Science from Cal State Los Angeles. He also graduated from Cal Poly Pomona with a Master's Degree in Public Administration. He has more than 20 years of experience in claims handling, supervision, and risk management. He can be reached at Riskletter@mail.com. Any views and knowledge expressed in this article belong to Jorge Alexandria alone and do not represent any other organization or person.
Published by Lonce Lamonte (lonce@adjustercom.com) and adjustercom; all rights reserved. No reprints allowed without advanced written permission from the publisher.