Long Beach financial advisor Tom Fallon sentenced to over 10 years in state prison after embezzling nearly $1 million from workers' compensation claimants


By Lonce Lamonte and the California Department of Insurance - July 18, 2019

Tom Fallon, a 65-year-old Long Beach insurance agent, was sentenced Thursday, July 18th 2019 in the Long Beach Superior Court after being convicted in an open plea of 25 criminal counts of money laundering and grand theft. Fallon was sentenced to 10 years and four months in state prison. Restitution was ordered in the amount of $995,118.

A year-long investigation by the California Department of Insurance found that Fallon convinced his victims to deposit their workers' compensation settlement checks into Workers' Compensation Medicare Set Aside Accounts (WCMSA), as required by law. However, Fallon convinced his victims to deposit their settlement funds with companies he owns in order to embezzle $995,118 for his personal gain and to fund various other businesses. One of the businesses was Big Daddy's Cigar Lounge in Long Beach.

"Fallon abused his clients' trust in order to access their money and then stole it to stuff his own pockets," said Insurance Commissioner Ricardo Lara. "Fallon's callous actions ruined lives. Thanks to the hard work of investigators at the Department of Insurance and the Los Angeles County District Attorney's office, his victims have justice."

Fallon worked in the same office as the victims' attorney and urged victims to deposit their funds in a WCMSA with his companies, Fortis Financial Insurance Services, Inc., and Legacy Group Financial. Evidence obtained by investigators revealed that victims' funds were deposited into Fortis Financial & Legacy Group Financial -- and no WCMSA accounts were ever established.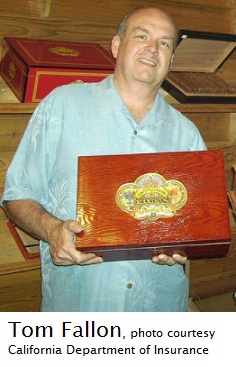 During the victim impact statements that were held on June 4, 2019, most of the victims had the opportunity to address Judge Daniel Lowenthal in an open court hearing. Victim after victim appealed for justice to be carried out. Many of the victims took the court through each detail of their excruciating journeys such as losing their homes, their way of lives, their retirement nest eggs, and in one case a victim took her own life because she was unable to cope with the impact of her loss.
Judge Lowenthal stated in open court that in all his years on the bench, he had never been so moved by the victim impact statements presented before him that day.
Fallon's license was suspended the day of his arrest, July 19, 2017. The Los Angeles County District Attorney's Office prosecuted this case.
July 21, 2017 Tom Fallon article on adjustercom
lonce@adjustercom.com, Lonce Lamonte,, journalist; all rights reserved by Lonce Lamonte and adjustercom.