Shaddi Kamiabipour, Lead Prosecutor In Landmark Case, Agrees To Dismiss June 2014 Indictment With Remaining Defendant, Bruce Curnick


By Lonce Lamonte - February 15, 2019

On Thursday, February 14th 2019, which was St. Valentine's Day, the case which has become known as the Landmark case had further proceedings in Orange County Superior Court in court room C-41 of the Honorable Sheila Hanson.

After a ruling by Judge Hanson on February 8th, Friday, which stated the prosecution, led by senior deputy district attorney Shaddi Kamiabipour, did violate and invade the attorney-client privilege confidentiality rights of Landmark after the seizure of their documents by search warrant, Ms. Kamiabipour agreed Thursday to dismiss the 2014 indictment. Former Landmark vice-president Bruce Curnick was the only remaining defendant in that indictment.

Ms. Kamiabipour has stated she will refile the charges against Bruce Curnick. The reason she's dismissing the charges is because a D.A. investigator, Fred Nichols, was "tainted" during the investigation, meaning he was exposed to attorney-client privileged materials, and then he testified before the grand jury.

That indictment which was brought forth with another companion indictment by a grand jury to all 15 defendants in this case in 2014, had all counts except for the counts against Bruce Curnick dismissed in March 2016 by a successful writ of mandate spearheaded by defense attorney Benjamin Gluck. Gluck is the lead defense attorney on this case and represents Landmark CEO Kareem Ahmed.

Ahmed and his 14 co-defendants are predominantly charged with the illegal manufacturing and distribution of compound pain creams to workers' compensation claimants. Kareem Ahmed is alleged to have paid over 25 million in kick-backs to physicians over a two and a half year period from mid-2010 to year's end 2012.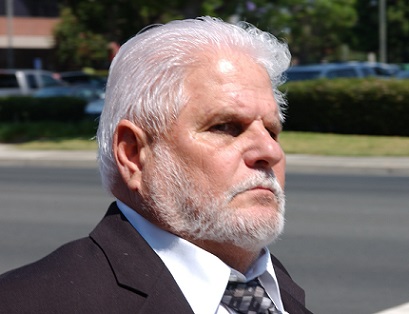 Dr. Michael Rudolf, shown above leaving Orange County Superior Court on July 29th 2016, has been charged with involuntary manslaughter in the death of an infant, conspiracy, preparing false and fraudulent material writings to commit billing fraud, illegally manufacturing transdermal creams, and taking kick-backs. His attorney is Vicki Podberesky. photo by Lonce Lamonte, all rights reserved

Lawyers milled around the court room on Thursday as some strolled in and out of the judge's chambers. Jeffrey Isaacs and Vicki Podberesky chatted at the left end of the lawyers' table, where the defense is always stationed, before Judge Hanson took the bench. Vicki wore an exquisite long-sleeved black sweater top with a long skirt on her model thin figure with her strikingly long, full and curly salt and pepper hair on this morning of pounding rain.
Jeffrey Isaacs is counsel to Yvette Charbonnay, the marketing manager of Landmark Medical, who now lives outside California. Vicki Podberesky is counsel to Dr. Michael Rudolf, a pharmacist who is accused of producing some of the mass quantities of compound medications that Landmark Medical pushed doctors to distribute to injured workers.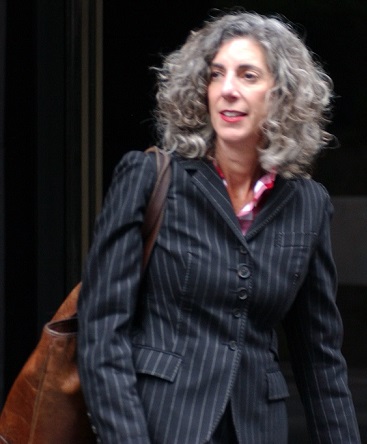 Vicki Podberesky, defense attorney for Dr. Michael Rudolf in the Orange County Landmark case, leaves the downtown LA court house on April 8th 2016 where she has been defending Maria Turley in the Criminal Organization Munir Uwaydah case. photo by Lonce Lamonte, all rights reserved.

Ms. Podberesky also is presently the attorney for Jose Huizar, a Los Angeles City Counselman, who is accused of corruption within the City of Los Angeles government for improperly taking campaign contributions from contracted real estate developers plus soliciting contributions from those developers and wanna-be developers for a school where his wife was in charge of fund-raising.
Benjamin Gluck emerged from the judge's chambers in a fine grey suit and took his place at the attorney's table in his usual place next to his court partner, Nicole Van Dyk, who was all in black. Alas, the judge emerged from chambers.
She set Bruce Curnick for pretrial on April 26th 2019. Prosecutor Shaddi Kamiabipour will dismiss the Indictment with Curnick as the remaining defendant just before she refiles the charges. So, most likely the charging document will be a complaint by that date.
Other court dates were set: Dr. Craig Chanin and Sandra Martinez for July 12th. Kareem Ahmed was set for April 5th. The defense for Ahmed plans to meet and confer.
Judge Hanson: April 5th 2019. The defense plans on meeting and conferring. I want to make sure parties have been informed. The court will be proceeding as to the Kastigar hearing.
The Kastigar case was a case in 1971 that wound up with the United States Supreme Court making a ruling on the issue of whether the government's grant of immunity from prosecution can compel a witness to testify over an assertion of the Fifth Amendment privilege against self-incrimination. The Court held that the government can overcome a claim of Fifth Amendment privilege by granting a witness "use and derivitive use" immunity in exchange for his testimony.
The defense will be examining the testimonies the defendants gave to the grand jury and reviewing charges that were made with possible information presented to the grand jury from defendants granted use immunity. The evidence used to charge any defendant has to come from an independent source outside of such defendant's testimony to a grand jury and including members of the prosecution.

lonce@adjustercom.com