News
Email A Friend
More News
June 19, 2019
California Workers' Compensation Appeals Board Posts Proposed Updated Rules of Practice and Procedure for Public Comment
June 18, 2019
California's Division of Workers' Compensation to Revise Independent Medical Reviews (IMR), Independent Bill Reviews (IBR) Requests for Proposal
June 13, 2019
Paul Turley, D.C. To Testify In Dr. Uwaydah Criminal Organization Case In L.A. Judge Concerned With Turley's Proffer Stating Uwaydah Controls Everything From Lebanon.
June 13, 2019
California Division of Workers' Compensation Posts Adjustments to Official Medical Fee Schedule (Physician Services / Non-Physician Practitioner Services)
California Department of Insurance Detectives Escort Adjusters and Survivors into Paradise


By Lonce Lamonte with the California Department of Insurance - December 20, 2018

Due to multiple hazards and blocked roadways, many Camp Fire survivors were unable to return to the restricted burn area to assess their losses. To assist in getting homeowners and insurance company adjusters access to the damaged and destroyed properties as soon as possible, detectives with the California Department of Insurance have assisted Paradise residents by taking fire survivors and insurance adjusters into restricted areas decimated by the Camp Fire.

The restricted access and hazards were leading to delays in claims processing, so the department's enforcement team stepped in to assist. For the past two weeks, CDI's law enforcement officers have escorted insurance claims adjusters into restricted areas. Department detectives escorted adjusters and homeowners to 1,271 properties, more than 1,100 of which were completely destroyed. The team's efforts resulted in allowing more than a dozen insurers begin processing 1,243 claims for property and auto coverage.

Now insurers are able to start writing checks to policyholders after property damage has been assessed.

"I deployed our detectives to assist homeowners in gaining access to their properties so they could take the first step in the very difficult recovery process," said Insurance Commissioner Dave Jones. "The response to this disaster has been extraordinary. Communities, agencies and law enforcement have come together to help the survivors of the most destructive fire in California's history, and my department remains committed to assisting Butte County residents through this trying time."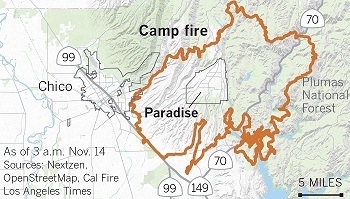 Due to the magnitude of the Camp Fire, the Butte County Sheriff's Office asked for assistance in escorting adjusters into the area in order to help residents of Paradise begin receiving policy benefits/payments. The department frequently works with local law enforcement and other state and federal agencies during and after disasters to provide assistance, help survivors and offer expertise. The detectives' expertise is also helpful in spotting potential scams or fraud.
Following disasters the department deploys the Disaster Assistance Response Team (DART) to canvas neighborhoods looking for unlicensed contractors, adjusters and other scam artists that target vulnerable wildfire survivors. With few homes still standing in Paradise, detectives have attended town halls and community meetings in lieu of going door to door in order to reach homeowners and deliver warnings about scam artists and provide information to assist with their recovery. Detectives have also met with residents one on one to address concerns and get information to help them spot a potential scam.
# # #
Lonce Lamonte, editor, adjustercom, lonce@adjustercom.com, and the California Department of Insurance