Jonathan Hall, LAPD Officer Convicted Of Perjury By A Los Angeles Jury, Tells LA Times He's Talking About His Workers' Compensation Fraud Now Because He Has Nothing More To Lose.


By Lonce Lamonte - July 23, 2018

I sat down in the court room, Department 131, of Clara Shortridge Foltz Criminal Justice Center in downtown Los Angeles on the morning of May 26th 2016. There were few people in the court audience seats, so it wasn't too hard for the defense attorney of former Los Angeles Police Officer, Jonathan Hall, to spot me, even though he'd never seen me in person before. I was nearly alone in the second row.

Attorney Steven Levine looked at me for several long seconds with a strong smirk on his face from the end of the table where he sat before the judge's bench. I didn't know what that was all about. Was he smirking because I was catching him with his hand in the cookie jar or something? I had no clue. This day was supposed to be Jonathan Hall's sentencing on his November 13th 2015 conviction by a jury on one felony count of perjury committed during his deposition pertaining to his allegedly fraudulent workers' compensation claims with the City of Los Angeles. The jury had hung on three other counts of felony fraud and theft.

Jonathan, fair haired and fair skinned, wearing a jacket sat facing the judge from a chair at the table some distance from his lawyer.

This sentencing date had already been continued from March 16th 2016. I had written to Steven Levine in June 2016 after writing my March 17th 2016 article about how Levine had gotten a court continuance for Hall's sentencing, and also in order to write and file a motion for a new trial.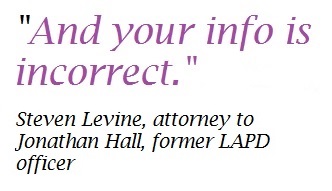 Levine claimed he had discovered new evidence that supported his claim that Jonathan Hall did not get a fair trial. He told this writer that his client had not been allowed to correct his deposition transcript, as the preliminary copy had not been provided to him. He wrote in response to my March 17th 2016 article, "And your info is incorrect. We have a new trial motion set for July, and I am very hopeful the conviction will be overturned."
On that same day, June 6, 2016, Levine wrote again without yet having been answered, "By the way, your article is completely skewed against Jonathan based on incorrect facts. I am still sending you my new trial motion, but I hope you will correct your article at some point in the future."
Levine never explained what specifically was skewed in my article and what I needed to correct. That's where I left off and need to pick up.
Lawyers impugning the facts alleged and prevaricating when confronted with their clients' actions are all too common. Smirking over facts presented is also a manipulative tactic. But the truth is, as the LA Times presented it on Sunday, July 15th 2018 in their front page article, Jonathan Hall ended his LAPD career just like so many other veteran officers do. There's a pattern and practice of police officers and also firefighters alleging injuries over most of their bodies dishonestly while supported by manipulative attorneys, and the city is pushing back.
How did this pattern start? Even a casual observer can see that excessive benefits lure the weak in character into dishonesty. Between a year off at full salary for a workers' compensation injury, to the Deferred Retirement Option Plan (which allows veteran police and firefighters to collect salary and pension simultaneously for the last five years of their careers), dishonest players find a way to manipulate a lucrative system. Also, we can't forget, permanent disability awards.
LAPD Officer Jonathan Hall requested a leave of absence for one full year in September 2012. It was denied. He wanted to become a course director with the Professional Association of Diving Instructors (PADI). He had done diving for the LAPD earlier in his career. But when his requested leave of absence was denied, he went to Plan B and filed a workers' compensation claim. The alleged injury to his back and right shoulder had occurred nine months earlier.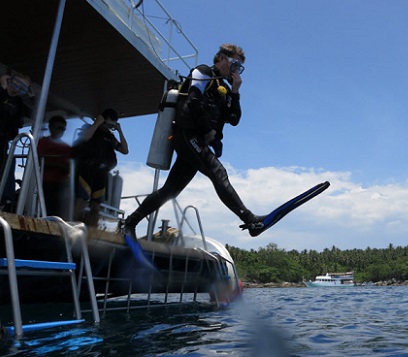 He was put on "injured-on-duty" (IOD) and total temporary disability (TTD) by a Dr. Stuart Gold. But while on IOD-TTD status, Hall applied for a Permit For Secondary Employment from LAPD in order that he could provide scuba diving instruction at Deep Blue Scuba and Swim Center (Deep Blue Scuba). Hall's wife, Jacqueline Ferneau, owns Deep Blue Scuba in Long Beach.
The work permit was denied with the reason stated that Hall was on IOD-TTD status. LAPD does not issue work permits to anyone on IOD-TTD status, according to department policy. Hall was contacted by his supervisor and reprimanded as to the reality of the fact that if he was unable to report for work at LAPD he certainly could not report elsewhere. Hall acknowledged that he was advised.
On that same day that the permit was denied, Jonathan provided a written quote to an Undercover Officer (UC-56) for the personal services of instruction to become a certified scuba diver. He accepted a $900 check from UC-56. In January of 2013, Hall conducted a private pool lesion with UC-56 and agreed to allow a "friend", which was another undercover officer (UC-57), to video record the training session. Three weeks later he conducted a second private pool lesson with UC-56 and the friend (UC-57) again video recorded the session.
In the early morning of February 2, 2013, UC-56 and UC-57 boarded a dive boat for a scheduled ocean dive off the coast of Catalina Island with Jonathan Hall. Also on board were an investigating officer and another member of the LAPD who are avid certified scuba divers. During the 11 hour 3-dive excursion, Hall provided instruction to UC-56. His actions included lifting and transporting heavy diving equipment along with carrying wet suits, scuba tanks, and other related gear. He completed all tasks without any expression of injury, inability, or pain. Many hours of video recording were done documenting Hall's activities by both UC-57 and one of the other LAPD scuba divers.
Jonathan Hall went back to Dr. Stuart Gold and got the same status: IOD-TTD. Hall continued to provide dive instruction to UC-56 and then performed a beach dive at Shaw's Cove in Laguna Beach.
According to the LA Times, Hall's lawyers filed claims stating he'd injured his knees, hips, heart (high blood pressure), back, right shoulder, and even his right middle finger. The ailments had existed for months and years but had not previously prevented him from working, is what Hall told the LA Times in a recent interview. But he was burned out, and had become the target of an internal affairs investigation. He was desperate to avoid going back to the station.
"I just couldn't put the uniform back on," the LA Times published Hall as stating in the Sunday, July 15th 2018 article. He collected more than $97,000 in salary while he was on workers' compensation leave to recover from his long list of injuries.
In his deposition, Jonathan Hall admitted to diving while on leave, but claimed he had not taken paying students into the ocean or dived off a boat. This is where he was cornered for perjury. The video recordings and the testimony of the undercover officer clearly showed he was lying.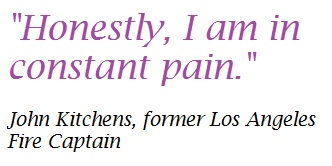 The Sunday LA Times article also cited former Los Angeles Fire Captain John Kitchens as claiming injuries to 13 body parts through cumulative trauma while he was simultaneously drawing income from the Deferred Retirement Option Plan to the tune of $645,000 in extra pension payments. He traveled to the Galapagos Islands in January of 2013 to dive with hammerhead sharks, according to his Facebook page. But told the LA Times, "Honestly, I am in constant pain."
A Los Angeles Fire Department (LAFD) Fire Inspector, Glenn Martinez, filed a minimum of 11 workers' compensation claims over his career. The last one claimed injuries to 14 separate body parts.
He had already filed nine workers' compensation claims when he joined Deferred Retirement Option Plan in 2014. Two years later, his supervisors accused him of falsifying documents and collecting overtime pay for after-hours safety inspections. They claims he never performed these inspections which included many buildings at USC, two at Occidental College, and a small Lincoln Heights elementary school that had been shut down two years earlier.
Two LA Times reporters recently knocked on the door at Glenn Martinez's Whittier home. It had a BMW and a Mercedes Benz parked in the circular driveway. Each had a LAFD decal in the rear window. A tanned man appearing physically fit and in his late 50s, looking like the former fire inspector in the photos, answered the door. He claimed he was not Glenn Martinez.
However, when asked by the reporters about the workers' compensation claim with 14 body parts, he said, "That's inaccurate," and shut the door.
Glenn Martinez did not respond to several follow-up messages from the LA Times requesting more information. His attorney, Aaron Straussner of Straussner Sherman, would not comment to the LA Times either.
But Jonathan Hall told the Times there was nothing unusual about what he did. He stated he knows many other officers who have engaged in more strenuous physical activities while out with injuries. Now he's willing to speak out about the workers' compensation abuse because he has nothing left to lose. He further told the Times, "It's corrupt, and a lot of people do it."
LA Times article of July 15th 2018
lonce@adjustercom.com, Lonce Lamonte, journalist; copyright by adjustercom and Lonce Lamonte, all rights reserved.