Los Angeles area couple, Clement Chichester and Brittney Sias, insurance agents, arrested by Department of Insurance


By Lonce Lamonte and the Californa Department of Insurance - February 9, 2018

Victims' money used to buy homes and vacations. Search for more victims is underway.

Clement Ignatius Lancelot Chichester, 68, and Brittney Jade Sias, 56, both from the Los Angeles area, were arrested at their residence yesterday by detectives from the California Department of Insurance.

The couple is charged for allegedly scamming a senior victim out of more than $1 million in cash and property. The two face more than two dozen felony counts, including identity theft, embezzlements, forgery and fraud.

"Chichester and Sias allegedly used their victim's financial resources to live the high life," said Insurance Commissioner Dave Jones. "Crimes against vulnerable seniors are reprehensible. We are focused on aggressively investigating alleged financial crimes against seniors and working with prosecutors to bring those responsible to justice."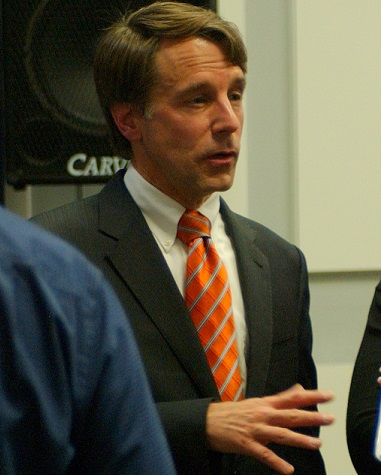 Dave Jones talks to reporters at the Orange County District Attorney's office in April of 2017. photo by Lonce Lamonte, all rights reserved.
According to department investigators, evidence revealed the suspects, who were licensed insurance agents at the time, earned large commissions by allegedly selling numerous unnecessary and unsuitable annuities to their elderly victim who was in her 80s. The suspects later convinced their victim to liquidate the annuity policies in order the re-invest the funds in real estate investment trusts, which also earned the suspects additional large commission payments. As a result of their alleged misconduct, the victim suffered financial losses exceeding $300,000.
Evidence also revealed in 2014, Chichester allegedly persuaded the victim to sell him a residential property she owned for half of its market value. No appraisal was performed prior to the sale and some of the money used to purchase the property allegedly came from another victim of Sias' scams. The property was valued at approximately $1,000,000 but the victim only received on $68,858.17 from Chichester. In early 2015, the suspects allegedly tricked the victim to file full re-conveyance documents with the Los Angeles County Recorder's Office giving up all ownership rights to Chichester.
The investigation is ongoing, and the California Department of Insurance Investigation Divison is on the alert for more victims. Anyone who has done business with Chichester and Sias and is concerned about any transactions is encouraged to contact the Investigation Division at the California Department of Insurance, Valencia Regional Office at (661) 253-7500.
The Department of Insurance's licensing bureau has revoked Chichester and Sias' licenses.
Chichester was booked into the Los Angeles County jail, located downtown in the twin towers, while Sias was booked into the Los Angeles County Century Regional Detention Facility in Lynwwod.
If convicted on all counts, Chichester faces more than 35 years in prison. Sias faces more than 9 years. Bail is set at $1.45 million for Chichester and $450,000 for Sias.
By Lonce Lamonte, editor, adjustercom; with the input from the news release from the California Department of Insurance.
Copyright adjustercom and Lonce Lamonte, all rights reserved. This article in its present edition and format may not be republished without permission from the publisher. $20 reprint fee upon permission granted from and credit given to adjustercom, publisher. lonce@adjustercom.com