News
Email A Friend
More News
November 15, 2018
California DIR's Division of Workers' Compensation Moves Eureka Office to New Location
November 4, 2018
Judge King Demands Supplemental Briefings In Sim Hoffman, M.D. Work Comp Fraud Case In Orange County. He Asks Of The Prosecution, 'What are the false claims?'
November 1, 2018
Four Chiropractors and Another Capper Charged By Orange County District Attorney As Phase II Of Multi-Million Dollar Workers' Compensation Illegal Patient Referral Scam
October 30, 2018
The Travelers Partners With Gilbane and Triax Technologies to Test Benefits of Wearables for Construction Industry
Sedgwick Buys Cunningham Lindsey And Takes Over The Workers' Compensation Claims Administration Of Macy's In California


By Lonce Lamonte - December 6, 2017

Sedgwick Claims Management Services, Inc. (Sedgwick CMS or Sedgwick) announced today, December 6, 2017, that it has signed an agreement to buy Cunningham Lindsey, a rival claims management third-party administrator, global loss adjusting, and risk solutions firm.

And just yesterday, this writer was informed by a source in direct communication with some claims adjusters at Macy's Corporate Services workers' compensation claims department in Redondo Beach, California, that Macy's self-insured, self-administered work comp claims operation will be closed by the end of January 2018. Sedgwick CMS's claims office in Long Beach (Signal Hill) will be taking over the claims. Therefore, Sedgwick will be Macy's third-party administrator (TPA) by February 1, 2018.

Sedgwick has undergone tremendous growth and has burgeoned into a prominent world-wide enterprise within the past five years. However, Sedgwick has been growing as a business since the 1980s, back when it was called Sedgwick James, just not at the exponential rate of its few to several recent years.
In September of 2014, Sedgwick acquired Vericlaim, a property loss adjusting company and third-party property claims administrator. Vericlaim was acquired along with all of its parent company's subsidiaries, which included VRS Vericlaim U.K. LTD; Unified Investigations & Services, Inc.; Cramer, Johnson, Wiggins & Associates, Inc. (CJW); and Ellis May. These companies combined to provide extensive commercial property claims services including fire and forensics investigation services, field investigation, property claims adjusting, and TPA management.
Thus, Sedgwick added with the acquisition of Vericlaim and its family, a world-wide service of heavy property adjusting services that expanded Sedgwick's reach beyond North America.
Prior to Vericlaim, Sedgwick was limited to claims services of workers' compensation, disability, FMLA and overall employee absence; along with managed care. The liability lines claims included general, professional, and auto; also warranty and credit card claims; fraud and investigation; structured settlements; and medical compliance service.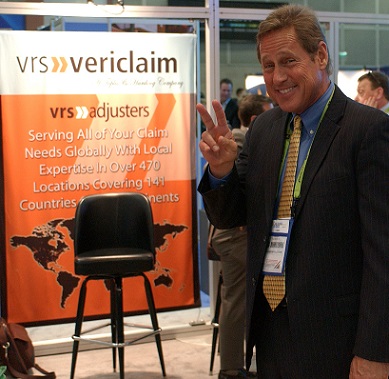 Then Vericlaim acquired First Choice Repair in January of 2016. Vericlaim had long specialized in the management of low-frequency, high-severity property loss claims. But the addition of First Choice Repair put Vericlaim in the position to respond quickly and effectively, as well, to high-frequency, low-severity property events.
In May of 2016, Sedgwick acquired OSG Group in Ireland. OSG added an outsource service of property and liability loss adjusting and Third Party Administration. Sedgwick CEO and President Dave North stated in a written News Release at that time: "The purchase marks Sedgwick's first investment in Ireland and a milestone in the expansion of our international presence." OSG's staff of more than 400 in eight locations across Ireland joined Sedgwick's international operations.
Now, Cunningham Lindsey, an industry pioneer with 100 years of experience, adds 6,000 professionals from 600 offices in 60 countries. The company has heavy service in property adjusting and adds to Sedgwick their specialties of loss adjusting, third-party claims administration, global account management, forensic engineering, and restoration and repair consulting.
Fifteen years ago, Cunningham Lindsey was known by its holding company name of Lindsey Morden Group. Fairfax owned Lindsey Morden Group. In 1999 in Canada and 2006 in the U.S., Lindsey Morden totally switched over to the name of its subsidiaries, the Cunningham Lindsey Group of subsidiaries.

Lindsey Morden had been marketed worldwide as Cunningham Lindsey — the product of a strategic alliance with Hambro Insurance Services Plc., which owned Cunningham Group. After it acquired Hambro in the fall of 1998, Lindsey Morden began developing plans to bring its Cunningham name to North America. They already had a working agreement with Cunningham International in place so it was decided to use the Cunningham brand name throughout the world.
In 2004, Fairfax's Cunningham Lindsey agreed to sell its TPA businesses, which included RSKCo Services and Cunningham Lindsey Claims Management to Broadspire. In 2005, Cunningham Lindsey issued a statement via a News Release saying they were disinterested in GAB Robins and were not in discussion with them. There had been a rumor swirling around that Cunningham Lindsey was interested in buying GAB Robins.
Now Cunningham Lindsey will be owned by Sedgwick. With this acquisition, Sedgwick further expands its global footprint. Its footprint is rapidly turning into a size 14. And Sedgwick's global colleague count is now more than 20,000.

Soon, by February 1st 2018, Sedgwick will be handling the workers' compensation claims for Macy's in California. So, Macy's will no longer be self-insured, self-administered in California but will be self-insured with Sedgwick as its TPA.
lonce@adjustercom.com